Shining a light on platelet quality
---
Wednesday, September 21, 2016
Jenny Ryan
Meet Dr. Elisabeth Maurer: she uses lasers to measure quality of platelets
Dr. Elisabeth Maurer's years of research on platelet function led to a discovery about the temperature response of platelets. This discovery — coupled with advances in laser and optics technology — is being developed as a safe, quick and simple diagnostic test for microparticles in platelet units.
Microparticles are fragments of platelets that form during platelet activation and are therefore a good indicator of how much stress the platelets have experienced.
In November 2008, Dr. Maurer — formerly a scientist with Canadian Blood Services' Centre for Innovation — founded a company called LightIntegra Technology to pursue development of this tool, ThromboLUX, that can be used to assess platelet quality and function.
Canadian Blood Services continues to support Dr. Mauer's work by providing access to its netCAD blood for research facility in Vancouver.
A Q&A with Dr. Maurer
We asked Dr. Maurer a few questions about her research and how the ThromboLUX technology works... 
Can you tell me a bit about your research?
I had the opportunity to research platelets with a sophisticated, lab-built dynamic light scattering (DLS) instrument during my PhD. This is when I discovered their extreme and unusual temperature sensitivity which shows as a change in platelet shape (in the cold they don't look like platelets at all but rather like spiny spheres or they even form small aggregates). However, the lab-built instrument I was using at the time was not very user-friendly and measuring clinical platelet samples was not practical.
When I was a scientist with Canadian Blood Services, I looked at platelet concentrate samples on the microscope a lot and realized that there are big differences between concentrates from different donors. Because I knew that DLS was a good method to differentiate between different shapes and sizes of particles, I thought that we could use this technology to automate the analysis of platelet concentrates in terms of their composition. Commercial DLS instruments had too many limitations so I built a new device; it's called ThromboLUX.
How does ThromboLUX work?
ThromboLUX is an optical instrument that works like a radar gun, measuring the speed of particles. It shines a laser into a platelet sample and the particles moving in the suspension diffract the light, which is changed a bit in frequency due to the particle speed.
The so-called Doppler shift is proportional to the speed that in turn is proportional to the size -- small particles move fast and large particles move slow.
ThromboLUX analyzes these frequency shifts and calculates size distributions that tell the user what size particles are in the sample. For platelet concentrates the size distribution will give a clue about the activation state of the platelets because a high content in microparticles is an indication of high preactivation.
Image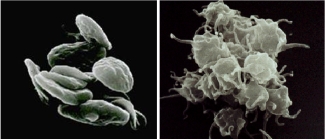 What is the potential impact of this technology?
In transfusion medicine, we use platelet concentrates primarily for two reasons: to reduce the risk of life-threatening bleeding in some cancer patients and to stop active bleeding in trauma or surgery patients. To use platelets optimally for these very different applications we need to manage them. But in order to direct the right product to the right patient we need to know its characteristics.  
We think that ThromboLUX can "shine light" on any platelet sample and return useful information on its composition that could inform manufacturing process, or whether a platelet donation has pre-activated platelets that might serve a trauma patient better than a cancer patient, and much more. 
Dr. Maurer has a new publication, "Microparticle content of platelet concentrates is predicted by donor microparticles and is altered by production methods and stress",  just published in the journal Transfusion and Apheresis Science.
Learn more
Dominic Walliman talks science with Dr. Maurer in this great explainer video "Using Lasers to Improve Blood Transfusions - Blood Platelets". 
---
Canadian Blood Services – Driving world-class innovation
Through discovery, development and applied research, Canadian Blood Services drives world-class innovation in blood transfusion, cellular therapy and transplantation—bringing clarity and insight to an increasingly complex healthcare future. Our dedicated research team and extended network of partners engage in exploratory and applied research to create new knowledge, inform and enhance best practices, contribute to the development of new services and technologies, and build capacity through training and collaboration.
The opinions reflected in this post are those of the author and do not necessarily reflect the opinions of Canadian Blood Services nor do they reflect the views of Health Canada or any other funding agency.
Related blog posts
---
Wednesday, April 13, 2016
Jenny Ryan
Researchers show that some methods used in the manufacturing of red blood cell units may be less damaging to the cells, which could reduce adverse reactions in transfusion recipients. This work may impact the future of how blood is collected in North America and around the world.
---
Wednesday, February 17, 2016
Jenny Ryan
Led by Dr. Sandra Ramirez, a development scientist at Canadian Blood Services' Centre for Innovation, this research project led to a new standard that will reduce the number of discarded red blood cell units. By Jenny Ryan and Patrick Walton The issue Since the 1970s, blood operators have limited...