Supporting vital research through our Centre for Innovation
---
Wednesday, October 05, 2016
Dr. Kendra Hodgkinson
Canadian Blood Services offers several competitive research funding opportunities including operating grants and fellowship awards.
One of our flagship programs is the Intramural Research Grant (IRG) opportunity, which supports collaborative research projects related to the mission of Canadian Blood Services. (To apply for the IRG, applicants may be either Canadian Blood Services Scientists or Medical Officers or Adjunct Scientists and are required to organize themselves into teams of at least two investigators.)
These research projects increase knowledge about blood transfusion and blood-related stem cell transplantation, with the overall goal of improving the safety and efficacy of blood, blood products, and the blood system. Since 1998, Canadian Blood Services has funded more than 75 projects through the IRG program.
Canadian Blood Services'  IRG Research Priority Areas

Promoting appropriate blood product utilization
Ensuring an adequate blood product supply
Minimizing the adverse effects of blood product transfusion
Optimizing blood product quality
Replacing or improving blood products through new therapies or technologies
This year, Ontario-based researchers Dr. Alan Lazarus and Dr. Bill Sheffield are two recipients of IRG funding.
Dr. Alan Lazarus – Antibodies to human CD44 as an IVIg replacement in the treatment of autoimmune disease
Dr. Lazarus is a Canadian Blood Services scientist whose research focuses on autoimmune blood diseases, particularly immune thrombocytopenia. In this bleeding disorder, a faulty immune system attacks and destroys platelets, which are blood cell fragments required for normal blood clotting. People with low platelet levels have trouble controlling internal and external bleeding, causing problems ranging from bruising and nosebleeds to even (rarely) death.
Image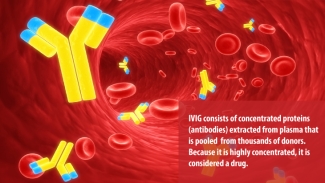 Dr. Lazarus has recently discovered that a "designer antibody" can be used to treat immune thrombocytopenia in a mouse model. To determine whether this treatment would also work in humans, a similar human-targeted "designer antibody" must be developed.
Dr. Lazarus has been awarded IRG funding to generate and test this antibody. If the new antibody is both safe and effective at treating immune thrombocytopenia, it could someday be an extremely valuable tool for the management of this disease and other autoimmune diseases that are currently treated with plasma-derived IVIg.
Dr. William Sheffield - Coagulation factor II (FII) to reduce bleeding in the mouse model
Dr. Sheffield is a senior scientist and the associate director of research at Canadian Blood Services. His research focuses on plasma, plasma proteins, and coagulation. Plasma is the protein-rich liquid in blood that helps blood components circulate throughout the body.
Plasma and plasma proteins can be isolated from blood donations by removing red blood cells, white blood cells and platelets. Because plasma transfusions became routine long before randomized control trials became the "gold standard", surprisingly little is understood about how these transfusions work to benefit patients. Researchers like Dr. Sheffield are investigating which of the proteins and nutrients contained in plasma improve patient health.
Image
Dr. Sheffield's research group has identified one plasma protein of particular interest, coagulation factor II. With his IRG funding, Dr. Sheffield will test whether treating mice with this protein can reduce their bleeding, and whether this protein is required for the beneficial effects of plasma transfusion. He will also begin to translate these findings into potential human benefit by investigating the function of coagulation factor II in human blood samples.
A clear understanding of how plasma transfusions work is important for developing evidence-based transfusion practices that prioritize patient health and safety while making the most effective use of donated plasma.
In collaboration with Dr. Heyu Ni 
Drs. Lazarus and Sheffield are connected by more than just their interest in blood research. Dr. Heyu Ni is another Canadian Blood Services scientist who is collaborating on both of these IRG-funded projects. Dr. Ni is an expert on blood clotting and immune-related blood disorders, and has developed a mouse model for immune thrombocytopenia.
"Knowledge exchange is a critical element of the scientific research process. The IRG program aims to promote collaboration between researchers, whether internal or external to Canadian Blood Services," says Dr. Mia Golder, the research and training programs manager for the Centre for Innovation at Canadian Blood Services.
Canadian Blood Services Centre for Innovation receives financial support from the federal government (Health Canada) and provincial and territorial ministries of health.
Find out more about the other research Canadian Blood Services Centre for Innovation supports by reading our latest Progress Report.
Keep an eye on RED – our research, education and discovery blog – for more on these projects and others coming soon.
---
Canadian Blood Services – Driving world-class innovation
Through discovery, development and applied research, Canadian Blood Services drives world-class innovation in blood transfusion, cellular therapy and transplantation—bringing clarity and insight to an increasingly complex healthcare future. Our dedicated research team and extended network of partners engage in exploratory and applied research to create new knowledge, inform and enhance best practices, contribute to the development of new services and technologies, and build capacity through training and collaboration.
The opinions reflected in this post are those of the author and do not necessarily reflect the opinions of Canadian Blood Services nor do they reflect the views of Health Canada or any other funding agency.
Related blog posts
---
Wednesday, March 23, 2016
Jenny Ryan
Images from the Lazarus Research Group lab show some fascinating and potentially life-saving science in action.
---
Wednesday, August 03, 2016
Jenny Ryan
For this instalment of "meet the researcher" we caught up with Dr. William Sheffield a senior scientist with Canadian Blood Services' Centre for Innovation. How long have you been with Canadian Blood Services? I've been with Canadian Blood Services since before it existed! I joined our predecessor...