Through the microscope: macrophage meets blood cell
---
Wednesday, March 23, 2016
Jenny Ryan
Through the microscope
Through the microscope (image 1), we see a macrophage – a large immune cell that is involved in platelet and red blood cell destruction in some autoimmune diseases – ingesting and destroying red blood cells. Red blood cells that have been ingested by the macrophage are stained in green, and those that have not been ingested are stained red.
Image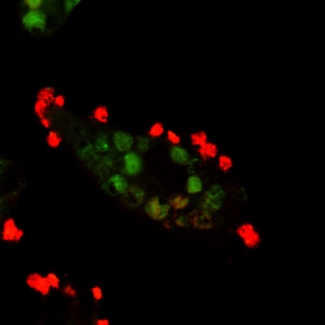 (Photo Credit: Dr. Alaa Amash, Lazarus Research Group, Keenan Research Centre for Biomedical Science at St. Michael's Hospital in Toronto​.)
In image 2, the macrophages have been treated with an antibody (CD44). This antibody treatment reduces the number of red blood cells that are ingested or destroyed by the macrophage, as seen by fewer 'green' red blood cells. 
Image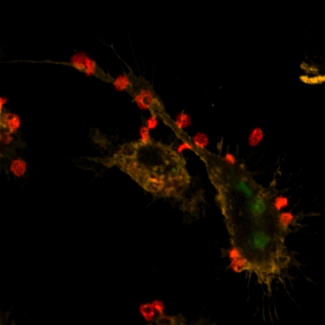 (Photo Credit: Dr. Alaa Amash, Lazarus Research Group, Keenan Research Centre for Biomedical Science at St. Michael's Hospital in Toronto.)
---
Seeking new treatments for ITP
Dr. Alan Lazarus, a Canadian Blood Services scientist, and his research team at the Keenan Research Centre for Biomedical Science at St. Michael's Hospital in Toronto are focused on developing new treatments for  autoimmune diseases. They are particularly interested in a disorder called immune thrombocytopenia (ITP). In affected patients, immune cells called macrophages cause an abnormal destruction of  blood platelets, which in turn can lead to uncontrolled bleeding and in rare cases death. 
The research team is internationally recognized for its work in understanding the molecular mechanisms of intravenous immunoglobulin (IVIg) – a drug derived from the plasma of healthy donors that is used to treat ITP. Though effective, IVIg is available in limited supply and is very expensive and can cause complications in some patients, which is why our scientists are actively seeking alternative treatments.
One such alternative treatment targets the macrophage – the immune cell that destroys platelets in ITP and other cells in other autoimmune disorders. Dr. Lazarus' and his colleagues are investigating different antibodies that may prevent or slow down the destruction of cells by macrophages, with some promising results. They have found that antibodies that target a particular protein on the surface of macrophages (called CD44) can inhibit or slow down the destruction of red blood cells by macrophages. These antibodies may have the same effect on the destruction of platelets by macrophages, and could lead to alternative treatments for autoimmune diseases like ITP down the road.
The team has just published recent findings, "CD44 Antibody Inhibition of Macrophage Phagocytosis Targets Fcγ Receptor – and Complement Receptor 3–Dependent Mechanisms", in the Journal of Immunology.
Image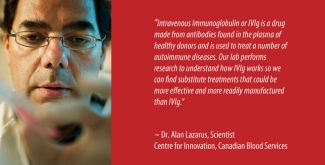 Dr. Alan Lazarus is a scientist with Canadian Blood Services' Centre for Innovation. His lab is located at the Keenan Research Centre at St. Michael's Hospital in Toronto, Ontario.
Through the microscope is a series aimed at sharing some of the fascinating images scientists get to see. Sometimes, a picture is worth a thousand words... 
---
Canadian Blood Services – Driving world-class innovation
Through discovery, development and applied research, Canadian Blood Services drives world-class innovation in blood transfusion, cellular therapy and transplantation—bringing clarity and insight to an increasingly complex healthcare future. Our dedicated research team and extended network of partners engage in exploratory and applied research to create new knowledge, inform and enhance best practices, contribute to the development of new services and technologies, and build capacity through training and collaboration.
The opinions reflected in this post are those of the author and do not necessarily reflect the opinions of Canadian Blood Services.
Related blog posts
---
Monday, February 08, 2016
Jenny Ryan
A research, education. and discovery blog Did you know that we do research? Quite a lot of it, in fact. Last year, our research teams, working in our labs across Canada, published 250+ scientific papers in peer-reviewed journals and presented 200+ posters or talks at major national and international...
---
Wednesday, February 24, 2016
Lisa Willemse
Wonder drug it may be, but IVIg is a slippery fish. Even after 60 years, little is known about precisely how it works. An encounter with a scientist The first thing you notice when you walk into Dr. Don Branch's office at 67 College Street in Toronto is how small it seems. And colourful, owing to an...