How it's made matters: Manufacturing method linked to cellular damage in red blood cells
---
Wednesday, April 13, 2016
Jenny Ryan
By Jenny Ryan and Carolyn Woods
Dr. Jason Acker is a senior development scientist at our Centre for Innovation lab in Edmonton, Alberta. Recently, he's been working on a number of projects investigating the links between various aspects of red blood cells (production, collection and donor characteristics) and the impacts these may have on transfusion recipients. One project,  recently published in Vox Sanguinis, was the result of a cross-border collaboration with a research team led by Dr. Sonia Bakkour, a staff scientist in the molecular transfusion lab at Blood Systems Research Institute in San Francisco, California.
Image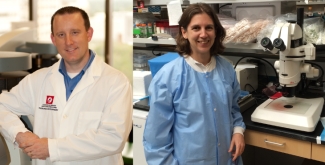 Left: Dr. Jason Acker, senior development scientist, Canadian Blood Services' Centre for Innovation. He is working on a number of projects investigating the links between various aspects of red blood cells (production, collection and donor characteristics) and the impacts these may have on transfusion recipients. Photo credit: Canadian Blood Services.
Right: Dr. Sonia Bakkour, staff scientist at the Blood Systems Research Institute in San Francisco, led the cross-border team studying the varying levels of damage-associated molecular patterns (DAMPs) present in red blood cells as a result of different manufacturing methods. Photo credit: Blood Systems Research Institute, San Francisco, California.
Teaming up 
"In 2012, both of our organizations were studying whether fresher blood is better for transfusion recipients than blood that has been stored longer within its 42-day shelf-life," recounts Dr. Acker.  "We decided to pool our knowledge with the team at Blood Systems Research Institute to study blood freshness, and that teamwork progressed into this latest research." 
"Working with the American team was key to this research because of the wide variations in blood manufacturing processes present in the US," explains Acker. "In Canada, as with much of the rest of the world, there is a national blood service, in which manufacturing methods are largely standardized. But blood collection in the US is characterized by dozens of independent blood centres, each with their own manufacturing processes. The Americans provided the variations we needed to measure red cell damage and to find out whether it can be attributed to different manufacturing methods." 
Ultimately, by teaming up with Blood Systems Research Institute the researchers were able to study red blood cell units manufactured using nine different processes. Previous team work that led to this investigation was published in Vox Sanguinis in 2015.
Research and results 
In this project, the team compared red blood cells collected at the organizations' respective blood donation centres on both sides of the border. They looked at the levels of microparticles and mitochondrial DNA (mtDNA) present in blood, which may indicate cellular damage.  
Recent research indicates that mtDNA can result in inflammatory and adverse reactions in transfusion recipients.   
Image
Electron micrograph of microparticles found in the supernatant of a freshly prepared red blood cell unit. Microparticles ranged from 50-600 nm in diameter, with many around 200 nm. Photo credit: BSRI, Adapted from Danesh et al., Blood 123:687-96 (2014).
Until now, many transfusion researchers believed that higher levels of damage-associated molecular patterns, aka DAMPs, were associated with the age of blood – in particular, older units that had been stored longer before they were transfused. This new research shows that may not be the case. 
"To separate red blood cells from white blood cells, platelets and plasma after collection from a donor, the blood goes through a manufacturing process. It is centrifuged, filtered and mixed with an additive solution," explains Dr. Bakkour. "The steps in the process are all the same among all blood production centres, but the order of steps is different, depending upon the equipment and supplies used."  
Image
Across the nine different manufacturing methods, the scientists observed clear differences in microparticle counts and mtDNA levels. 
Dr. Bakkour goes on, "Our study shows that those molecular patterns are present and that their levels and composition are different based on the red cell manufacturing process. This tells us that some manufacturing processes cause less damage to the red blood cells than others."  
Next steps and future research 
Because the researchers have not yet isolated the specific causes of the variations in mtDNA and microparticle counts, more testing is needed. They will need to investigate the collections equipment, blood bags, leukoreduction filters (which filter out white blood cells) and other variations in manufacturing methods before they will know what single element or combination of elements result in high levels of DAMPs and why. 
"We also need to determine whether mitochondrial DAMPs are involved in adverse reactions to red blood cell transfusions," elaborates Bakkour. "Some recently published research on platelets interests us, for example."  In those studies on platelets, researchers reported that high levels of mitochondrial DAMPs in platelet components are associated with adverse transfusion reactions in patients. Since platelets are transfused far less frequently and for different clinical applications than red blood cells, this same research is now needed for red blood cells. 
"Future research will answer some of the big questions we still have about how DAMPs are formed, and whether the blood of certain donors is more susceptible to damage," Acker summarizes. 
"The challenge will be to find 'the best' way to manufacture red blood cells from different donors and to identify any clinical considerations for the optimal health and safety of transfused patients worldwide," says Acker. 
The team believes, however, that the most significant findings from this research will be transformative for the blood industry. 
"We think that our research could lead to the standardization of red blood cell manufacturing around the world," predicts Acker. "It's clear now that manufacturing methods matter. We and our respective research sponsors, Health Canada and the US National Institutes of Health' National Heart, Lung, and Blood Institute, are keen to explore what's in the blood bag, and what can be improved for the best outcome in patients who receive blood transfusions." 
Further reading
Research Publication: Manufacturing method affects mitochondrial DNA release and extracellular vesicle composition in stored red blood cells.  Bakkour S, Acker JP, Chafets DM, Inglis HC, Norris PJ, Lee TH, Busch MP.  Vox Sang. 2016 Feb 25. doi: 10.1111/vox.12390. [Epub ahead of print] PMID: 26918437
Press Release: Blood processing methods affect microparticles and mtDNA linked to blood transfusion reactions 
---
About the researchers
Dr. Jason Acker is a Senior Development Scientist with Canadian Blood Services' Centre for Innovation and a Professor in the Department of Laboratory Medicine and Pathology at the University of Alberta, Edmonton, Canada. Dr. Acker's laboratory has responsibility for developing scientific and technical evidence to support innovative changes in blood product manufacturing, storage and utilization at Canadian Blood Services.  
Dr. Sonia Bakkour a staff scientist in the Molecular Transfusion Core Lab at the Blood Systems Research Institute in San Francisco, California. 
About Blood Systems Research Institute  
Blood Systems Research Institute is based in San Francisco, is on the forefront of scientific research for transfusion-focused safety and policy issues. Funded primarily through grants and contracts, and supplemented by contributions from its Blood Systems parent organization, the institute generates and analyzes data to aid the US and worldwide transfusion medicine community by studying potential transfusion-transmitted infectious diseases and recommending donor collections and testing strategies, technology, and national and international blood banking policy.   
About Canadian Blood Services – Driving world-class innovation 
Through discovery, development and applied research, Canadian Blood Services drives world-class innovation in blood transfusion, cellular therapy and transplantation—bringing clarity and insight to an increasingly complex health-care future. Our dedicated research team and extended network of partners engage in exploratory and applied research to create new knowledge, inform and enhance best practices, contribute to the development of new services and technologies, and build capacity through training and collaboration. 
The opinions reflected in this post are those of the author(s) and do not necessarily reflect the opinions of Canadian Blood Services.
Related blog posts
---
Wednesday, February 17, 2016
Jenny Ryan
Led by Dr. Sandra Ramirez, a development scientist at Canadian Blood Services' Centre for Innovation, this research project led to a new standard that will reduce the number of discarded red blood cell units. By Jenny Ryan and Patrick Walton The issue Since the 1970s, blood operators have limited...
---
Wednesday, March 09, 2016
Dr. Geraldine Walsh
"The ever-present need for innovative ways to combat dengue and other emerging viruses and pathogens has never been clearer."