Research answers questions about infusion pumps' effect on red blood cells
---
Thursday, August 04, 2022
Abby Wolfe
A study involving Canadian Blood Services researchers Narges Hadjesfandiari, research associate, and Dana Devine, chief scientist, located at the Centre for Blood Research in Vancouver, is helping to answer questions about the effect of infusion pumps on red blood cells (RBC) and make it easier to evaluate the safety of these pumps for this use. Published in Transfusion, the Journal of AABB, this research is now summarized in a new Canadian Blood Services Research Unit.
Infusion pumps are mechanical devices commonly used in transfusion medicine that were originally designed to administer fluid resuscitation products, like saline and other crystalloids. Due to their ability to speed up transfusion times, provide increased accuracy in infused product volume, and decrease the risk of errors compared to gravity-based infusions, these infusion pumps have also come to be used in the transfusion of blood products like red blood cells. This has raised questions about whether red blood cells – the tiny, disc-shaped structures that carry oxygen in blood – might sustain mechanical damage when they are exposed to the pumps.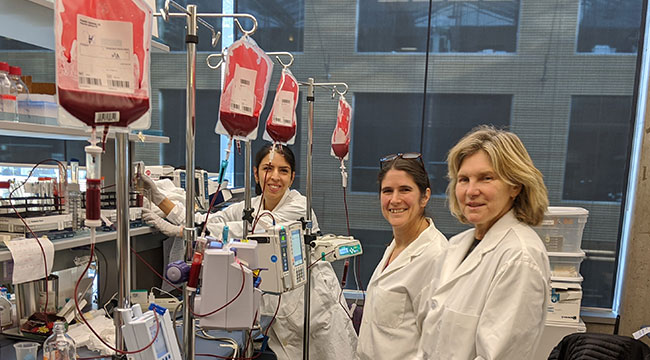 The study tested four types of infusion pumps currently approved in Canada using different types of RBC units. The RBC units were put through the pumps at varying rates then inspected for changes in measures of RBC quality. After analyzing the pumps' effects on the RBCs and concluding that all pumps tested were considered safe for use based on national and international standards, the researchers acknowledged that there is potential for these measures to inform the future evaluation of infusion pumps by blood suppliers, manufacturers and health-care facilities.  
According to Andrew Shih, regional medical leader, transfusion medicine at Vancouver Coastal Health Authority and co-investigator on this study, research like this can be invaluable to hospitals. "This research used a comprehensive testing strategy, mimicking scenarios that are clinically relevant. It has informed our policy in Vancouver General Hospital and could inform a new framework for regulatory bodies to evaluate the safety of future infusion pumps introduced into the market, by building upon standards that have already been introduced." 
Want to learn more? Read the Research Unit: Evaluating infusion pump safety for red blood cell transfusions | Canadian Blood Services 
---
Canadian Blood Services – Driving world-class innovation 
Through discovery, development and applied research, Canadian Blood Services drives world-class innovation in blood transfusion, cellular therapy and transplantation—bringing clarity and insight to an increasingly complex healthcare future. Our dedicated research team and extended network of partners engage in exploratory and applied research to create new knowledge, inform and enhance best practices, contribute to the development of new services and technologies, and build capacity through training and collaboration. Find out more about our research impact.  
The opinions reflected in this post are those of the author and do not necessarily reflect the opinions of Canadian Blood Services nor do they reflect the views of Health Canada or any other funding agency. 
Related blog posts
---
Friday, November 12, 2021
Dr. Geraldine Walsh
The 2021 AABB Virtual Annual Meeting last month was marked by two highlights for Canadian Blood Services: the inauguration of our chief scientist, Dr. Dana Devine, as AABB president, and Dr. Devine's recognition with a prestigious AABB leadership award.
---
Monday, October 18, 2021
Guest Author
The University of British Columbia's Centre for Blood Research-School of Biomedical Engineering (CBR-SBME) Research Day celebrates the progress and accomplishments of summer students. It takes place every August, at the conclusion of the CBR-SBME Summer Studentship Program, which is supported in part by Canadian Blood Services. In this post, two Summer Student Program alumni describe the 2021 virtual event.
---
Tuesday, June 11, 2019
Bronwyn Lyons
The Centre for Blood Research's symposium was held in Vancouver, British Columbia in April. Featuring talks from world-class researchers, trainees and patients, the Norman Bethune Symposium provided attendees with the perfect blend of information and inspiration.