Trainees shine at the 2019 Norman Bethune Symposium
---
Tuesday, June 11, 2019
Bronwyn Lyons
This annual symposium honours Canadian physician, Dr. Norman Bethune. A controversial figure, Dr. Bethune is remembered as a fearless doctor, an innovative biomedical engineer, an early proponent of socialized medicine, and a trailblazer who operated the earliest practical mobile blood banks. Reflecting his legacy, the Norman Bethune Symposium offers a platform for researchers and clinicians to present strategies and challenges experienced within transfusion medicine.
The program for this year's symposium was developed by Dr. Dana Devine, Canadian Blood Services' chief scientist, and Dr. Edward Conway, Centre for Blood Research director. The agenda struck a balance between providing well-established experts the opportunity to present their work and showcasing trainees and early-career investigators. As Dr. Devine noted, the symposium has much to offer trainees: it provides "a chance to reunite with friends and colleagues, and encourages networking opportunities for trainees, including the opportunity to meet high-profile investigators, which can be particularly valuable for trainees and those early in their careers".
Trainees presented an impressive six talks and 20 posters on topics ranging from the ethical debate around paid plasma donations to innovative materials to stop bleeding in trauma patients. In this post, I'll focus on the excellent contributions of trainees. Visit the Centre for Blood Research blog to read about the day's invited talks.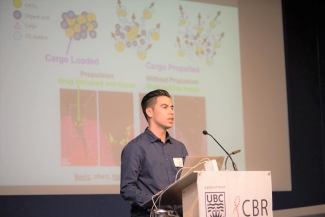 Researching the ethics of commercial plasma donation
Kelsey Johnson, a social scientist and PhD candidate from the department of geography at the University of British Columbia presented research she is conducting in partnership with Canadian Blood Services and the Centre for Blood Research on the ethical debates surrounding the history of commercialization of donor plasma. Kelsey is a recipient of the prestigious UBC Public Scholars Award, which supported a four-month research term in Atlanta, Georgia, during which she studied the history of paid plasma by trawling through media archives. Her findings highlight the shifting public perception and stigmatization of paid plasma donors in the southern US over the past several decades, research that is particularly relevant as the debate over paid plasma continues to play out in Canada.
Innovative research to better manage bleeding
Over coffee during the trainee poster session, I chatted to graduate student, Wayne Zhao (Devine Lab, University of British Columbia), who has attended three Centre for Blood Research symposia since he began his graduate studies. He commented on why he keeps coming back: "These symposia are a great platform for research trainees to receive input from researchers in different disciplines. This allows you to expand the horizons of your own research."
Wayne, who is funded by the Canadian Blood Services' graduate fellowship program, is researching cold-stored platelets. Platelets are usually stored at room temperature, because when exposed to cold, platelets become activated and are quickly cleared from the blood circulation once transfused. Recently, however, there's interest in using cold-stored platelets as an alternative product for patients with massive trauma. Transfusing already activated platelets may be an advantage in helping those patients clot faster and prevent further blood loss. Wayne is testing the characteristics of cold-stored platelets in the laboratory, to better understand how they might behave in patients.
Trainee Massimo Cau (Kastrup Laboratory, University of British Columbia) is taking a different approach to preventing bleeding. He is using a novel technology – self-propelling particles that drive drugs directly into the wound – to stop deadly bleeds. He hopes they may be used to treat challenging or difficult-to-reach bleeds such as stomach bleeds. Using a model of upper gastrointestinal bleeds in pigs, Massimo found that treatment with self-propelling particles halted bleeding six-times faster than a similar treatment that is FDA approved.
Image

Attendees view poster presentations at the symposium

Image

Ahmed Al-Arnawoot with his poster presentation

Image

Winners of the poster awards. (L-R) Stefanie Mak, CBR Education Program Manager, with winners Wayne Zhao, Emel Islamzada and Aparna Gopal
Understanding red blood cells
Another recipient of a graduate fellowship from Canadian Blood Services, Emel Islamzada (Ma Laboratory, University of British Columbia) described a new method to monitor stored red blood cell quality. She is using a microfluidic device developed by the Ma Laboratory that sorts red blood cells based on how rigid or flexible they are – a known marker of the cells' quality. She hopes to use this method to find "super-storers" – blood donors whose red blood cell quality remains particularly high during the storage period.
Dr. Narges Hadjesfandiari, a postdoctoral fellow (Devine laboratory, University of British Columbia) used product quality control data from Canadian Blood Services to understand factors that influence the quality of red blood cells. She showed that the time to production (i.e. the length of time between collection of a whole blood donation and the production of a red blood cell component from that donation) is important. Red blood cell units that had a shorter time to production had lower hemolysis, indicating better quality. She is also investigating factors in donors that may impact quality.
Travel bursary awardee
Master's student, Ahmed Al-Arnawoot (Dr. William Sheffield Laboratory, McMaster University) was the recipient of a travel bursary from Canadian Blood Services Centre for Innovation to attend the 2019 Norman Bethune Symposium. He presented a poster and talk describing new approaches to find therapies for auto-immune vasculitis. He engineered natural inhibitors to target an enzyme in neutrophils that may cause inflammation in blood vessels. Ahmed used several rounds of screening of phage display libraries (a technique that won its developers the 2018 Nobel Prize in Chemistry) to develop a library of peptide candidate inhibitors that mimic the natural enzyme in the body.
"I am happy to be here! It is great that there's an opportunity for Canadian Blood Services trainees to travel to Vancouver and present their work. Presenting here has been a great conference experience; there are lots of opportunities for dialogue with many high-profile investigators in my field." – Amhed Al Arnawoot, McMaster University
I've described here the work of the trainees who gave invited talks, but trainees contributed much more to the 2019 Norman Bethune symposium. Many trainees presented posters, and each one gave a 30-second summary of their research at a "shot-gun talk" session. The brief snapshots presented covered research ranging from age-related macular degeneration to factors that affect red blood cell lysis during storage.
To culminate a day filled with valuable networking and knowledge dissemination, poster award winners were announced: 3rd place went to Wayne Zhao (Devine Lab, University of British Columbia), 2nd to Aparna Gopal (Karsan Lab, British Columbia Cancer Research Centre), and 1st place to Emel Islamzada (Ma Lab, University of British Columbia). Congratulations to award winners!
Canadian Blood Services and the Centre for Innovation are proud to partner with the Centre for Blood Research to deliver training and education events including the annual Norman Bethune Symposium.
---
Canadian Blood Services – Driving world-class innovation
Through discovery, development and applied research, Canadian Blood Services drives world-class innovation in blood transfusion, cellular therapy and transplantation—bringing clarity and insight to an increasingly complex healthcare future. Our dedicated research team and extended network of partners engage in exploratory and applied research to create new knowledge, inform and enhance best practices, contribute to the development of new services and technologies, and build capacity through training and collaboration. Find out more about our research impact. 
The opinions reflected in this post are those of the author and do not necessarily reflect the opinions of Canadian Blood Services nor do they reflect the views of Health Canada or any other funding agency.
Related blog posts
---
Thursday, December 13, 2018
Guest Author
In November, the University of British Columbia Centre for Blood Research (CBR) hosted its 12th annual Earl W. Davie Symposium in Vancouver, BC. During the event, researchers, students, clinicians and patients discussed successes and ongoing challenges in hematology, from understanding basic mechanisms of clotting to improving patient care.
---
Thursday, May 17, 2018
Dr. Geraldine Walsh
On April 10th, 2018, the Centre for Blood Research presented its 8th Annual Norman Bethune Symposium. This event honours Canadian physician, Dr. Norman Bethune, who in the 1930s spearheaded the implementation of the earliest practical mobile blood collection and distribution systems. During his...
---
Wednesday, December 06, 2017
Dr. Geraldine Walsh
Drs. Earl W. Davie, Ross T. MacGillivray and Edmond H. Fischer at the 2017 Earl W. Davie Symposium Vancouver. Read all about this years event and find out more about the inspiration behind it.