A spotlight on summer student research
---
Monday, October 18, 2021
Guest Author
This post was originally published on the CBR blog on September 2, 2021 as: "CBR-SBME Research Day 2021: A Spotlight on Summer Student Research". It was written by Ardin Sacayanan, CBR-SBME summer student alum from the Laksman Lab, and David Chen, CBR-SBME summer student alum from the Kizhakkedathu Lab.
Ever wondered how you can make artwork with biological reagents found in the lab? How about exploring the latest bleeding-edge research in science and medicine? If these topics interest you, then you won't want to miss out on this event recap of CBR-SBME Research Day 2021!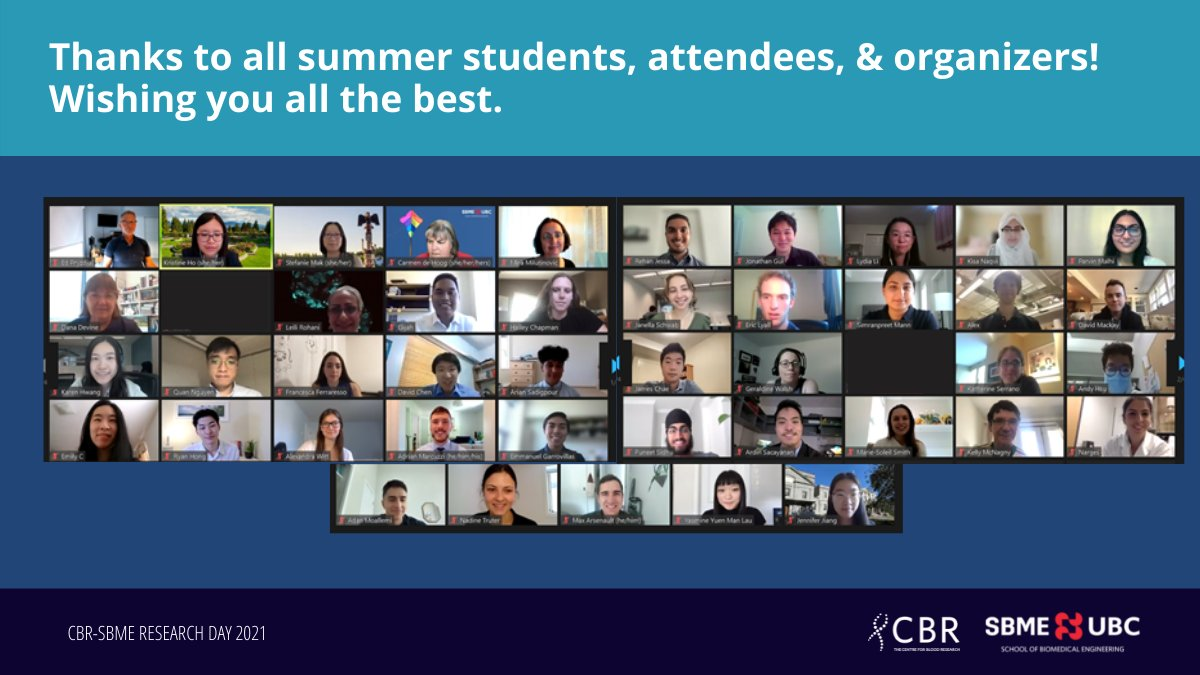 The Centre for Blood Research (CBR) and School of Biomedical Engineering (SBME) communities gathered online for CBR-SBME Research Day on Wednesday, August 11th, which celebrates the progress and accomplishments of summer students at the conclusion of the CBR-SBME Summer Studentship Program. This program provides undergraduate students with the opportunity to gain valuable lab and research experience, along with career development workshops and spectacular social events. This year, we had the luxury of hearing from 37 diverse and talented students, who shared their exciting research journeys and projects.
Our second virtual CBR-SBME Research Day started off with opening remarks from our current CBR director, Dr. Dana Devine. After giving a warm welcome, the virtual mic was passed off to this year's wonderful keynote speaker, Dr. Jennifer Willet, who gave tremendous insights into bridging the gap between art and science in her talk "INCUBATOR art lab: Radical interdisciplinarity in the arts and sciences". Dr. Willet shared how she and the INCUBATOR art lab team provide spectacular performances through the lenses of biology, captivating audiences from different backgrounds. In particular, she emphasized the importance of science and art working together to address larger social and contemporary issues like the COVID-19 pandemic, since "science is not only responsible for the data it produces, but it also needs to engage in the hearts and minds of people."
Following the keynote speaker, each of our wonderful summer students gave rapid 2.5 min talks on their exciting array of summer projects. The summer students discussed a range of topics, from developing technologies to treat spinal cord injuries, to optimizing stem cells, to further characterizing COVID-19 through bioinformatic and statistical approaches, and more. Of course, many projects pertained to blood and circulation-related topics such as clot-busting therapy, thrombosis, and the stimulation of heart tissue!
To end the day, the event organizers announced award recipients for summer student presentations and mentorship recognition. Dr. Dana Devine first announced the recipient of the annual Neil Mackenzie Mentorship Excellence Award, which honours the memory of Dr. Neil Mackenzie, a former postdoctoral fellow in Dr. Dieter Brömme's lab who was an outstanding mentor to his peers and students, nurturing their successes. This year's award recipient was Dr. Marine Theret, a Research Associate from the Rossi Lab. In an address to the attendees, Dr. Theret highlighted the importance of providing and accepting feedback as a mentor, which is a crucial component for personal growth. The CBR congratulates Dr. Theret for her admirable work, and also extends sincere thanks to all 12 nominees for continuing to champion mentorship in the community.
After the Neil Mackenzie Excellence Award, the organizers announced the student awards. The People's Choice Award, which is voted on by all event attendees, was awarded to Francesca Ferraresso from the Kastrup Lab. She shared her research on developing an RNA-based therapy for thrombotic disorders. Meanwhile, the Best Oral Presentation Award, as voted on by the summer students, was awarded to Nadine Truter from the Shahriari Lab. She shared her engaging research on developing a biomaterial-based scaffold to aid in axonal growth after spinal cord injuries. Congratulations to these recipients, as well as everyone else for sharing their intriguing research.
Huge thanks to our generous sponsors and supporters for assisting our young and talented researchers in their journeys to become the next generation of future scientists and clinicians: Alexion, Bayer, Canadian Blood Services, GRIFOLS, Naiman-Vickars Endowment Fund, the Neil Mackenzie Memorial Fund, Octapharma, Pfizer, and the UBC Life Sciences Institute.
Finally, thank you to everyone else for making this year's CBR-SBME Research Day another success. Hope to see everyone again next year for more exciting adventures like this (hopefully in person)!
The CBR-SMBE Summer Studentship Program provides undergraduate students with an opportunity to get hands-on lab experience. The student's research work is guided by a principal investigator or postdoctoral fellow, and their experience is enhanced through research skills workshops, tours of campus facilities, and complementary social events. Canadian Blood Services is proud to partner with the CBR on their CBR-SBME Summer Studentship Program.
---
Canadian Blood Services – Driving world-class innovation
Through discovery, development and applied research, Canadian Blood Services drives world-class innovation in blood transfusion, cellular therapy and transplantation—bringing clarity and insight to an increasingly complex healthcare future. Our dedicated research team and extended network of partners engage in exploratory and applied research to create new knowledge, inform and enhance best practices, contribute to the development of new services and technologies, and build capacity through training and collaboration. Find out more about our research impact. 
The opinions reflected in this post are those of the author and do not necessarily reflect the opinions of Canadian Blood Services nor do they reflect the views of Health Canada or any other funding agency.