Raising awareness for living organ donation
---
Tuesday, November 27, 2018
Jenny Ryan
This #givingtuesday — November 27, 2018 — organizations across the country are raising awareness about living donation. 
Did you know that more than 3,000 Canadians are on a waiting list for kidney transplantation?
When the kidneys are no longer able to remove waste products from the blood, either dialysis (artificial filtering of blood) or a transplant is required for survival. Dialysis alone can lead to health complications and severely impact quality of life.
A transplant is the preferred treatment for most patients suffering from kidney failure, yet there are not enough deceased kidney donors to help every patient in need. Living kidney donations offer patients a higher chance of receiving a transplant.
"Kidney transplantation is life-saving and life-altering. Until we can clone or grow or print kidneys (who knows what the future holds), there will continue to be a need for kidney transplants. Transplantation through living donation has the potential to remove many people from dialysis and the transplant waitlists and alter the lives of not just the patients, but their families as well."
– Kathy Yetzer, Associate Director, Living Donation, Canadian Blood Services.
Potential donors can help someone they know who needs a kidney transplant, or they can donate anonymously to help someone in need of a kidney on a waitlist somewhere in Canada. Patients with end stage kidney disease often wait many years for a kidney transplant from a deceased donor. Having a living kidney donor may decrease this wait time for the patient.
Learn more about living kidney donation.
What is Kidney Paired Donation?
The Kidney Paired Donation (KPD) program is a national program operated by Canadian Blood Services in collaboration with Canada's living kidney donation and kidney transplant programs. Learn more about how KPD chains work: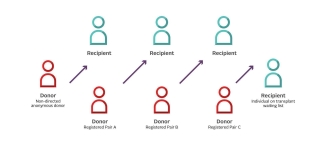 Transplantation is a kidney replacement therapy alternative to dialysis for patients who are eligible. It provides the best long-term outcome and a better quality of life than dialysis, and although recipients require life-long medications to prevent transplant rejection, patients no longer have diet and fluid restrictions and do not need to stay close to a dialysis centre at all times. But, there are not enough deceased donors in Canada to provide a kidney transplant for everyone on the waitlists.  Therefore, living donation is another incredibly important option for patients, especially since a kidney transplant from a living donor lasts longer and does better, on average, than a kidney from a deceased donor.
Even when a patient finds someone who is willing to donate a kidney to them, they are often not a blood group and tissue type match, so the transplant cannot occur. This is where Canadian Blood Services' Kidney Paired Donation (KPD) program can help some of these patients to find a medically suitable living kidney donor. These incompatible donors and transplant candidates enroll as incompatible pairs in the KPD program through the Canadian Transplant Registry  and we use a sophisticated matching algorithm to find situations where the donor in the pair can give to someone with whom they are compatible and another donor can give to the transplant candidate of the pair.
How do I become a live organ donor?
Start by contacting the kidney or live liver transplant centres in your province. You will need to undergo mandatory medical examinations and tests to determine if it is safe for you to become a live donor. These tests will also determine if you are an appropriate match for your intended recipient.
Help spread the word about living donation on social media by sharing the following message:

Did you know that more than 3,000 Canadians are on a waiting list for kidney transplantation. Find out how you can become someone's hero through #livingdonation at blood.ca/organs-tissues @CanadasLifeLine #OrgansandTissuesForLife
Learn more about living donation on blood.ca/organs-tissues
---
Canadian Blood Services – Driving world-class innovation
Through discovery, development and applied research, Canadian Blood Services drives world-class innovation in blood transfusion, cellular therapy and transplantation—bringing clarity and insight to an increasingly complex healthcare future. Our dedicated research team and extended network of partners engage in exploratory and applied research to create new knowledge, inform and enhance best practices, contribute to the development of new services and technologies, and build capacity through training and collaboration. Find out more about our research impact. 
The opinions reflected in this post are those of the author and do not necessarily reflect the opinions of Canadian Blood Services nor do they reflect the views of Health Canada or any other funding agency.
Related blog posts
---
Wednesday, April 25, 2018
Jenny Ryan
Today, we're celebrating the 1000th kidney transplant made possible through the national Highly Sensitized Patient and Kidney Paired Donation programs. Congratulations Organ and Tissue Donation and Transplantation community! Your collaboration in creating these national programs demonstrates that Canadian patients benefit when we work together.
---
Wednesday, February 10, 2016
Jenny Ryan
A new innovation by a team of Canadian Blood Services researchers and the National HLA Advisory Committee has improved the situation for Canadian transplant patients. Launched in April 2012, the Canadian cPRA Calculator was developed to support Canadian Blood Services' transplant programs. It's a...
---
Friday, September 09, 2016
Jenny Ryan
When tragedy strikes, expert guidance helps doctors, patients and families take action