1,000 kidney transplants for Canadian patients!
---
Wednesday, April 25, 2018
Jenny Ryan
April 22-28 is National Organ and Tissue Donation Awareness Week. Green ribbons, and green-lit landmarks, will pop up across Canada this week to acknowledge and honour the donors and donor families who gave the gift of life. They also acknowledge the thousands of patients in need of a transplant and those who have died waiting. Canadians are reminded to register their intent to donate and to discuss their wishes with family and friends. Canadians can visit organtissuedonation.ca to find out how to become an organ donor.  
Today, we're celebrating the 1000th kidney transplant made possible through the national Highly Sensitized Patient and Kidney Paired Donation programs. Congratulations Organ and Tissue Donation and Transplantation community! Your collaboration in creating these national programs demonstrates that Canadian patients benefit when we work together.
Image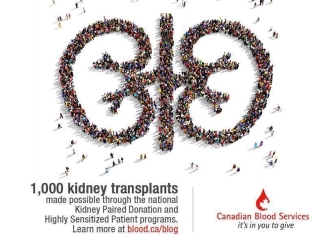 The Kidney Paired Donation (KPD) program – launched in 2009 – is a perfect example of how interprovincial health systems work together to forge success beyond provincial borders and improve access to transplants for patients.
The success of this program can be attributed to the selflessness of those who have stepped forward to be living organ donors. Kudos to the truly altruistic non-directed anonymous donors (willing, living donors without a specific intended recipient) who make domino kidney exchanges possible.
The Highly Sensitized Patient (HSP) program is a national organ sharing program operated by Canadian Blood Services in collaboration with all provincial donation and transplant programs. The program gives provincial transplant programs access to a larger national pool of kidney donors for highly sensitized patients who need a more specific donor match.
The implementation of HSP across Canada began in October 2013 and by November 2014, all provinces and territories had joined the HSP program. The provincial and territorial Ministries of Health and provincial organ donation organizations worked together to implement the HSP program.
KPD and HSP are operated as part of the Canadian Transplant Registry, a national web-based computer program operated by Canadian Blood Services and used for linking the national potential recipient waitlist with actual organ donors.
What is the Kidney Paired Donation program?
The Kidney Paired Donation program is a living donation program that finds and facilitates medically compatible kidney transplants through chains of donor exchanges from medically incompatible pairs. 
How did the Kidney Paired Donation program come to be?
Often individuals are unable to donate to someone they know because testing has determined that they are not medically compatible with the transplant candidate, and the kidney would therefore be rejected.
In 2009, Canadian Blood Services, in collaboration with transplant programs across the country, established a Kidney Paired Donation program for Canada.
Working in collaboration with the provincial living donation programs, the KPD program serves patients who have a willing living donor with whom they are not medically compatible by finding another pair with whom they can swap donors so both patients receive a transplant.
How does the Kidney Paired Donation Program work?
The registry contains medical information about incompatible pairs of donors and transplant candidates from across Canada and identifies pairs that might be able to exchange kidneys. From there, it's a matter of finding a suitable exchange and creating "chains" of matching donors and recipients. There are different types of donor and recipient chains: some are straightforward swaps (called a "paired exchange"), some involve multiple donor–candidate pairs (called a "closed chain"), and some include a nondirected anonymous donor and a person on the waitlist (called a "domino chain").
Image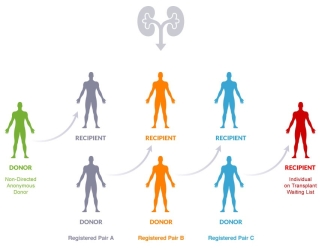 The program is supported by a sophisticated web-based software to optimize the number of donors and transplant candidates matched through the Kidney Paired Donation program.
A matching algorithm is run three times a year to compare the medical information on all the pairs and non-directed donors in the Registry and identifies kidney transplant opportunities.
What does the Kidney Paired Donation program do for patients?
Kidney transplantation is the preferred therapy for patients with kidney failure. Compared with dialysis, transplantation offers significantly longer life expectancy, a better quality of life, considerable cost avoidance per patient to the health care system, and an increased likelihood that the patient will remain employed.
Transplantation of a kidney from a living donor is advantageous to the recipient.The kidney lasts, on average, 25 per cent longer compared to a deceased donor kidney.
The added benefit to this approach is that patients transplanted through kidney paired donation are not added to the waitlist and this then shortens the waitlist and wait time for those patients who are dependent on receiving a deceased donor transplant.
The Kidney Paired Donation program significantly expands access to potential donors for all Canadians with an incompatible donor; every patient who receives a living donor transplant comes off the deceased donor waitlist and thereby decreases the demand on the waitlist for others.
Who can become a living kidney donor?
Any adult who is in general good health can be assessed to become a living kidney donor. If the donor wishes to donate to a friend or family member (a transplant candidate), medical assessments are conducted to determine whether the donor is a suitable match for the recipient. With a compatible match, the directed donation can proceed through the provincial program.
If the donor is not a match for their friend or family member, they may be able to help the transplant candidate find a matching donor through the Kidney Paired Donation program.
What does being highly sensitized mean?
It means that the patients have a sensitized immune system. Immune system sensitization may be a result of blood transfusions, previous transplants or pregnancies, which is why many highly sensitized patients are women. As a result, patients who are "highly sensitized" are at higher risk of rejecting an organ transplant. This makes it very difficult to find a suitable donor match.
How does the program help sensitized patients?
The HSP program makes it more likely that people who need a kidney transplant, and are hard to match, will find one. The program uses sophisticated technology to match the right kidney to the right patient anywhere in Canada with accuracy and efficiency.
An organ matched through the HSP program reduces the risk of potential rejection. This means highly sensitized patients have improved chances that:
their body will accept the new organ;
the organ will last longer; and
they will not end up back on a waitlist.  
The collaboration with provincial testing laboratories is part of the national advisory structure organized by Canadian Blood Services, unique to Canada and is foundational to the success of the program. 
Why was the HSP program developed?
Approximately 20 per cent of patients on provincial waitlists are highly sensitized and in need of a kidney transplant. Yet, these same patients historically receive less than one per cent of available organs. With access to a limited number of donors in their home province, highly sensitized patients wait much longer for a kidney transplant and have a greater chance of becoming more ill or dying while they wait. By providing access to donors across the country, the HSP program increases the chances of finding kidney transplants for these hard-to-match patients. 
Quick Facts
The HSP program is for patients needing very specific matches from deceased kidney donors. Through the HSP Program, this group of patients now has access to a larger national donor pool, dramatically increasing the chance of a match.
Women are disproportionately highly sensitized due to antibodies developed during pregnancy.
More than 4,500 people are waiting for organ transplants in Canada today; however, only a fraction of Canadians are registered to donate. While many Canadians are aware of the need for organ transplants, there remains a shortage of donors.
Further reading
Learn more about organ and tissue donation and register your intent to donate, visit organtissuedonation.ca
Related blog posts
---
Monday, April 23, 2018
Jenny Ryan
April 22-28 marks National Organ and Tissue Donation Week in Canada — a week dedicated to raising awareness about the critical needs of patients across the country.