"Only we can help": breaking down barriers for a child with a rare condition
---
Thursday, March 19, 2020
Catherine Lewis
It started when a physician contacted one of our medical directors, Dr. Kathryn Webert, asking how to get a very specific medication. She had a patient, a small child, with a very rare condition — plasminogen deficiency — that was causing the child's eyes to fill with woody growths. Dr. Webert immediately started an internal discussion about how Canadian Blood Services could help.
"Plasminogen is a precursor to plasmin, which breaks down clots. Plasmin in tears usually keeps the eyes free of clot-like woody growths," says Dr. William Sheffield, a plasma expert and associate director of research at Canadian Blood Services' Centre for Innovation. "It's such a rare disorder — literally one in a million — there's not a ton of literature. We're only aware of this one patient in Canada."
These woody growths can be surgically removed, but to stop them from growing back, the child needed special eye drops made from human plasma containing plasminogen.
"What do we do when there's a child in Canada with a rare disorder, and only we can help? We had to work together and find a way," says Craig Jenkins, senior manager of product and process development at Canadian Blood Services.
It was up to him and his team to figure out how to do it.
"The first question was, can we get this product from elsewhere in the world? When those avenues were exhausted, we knew we had to figure something out within our own regulatory environment, working through Health Canada," Jenkins says.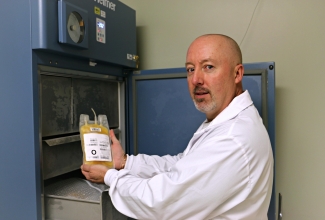 To start, Jenkins received two plasma units destined for research to see what he could do with them.
"We didn't have an eye drop vial to put this stuff in, or any automated method for filling a vial, or a process for shipping it. These were all things we had to figure out before we could proceed," he says.
Dr. Sheffield's lab was responsible for quantifying the amount of plasminogen in the plasma, to make sure it was in the normal range to help the child.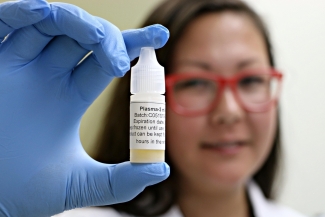 Through Health Canada's Special Access Program, Canadian Blood Services got approval to produce and ship 680 vials of these plasma eye drops. Jenkins and his colleagues found special ophthalmic vials. To prepare the eye drops, they manually transfer the plasma into these vials. They pack the vials in dry ice and ship them to the local blood bank. The bank gives the vials to the family, who administer them to the child. By all accounts, the eye drops are working, and the child is doing well.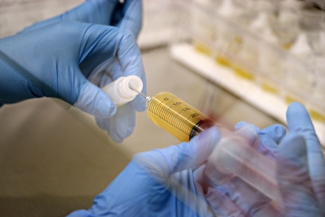 "This project embodies what we hope we're doing every day. It's obvious this patient needed one medicine only we could provide," says Dr. Sheffield.
Jenkins relates that both as parents and as Canadian Blood Services employees, it's something he and Dr. Sheffield felt a personal responsibility to do.
"There's nothing I wouldn't have done, knowing full well it was something only we could do. At the end of the day, Canadian Blood Services got this done. A child has been treated because we were adamant we were going to provide a solution," he says.
This couldn't have happened without the infinite connections we are proud to be part of — in this case, from patient to primary care physician; from that physician to one of our medical directors; from her to our researchers and product and process developers; from them to the blood bank; and from the blood bank back to the patient. The constant in all these connections is between two lives: that of the donor, and that of the patient.
---
Canadian Blood Services – Driving world-class innovation
Through discovery, development and applied research, Canadian Blood Services drives world-class innovation in blood transfusion, cellular therapy and transplantation—bringing clarity and insight to an increasingly complex healthcare future. Our dedicated research team and extended network of partners engage in exploratory and applied research to create new knowledge, inform and enhance best practices, contribute to the development of new services and technologies, and build capacity through training and collaboration. Find out more about our research impact. 
The opinions reflected in this post are those of the author and do not necessarily reflect the opinions of Canadian Blood Services nor do they reflect the views of Health Canada or any other funding agency.
Related blog posts
---
Thursday, January 24, 2019
Dr. Geraldine Walsh
In this study, Dr. William Sheffield and Craig Jenkins from the Centre for Innovation tested levels and activities of important plasma factors for coagulation in recovered plasma. They found that the way in which plasma is manufactured from whole blood impacts the composition of recovered plasma.
---
Thursday, August 29, 2019
Catherine Lewis
A treatment now used to fight two diseases might have the potential to help patients with other conditions, too, according to new research funded by Canadian Blood Services.
---
Wednesday, August 03, 2016
Jenny Ryan
For this instalment of "meet the researcher" we caught up with Dr. William Sheffield a senior scientist with Canadian Blood Services' Centre for Innovation. How long have you been with Canadian Blood Services? I've been with Canadian Blood Services since before it existed! I joined our predecessor...