National organ sharing leads to 500 kidney transplants for highly sensitized patients
---
Tuesday, January 15, 2019
Jenny Ryan
"The gift of transplantation has meant so much to the patients within the highly sensitized patient registry in Saskatchewan and all of Canada." – Dr. Rahul Mainra, St. Paul's Hospital, Saskatoon
The Highly Sensitized Patient (HSP) program is a national organ sharing program operated by Canadian Blood Services in collaboration with all provincial donation and transplant programs. The HSP program gives provincial programs access to a larger national pool of kidney donors for highly sensitized patients who need a more specific donor match.
Patients who are highly sensitized have very few potential donors with whom they are compatible and therefore need to have as many opportunities for transplantation as possible.
"In Saskatchewan, roughly 12 to 20 deceased donors give this gift every year to patients with end stage renal disease. For some highly sensitized patients, it would take years before they would find a compatible kidney transplant within our province," explains Dr. Rahul Mainra, Vice Chair of the national Kidney Transplant Advisory Committee and nephrologist at St. Paul's Hospital in Saskatoon. "The highly sensitized patient registry has given our patients the opportunity to be matched to all deceased donors in the country. This has provided our patients with significantly more options for transplantation.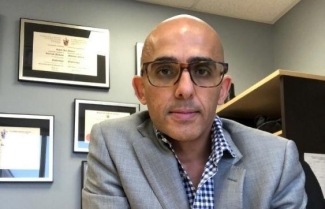 Dr. Rahul Mainra, Vice chair, Kidney Transplant Advisory Committee, Director of Undergraduate Medical Education, Department of Medicine, Clinical Associate Professor of Medicine, Division of Nephrology, St. Paul's Hospital, Saskatoon
"We have seen the success of this program as many of our highly sensitized patients have already received a transplant after waiting years on our local wait list. Five hundred patients have a renewed lease on life with a new kidney transplant as a direct result of the Highly Sensitized Patient kidney program. The gift of transplantation has meant so much to the patients within the highly sensitized patient registry in Saskatchewan and all of Canada."

What does being highly sensitized mean?
It means that the patients have a sensitized immune system. Immune system sensitization may be a result of blood transfusions, previous transplants or pregnancies, which is why many highly sensitized patients are women. As a result, patients who are "highly sensitized" are at higher risk of rejecting an organ transplant. This makes it very difficult to find a suitable donor match.

How does the program help highly sensitized patients?
The HSP program makes it more likely that people who need a kidney transplant, and who are hard to match, will find one. The program uses sophisticated technology to match the right kidney to the right patient anywhere in Canada with accuracy and efficiency.
An organ matched through the HSP program reduces the risk of potential rejection. This means highly sensitized patients have improved chances that their body will accept the new organ; the organ will last longer; and they will not end up back on a wait list. 
A collaboration with provincial HLA (human leukocyte antigen) testing laboratories is part of the national advisory structure organized by Canadian Blood Services, unique to Canada and is foundational to the success of the program.

Why is the Highly Sensitized Patient program so important?
Approximately 20 per cent of patients on provincial wait lists are highly sensitized and in need of a kidney transplant. Yet, these same patients historically receive fewer than one per cent of available organs. With access to a limited number of donors in their home province, highly sensitized patients wait much longer for a kidney transplant and have a greater chance of becoming more ill or dying while they wait. By providing access to donors across the country, the HSP program increases the chances of finding kidney transplants for these hard-to-match patients.
The implementation across Canada began in October 2013 and by November 2014, all provinces and territories had joined the HSP program. The provincial and territorial Ministries of Health and provincial organ donation organizations worked together to implement this critically important national program.
Image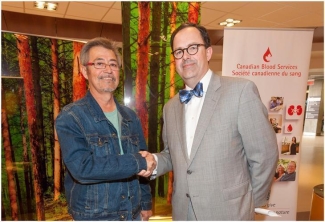 Arnold Dysart (left) pictured with Dr. Peter Nickerson (right), Medical Advisor, Organ and Tissue Donation and Transplantation, Canadian Blood Services at the launch of the national HSP program . Mr. Dysart was the first recipient to receive a kidney through the Highly Sensitized Patient program in spring 2014. Formerly the superintendent of the Frontier School Division, Mr. Dysart is now retired and lives in Manitoba.
Further reading
---
Canadian Blood Services – Driving world-class innovation
Through discovery, development and applied research, Canadian Blood Services drives world-class innovation in blood transfusion, cellular therapy and transplantation—bringing clarity and insight to an increasingly complex healthcare future. Our dedicated research team and extended network of partners engage in exploratory and applied research to create new knowledge, inform and enhance best practices, contribute to the development of new services and technologies, and build capacity through training and collaboration. Find out more about our research impact. 
The opinions reflected in this post are those of the author and do not necessarily reflect the opinions of Canadian Blood Services nor do they reflect the views of Health Canada or any other funding agency.
Related blog posts
---
Monday, August 29, 2016
Jenny Ryan
Two hundred and fifty donations facilitated through the Highly Sensitized Patient program We are pleased to share the news of an exciting milestone for the Highly Sensitized Patient program. As of Monday, Aug. 22, 2016, there have been 250 transplants since going live in October 2013! The Highly...
---
Tuesday, June 20, 2017
Jenny Ryan
500 transplants made possible thanks to the selflessness of living organ donors and kidney paired exchange
---
Wednesday, April 25, 2018
Jenny Ryan
Today, we're celebrating the 1000th kidney transplant made possible through the national Highly Sensitized Patient and Kidney Paired Donation programs. Congratulations Organ and Tissue Donation and Transplantation community! Your collaboration in creating these national programs demonstrates that Canadian patients benefit when we work together.