Mental health and early career scientists
---
Thursday, October 10, 2019
Anusha Sajja
Despite the availability of mental health workshops and other resources within their universities, many graduate students and novice scientists still find themselves suffering from depression and anxiety at their workplace. Changes in behaviour, low productivity, lethargy, and high levels of anxiety and stress are common manifestations of mental health deterioration.
Why is mental health important for trainee scientists?  
The psychological toll of academic life, and in particular academic training, has been recognized as a crisis. A 2018 study found "strikingly high rates of anxiety and depression" among graduate student – rates that were six times higher than those found in the general population. The reasons for this are likely many, but could include a lack of work-life balance, financial strain, and poor relationships with their supervisor.
Laboratory research in particular can be very intensive for graduate students and budding scientists.They are heavily invested in their projects. They are often working at the cutting edge of their fields, trying to learn or develop new technology or techniques. This type of work can be unpredictable and may not go according to plan. Failure to progress due to lack of results can cause low motivation or depression. Tight timelines to conduct studies, perform data analysis and write publications can increase the workload for individuals tremendously. Failure to meet deadlines or progress in your project may lead to longer time within the graduate study program, possibly leading to more financial troubles and greater stress over time.
Although it is difficult to avoid work-related stress, here are some daily routines I have adopted as a graduate student working in a research laboratory to promote my well-being and alleviate stress and anxiety:
I avoid overwhelm by planning reasonably and appropriately. Top tips include:
Write down three realistic goals you would like to achieve (for the day or the week or the term). Do not list too many goals or you will be unable to reach your target!
 
Use task managers or apps such as Google Calendar, Asana, Todoist or old-fashioned journals to organize your daily tasks based on your goals, priorities and deadlines.
 
Plan your daily schedule one day ahead. Using a task manager, block time for each task.
 
Use Post-its or checklists to list your main goals for the day and post the notes on your desk where they are always visible.
I avoid distraction by creating a burgeoning environment. Top tips include
When working on important tasks, isolate yourself to avoid any distractions from others. Communicate with your colleagues about your availability in advance.

Set a time to check your emails or social media for the day. Constantly checking your emails is a primary distraction.
I take time for myself. Top tips include:
When you leave your office or laboratory, also leave your work at your desk or bench!


Allow yourself to recover by going out and participating in an activity you enjoy. Keep your brain and body active.


Plan to have at least one day every week as your personal time to relax.




If you have a long experiment planned, make sure to add an hour in between to go out for a walk. Tedious experiments can cause an accumulation of stress. Taking a break in between to exercise or get some fresh air helps you stay focused on your experiments and better handle any stress that comes your way.
Finally, I recognize and celebrate my achievements. Top tips include:
Keep an accomplishments binder – it can be a physical folder or a digital record, but don't forget to recognize and celebrate your progress towards your academic goals. Accomplishments could be publications, conference presentations, abstracts, scholarships or honorary awards, or perhaps noting (and celebrating) the day you succeeded in getting a tricky experiment to work! My accomplishments binder galvanizes me to stay motivated with my work.
---
The most important thing is to get help when you need it. This may mean reaching out to a friend, supervisor, or colleague; it may mean talking to your doctor, or seeking other professional help. There is support and treatment for mental health concerns, and caring for your mind is just as important as caring for your body. 
 Here are some resources that you may find helpful: 
Image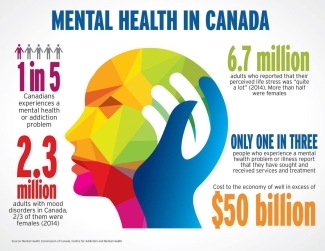 ---
Canadian Blood Services – Driving world-class innovation
Through discovery, development and applied research, Canadian Blood Services drives world-class innovation in blood transfusion, cellular therapy and transplantation—bringing clarity and insight to an increasingly complex healthcare future. Our dedicated research team and extended network of partners engage in exploratory and applied research to create new knowledge, inform and enhance best practices, contribute to the development of new services and technologies, and build capacity through training and collaboration. Find out more about our research impact. 
The opinions reflected in this post are those of the author and do not necessarily reflect the opinions of Canadian Blood Services nor do they reflect the views of Health Canada or any other funding agency.
Related blog posts
---
Friday, September 06, 2019
Canadian Blood Services trainees
On the May 30, an eager group of Canadian Blood Services trainees gathered In Calgary, Alta. for the Centre for Innovation's Research Trainee Workshop. The attendees spent the day at the Eau Claire donor centre to learn about donor selection criteria, the blood donor experience, and the art of science blogging.
---
Tuesday, June 11, 2019
Bronwyn Lyons
The Centre for Blood Research's symposium was held in Vancouver, British Columbia in April. Featuring talks from world-class researchers, trainees and patients, the Norman Bethune Symposium provided attendees with the perfect blend of information and inspiration.
---
Wednesday, November 21, 2018
Guest Author
By Sarah Bowers, Undergraduate Student, Brown Lab, Centre for Blood Research This post was originally published on the Centre for Blood Research blog. It has been republished here with permission with minor edits. What is involved in getting blood that has been donated at a mobile clinic in Campbell...