Centre for Blood Research summer students visit Canadian Blood Services
---
Wednesday, November 21, 2018
Guest Author
By Sarah Bowers, Undergraduate Student, Brown Lab, Centre for Blood Research
This post was originally published on the Centre for Blood Research blog. It has been republished here with permission with minor edits.
What is involved in getting blood that has been donated at a mobile clinic in Campbell River to a patient on the operating table at Vancouver General Hospital?
On Tuesday, July 24th, the Centre for Blood Research (CBR) Summer Students headed to Canadian Blood Services' Vancouver location to find out. The donor centre and production labs are located at Oak Street and 32nd Avenue, right next to BC Children's Hospital. Our tour was led by Dr. Tanya Petraszko, a hematologist and medical director at Canadian Blood Services.
Created in 1998, Canadian Blood Services is a not-for-profit charitable organization that manages the Canadian blood supply. With 36 fixed donor centres and more than 14,000 donor centre events every year, they are responsible for recruiting and collecting blood, plasma, and platelets all the way from Halifax to BC. The only exception is in Québec, where Héma-Québec operates. Dr. Petraszko pointed out that this national scope is one of the things that makes Canadian Blood Services so special.
First, we headed to the donor centre where people were in the process of giving blood. As the CBR summer students had recently been on a tour of the Blood for Research facility (a special donor centre and lab — a part of the Canadian Blood Services Centre for Innovation), we were interested to learn how this centre compared.
The main difference here is that because the donated blood components are intended for use by hospitals for medical care, patient safety must be considered in addition to donor safety. 
Image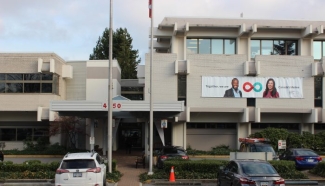 Canadian Blood Services in Vancouver. Photo credit: Canadian Blood Services.
The Vancouver location that we toured also houses the production laboratory where blood from all over BC comes for processing. The protocols for transport change based on a number of factors, including the weather. Red blood cells aren't fans of the July heat! When we arrived in the lab it was fairly quiet. Dr. Petraszko explained that often the busiest time is at night as units that have been donated throughout the day arrive. Samples of these units will have been sent for testing for things like infectious diseases and blood groups. Once the units arrive, blood components such as red blood cells, plasma, and platelets, are separated and stored in appropriate conditions, just like at the blood for research facility. We watched as labels were placed on products to reconcile them with their test results. Once testing and production are complete, the products are released to inventory and are ready to be distributed as needed to hospitals.
Many of us were not aware of the other services that Canadian Blood Services provides to Canadians. Dr. Petraszko explained that Canadian Blood Services purchases plasma protein products on behalf of Canadians, and also operates a Cord Blood Bank, and the OneMatch Stem Cell and Marrow Network. Dr. Petraszko highlighted that Canadian Blood Services now manages programs and services related to organ and tissue donation and transplantation. We were interested to learn about the Kidney Paired Donation program that allows people who aren't a match for a loved one to still help through the swapping of compatible kidneys through multiple donor-recipient pairs to start 'domino' chains of transplants. Canadian Blood Services recently facilitated the 1000th kidney transplant through its programs!
The CBR Summer Students would like to extend a big thank-you to Dr. Petraszko, others at the Canadian Blood Services' Vancouver location, and Julie Kora for the opportunity to tour the facility. We now have a much better understanding of the work being done by Canadian Blood Services, and a new appreciation for its breadth.
Visit UBC's Centre for Blood Research to learn more
---
Canadian Blood Services – Driving world-class innovation
Through discovery, development and applied research, Canadian Blood Services drives world-class innovation in blood transfusion, cellular therapy and transplantation—bringing clarity and insight to an increasingly complex healthcare future. Our dedicated research team and extended network of partners engage in exploratory and applied research to create new knowledge, inform and enhance best practices, contribute to the development of new services and technologies, and build capacity through training and collaboration. Find out more about our research impact. 
The opinions reflected in this post are those of the author and do not necessarily reflect the opinions of Canadian Blood Services nor do they reflect the views of Health Canada or any other funding agency.
Related blog posts
---
Thursday, November 15, 2018
Jenny Ryan
Use plain language to tell the story of your research in blood, plasma, stem cells or organs & tissues.
---
Wednesday, December 06, 2017
Dr. Geraldine Walsh
Drs. Earl W. Davie, Ross T. MacGillivray and Edmond H. Fischer at the 2017 Earl W. Davie Symposium Vancouver. Read all about this years event and find out more about the inspiration behind it.
---
Wednesday, October 19, 2016
Amanda Maxwell
"It's in you to give" is the fantastically simple call to action from Canadian Blood Services. But for some people — such as those of us with a mixed bag of travel and medical histories — it isn't so easy to just show up, roll up (a sleeve) and then settle back as this life-giving liquid flows into...