Hospital Newsletter October 2017
Extended Shelf Life Platelets
Extended Shelf Life Platelets (PDF)
On August 14, 2017, Canadian Blood Services successfully implemented extended shelf life platelets.
For platelets to maintain their function, they must be stored at room temperature with constant gentle agitation. Compared with red blood cells, which generally have a shelf life of 42 days, platelets are good for only a short time —before August 14, 2017, only five days. This short shelf life presented a significant challenge in meeting the platelet needs of hospital patients, especially around long weekends. It also led to discards due to outdates. 
To acquire the knowledge needed to possibly extend the shelf life of platelets, Canadian Blood Services' Centre for Innovation examined bacterial detection in pooled platelets over a seven-day storage period. A team led by Dr. Sandra Ramirez-Arcos found that delaying sampling for bacterial detection from 24 hours to 36 hours or longer, along with increased sampling volume that allows for testing growth in both aerobic and anaerobic conditions, improves the safety of platelet concentrates. 
In addition to this work, Dr. John Blake, one of our in-house engineers, examined the potential impacts of a seven-day shelf life on inventory — both product availability and wastage. He found that compared with five-day protocols, extending to seven days could see about a 30 per cent reduction in product waste. 
From research to reality… 
Based on these findings, Canadian Blood Services is now implementing a new testing algorithm that extends the shelf life of platelets from five days to seven. This shift allows for more hold time up front for enhanced testing for bacterially contaminated products and an additional day of usable shelf life, which may help relieve some of the inventory pressure and, as Dr. Blake's modelling suggests, reduce the number of outdates.
What has changed?
A new testing algorithm was implemented on August 14 to improve the detection of bacterially-contaminated pooled and apheresis platelet components: 
We added an anaerobic culture bottle to our culture process to improve our ability to detect anaerobic bacteria. This will also double the sample volume size, thus also increasing our ability to detect aerobic microbes that can grow in anaerobic conditions. 
We increased the time of sample collection for bacterial detection from 24 to 36 hours after component collection. The increased time allows potentially contaminating bacteria a longer period to proliferate, thus improving our ability to detect them. 
We added a six-hour hold prior to the release of platelets, thus allowing any components that may be flagged by our bacterial detection instrument (BacT/ALERT 3D) early in the incubation period to be quarantined and not issued to a hospital customer.
A smooth transition – keeping our hospital customers informed
Brampton Operations supports some of the largest hospital users of platelets.  Andrea Moore, distribution manager, worked closely with her hospital customers to prepare for the implementation, and to keep hospital customers informed during the implementation week.  
"Strong communication during times of significant change is essential for our hospital customers," says Andrea.  
During the pre-August long weekend conference call with hospital customers, some time was spent discussing the change, explaining how we were preparing, and what hospital customers needed to do to prepare. Hospital customers were also given the chance to ask questions.
During the implementation week of August 14, Andrea and her team sent out daily emails to keep hospitals apprised on progress.  
Daily email updates from August 14-18 were as follows: 
Day 1 Monday – Yesterday we followed the bacteria sampling process for the "five-day" shelf life procedure for the last time. 
Day 2 Tuesday – Today we produced platelets from Monday collections. As per the new extended shelf life process, we will wait 36 hours from donation time before we can take the bacteria sample. The bacteria sampling process will be done tomorrow and then we will hold them for another six hours until they can be released.  We are on track to have these extended shelf life platelets released in time to be issued for Thursday deliveries!
Day 3 Wednesday – Today we have been sampling Monday collections and are on track to release our first batch of extended shelf life platelets in time for tomorrow's routine deliveries!
Day 4 Thursday – Today is our second day of sampling platelets following the extended shelf life process, and it's going well. Today is also our last day with five-day platelets in our inventory - only until midnight!
Day 5 Friday – We have good news. We have a strong platelet plan for the weekend and therefore there is no need for the daily extended shelf life platelet update anymore and it will be discontinued. Thank you all for your support and the help in this transition.  However, if you have any questions or concerns, please do not hesitate and let us know.
"I think this added transparency eased our hospital customers' concerns, and provided them with assurance that all was going according to plan," says Andrea.
Over time, it is hoped that hospitals will reevaluate and refine their ordering and inventory management practices. Hospitals may find that they need to order platelets less frequently or on different days of the week.
---
Hospital Highlight: Fraser Health Project Complete
Hospital Highlight: Fraser Health Project Complete (PDF)
Meditech 5.6.6 can read phenotype bar code and download results to hospital system 
In August 2011, Canadian Blood Services began a standardized Red Cell Phenotyping Testing Program that printed the phenotype test results on the end label of the red cell unit using the International Society for Blood Transfusion's ISBT 128 bar code labelling standard.
This excitement of this step forward was somewhat dampened when it was realized that bar code readers at the hospitals could not automatically scan and download phenotype results to the hospital IT system and into the individual red cell record. This challenge resulted in hospitals having to manually enter the phenotype results into their IT systems. Manual entry can result in transcription errors and jeopardize the safety of patient transfusions.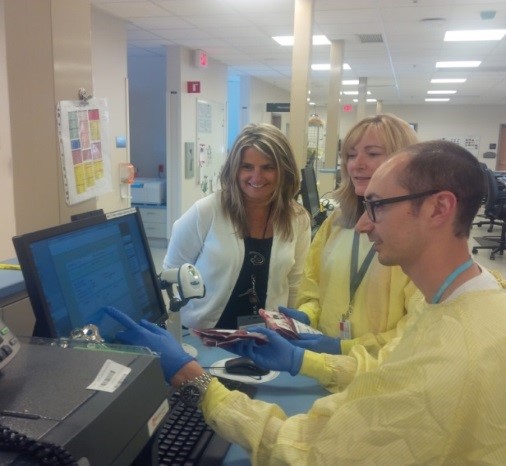 Fraser Health Transfusion Medicine Staff viewing antigen information as scanned into Meditech.  From left to right:  Darlene Mueller, technical practice lead; Marcia Bain, technical coordinator; Dylan Ranalli, technologist.
The Fraser Health Authority (FH), located in the southwest of BC, includes 12 acute care hospitals. FH sees a daily average of 42 babies born, 1208 Emergency Department visits, 2065 patients in acute care beds, and 457 patients who have surgery. Every year approximately 37,000 red cells are transfused. 
The task of entering a large number of phenotyped red cells manually into the hospital's Laboratory Information Services system created the potential for many transcription errors. Staff wanted to take action to prevent transcriptions errors, decrease onsite antigen testing, which totals approximately 5500 tests a year, and leverage existing antigen negative inventory across sites.
To overcome the issues, they implemented a project to enable scanning antigen information from Canadian Blood Services red blood cell (RBC) donor labels into their Laboratory Information Services system (Meditech version 5.66).
The Meditech system needed modifications to the antigen dictionaries to translate the red cell end label phenotype barcode into the antigen field in the hospital computer record for each specific red cell unit. Once modifications were complete and validated, scanning of the red cell end label phenotype barcode made capturing this information easy at the time of red cell receipt. Project implementation at all 12 sites began in June 2017 and included a change in the Meditech menu used to receive red cell units that technologists have embraced.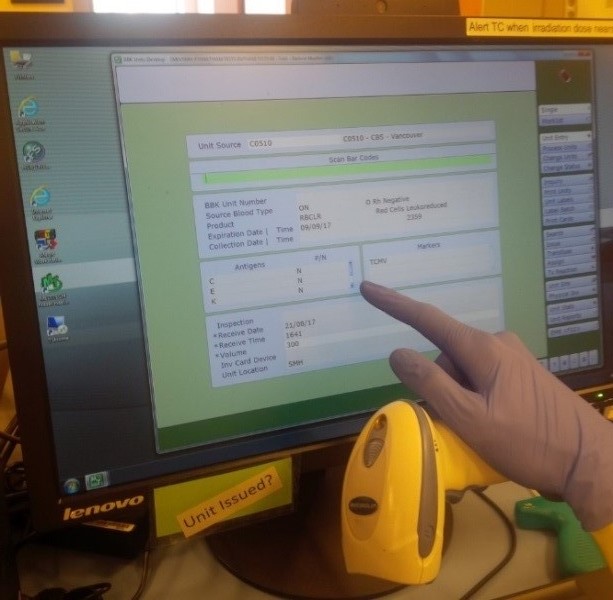 Close up of screen displaying donor phenotypes captured as unit is scanned into Laboratory Information System inventory.
The next step in leveraging this information is underway with the development of a custom IT report so FH's entire red cell inventory of can be quickly searched for antigen negative red cell units. This update makes it easier to locate specific antigen negative units in a large site inventory or across sites for easy access to red cells already held in FH inventory.
For further information or to provide comments or suggestions, contact Darlene Mueller, the technical practice lead in transfusion medicine at Fraser Health, Email: darlene.mueller@fraserhealth.ca.
---
Paying it forward: Why we need YOU to give blood
 "Every time I donate blood I wonder where the unit goes. Units of red blood cells get released to a hospital about 7 to 14 days after collection, and typically get transfused within days of arriving at the hospital. There needs to be sufficient stocks to handle emergencies and the natural ups and downs of transfusion needs across the country."
Paying it forward: Why we need YOU to give blood (PDF)
Dr. Jeannie Callum is the Staff Hematologist and Director of Transfusion Medicine and Tissue Banks at the Sunnybrook Health Sciences Centre, as well as an Associate Professor in the Department of Laboratory Medicine and Pathobiology at the University of Toronto. 
In this moving article, Dr. Callum shares her real-life experience witnessing the impact of blood donation on patient lives. She provides some fascinating insight into blood transfusion, past and present, and emphasizes the need for more male donors, explaining why some donors may be safer than others for patients. This article is also being published in six parts on RED, Canadian Blood Services' Research, Education and Discovery blog.
---
What is Canadian Blood Services' National Facilities Redevelopment Program?
What is Canadian Blood Services' National Facilities Redevelopment Program? (PDF)
Canadian Blood Services manages inventory through a national supply chain.  When Canadian Blood Services assumed responsibility for the national blood system in 1998, it operated out of existing buildings formerly held by the Red Cross. In 2005, funding from Canada's provinces and territories facilitated the launch of a program designed to modernize facilities and provide more efficient services. 
Focused on improving and modernizing our facilities across Canada, the vision was to develop a model for all sites that was designed to enhance operational efficiency, align with future needs, and ensure a viable, safe, and cost-effective infrastructure, and that better serves donors as well as hospital customers. A well-designed model means access to a more extensive inventory of different blood group components across the country and would help Canadian Blood Services to better meet their commitment to deliver the right product, at the right place, at the right time.
The beginning of the National Facilities Redevelopment Program (NFRP) focused on the Maritimes and South-Central Ontario. Phase one included new state-of-the-art production and distribution facilities in Brampton, Ontario and in Dartmouth, Nova Scotia. This first phase of the NFRP was recently completed with the opening of a new testing laboratory integrated with the operations centre in Brampton.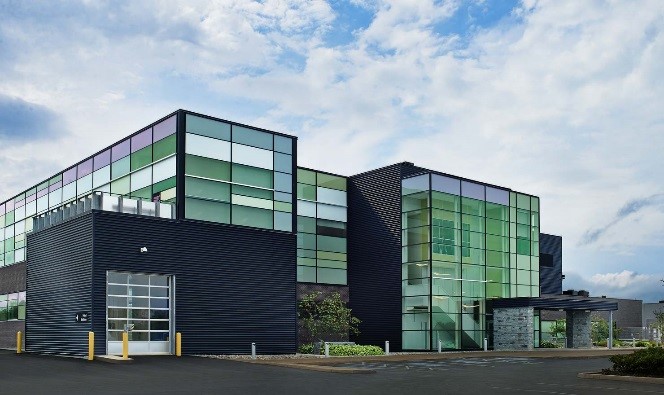 Canadian Blood Services, Dartmouth Nova Scotia.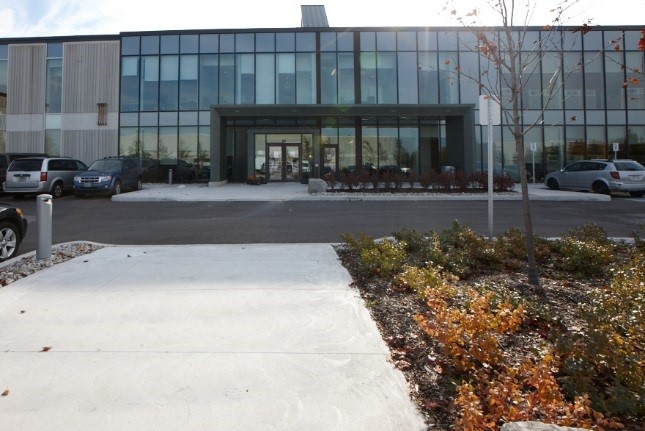 Canadian Blood Services, Brampton, Ontario
What's next?
Phase two of this initiative focuses on Western Canada and is already well underway.
This phase includes a new production and distribution facility in Calgary, Alberta, a new clinic in Saskatoon, Saskatchewan and a collection facility in Calgary's Eau Claire Market. The new blood donor clinic has already opened in Saskatoon, Saskatchewan and on July 10th, Canadian Blood Services celebrated the opening of its largest blood donation clinic centre in the country located on the second floor of Eau Claire Market in Calgary. On May 19, 2017, construction began for a new operations centre in Calgary, which is set to open in 2020. Located on Barlow Trail, the new operations centre will be closer to major transportation routes than the current downtown location.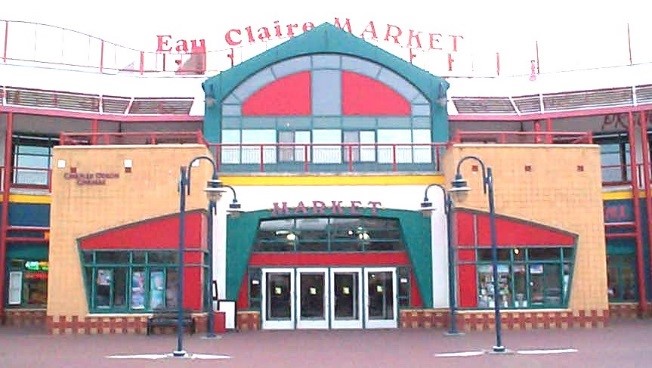 ---
CMV seronegative products now available for intrauterine transfusion only
CMV seronegative products now available for intrauterine transfusion only (PDF)
As communicated in customer letters 2017-22 and 2017-36, effective 2017-10-23, Canadian Blood Services will stop testing donor blood for anti-CMV antibodies except for a small inventory of blood components tested for the sole purpose of intrauterine transfusion. 
As the number of units tested will be very small, there is no opportunity to fill orders for CMV seronegative products outside of the single approved indication. All orders for CMV seronegative components for stock inventory and/or for patients with indications other than intrauterine transfusion will be filled with CMV-safe (pre-storage leukoreduced) components. 
If you work at one of the seven hospitals that currently performs intrauterine transfusions, and are served by Canadian Blood Services, we will maintain an inventory of two units of group O Rh negative CMV seronegative red blood cell (RBC) units that will also be C, E, and K antigen negative, and less than five days of age. A review of published literature, as well as a survey of hospitals serviced by Canadian Blood Services that perform intrauterine transfusions, indicates that this antigen mix will meet the majority of intrauterine transfusion patient needs.
We will also offer on-demand testing for RBC units negative for other RBC antigens for intrauterine transfusions only. The turnaround time for on-demand testing of RBC units negative for other RBC antigens will be 24 hours from the time the request is received at Canadian Blood Services.  
If a CMV seronegative platelet component is required for intrauterine transfusion (apheresis selected or unselected), suitable donors will be tested on demand. The turnaround time for on-demand testing of platelets will be 24 hours from the time the request is received at Canadian Blood Services.  
Intrauterine transfusions are scheduled procedures, and our survey results indicated that this turnaround time will meet the majority of intrauterine transfusion patient needs. In urgent situations, hospitals may wish to discuss options with their local Canadian Blood Services site.  
"When time is of the essence and a risk vs. benefit assessment favours urgent transfusion, I would be comfortable recommending the transfusion of pre-storage leukodepleted components for patients requiring an intrauterine transfusion", says Dr. Gwen Clarke, Canadian Blood Services. 
Canadian Blood Services will rotate the inventory of CMV seronegative red blood cells to ensure units less than five days of age are available for intrauterine transfusion, so any hospital may receive an occasional CMV seronegative unit as part of their routine blood order. These units can be used interchangeably with regular (non-CMV tested) inventory. 
Educational and reference materials
There are several sources of reference information regarding this change in testing strategy that our hospital colleagues may find useful. You may use the video or either slide deck (with or without audio) for in house hospital information purposes.
 A video (11:04 min) recorded by Dr. Jeannie Callum, BA, MD, FRCPC, University of Toronto
 An extended version slide deck with audio (25:06 min)
  An extended version slide deck without audio
Links to the video and slide decks can also be found on Canadian Blood Services' Professional Education website. 
Did You Know?
Canadian Blood Services has a professional education website
blood.ca/professionaleducation
Canadian Blood Services' professional education website is the trusted source for health-care professional education materials. We provide vital resources on transfusion of blood components, and donation and transplantation of organs and tissues. Explore our clinical guidelines, leading practices, courses, upcoming events and more.