Highlights from the 2019 Critical Care Canada Forum
---
Thursday, February 06, 2020
Jenny Ryan
The 2019 Critical Care Canada Forum (CCCF) took place in Toronto Nov. 10-13. This year marked the fifth annual Deceased Organ Donation Symposium, a two-day symposium held during CCCF that promotes scientific research and discussion about organ donation and transplantation and its application to critical care practice. 
Presented by Canadian Blood Services, Trillium Gift of Life and the Canadian Donation and Transplantation Research Program, this year's event did not disappoint. Presentations from this session were recorded and can be found on Canadian Blood Services' professional education website.
Highlights
Opt-out (presumed/deemed consent) — In April 2019, Nova Scotia became the first jurisdiction in Canada to pass opt-out legislation, designed to increase organ and tissue donation. To better understand the real-world implications and impact of this consent model, attendees heard from Phil Walton, the United Kingdom's deemed consent project lead.  His message for Canadian jurisdictions considering this legislation change was to ensure the right people were around the table and that true collaboration among these groups was employed – legislators, regulators, faith groups, organ donation organizations, patients, families, as well as media and ethics experts. 
For health care professionals, the legislation should not change end-of-life conversations with families. The patient and unique life-saving opportunity at hand should remain the focus of every family discussion. The legislation is simply a tool to help the family support a decision.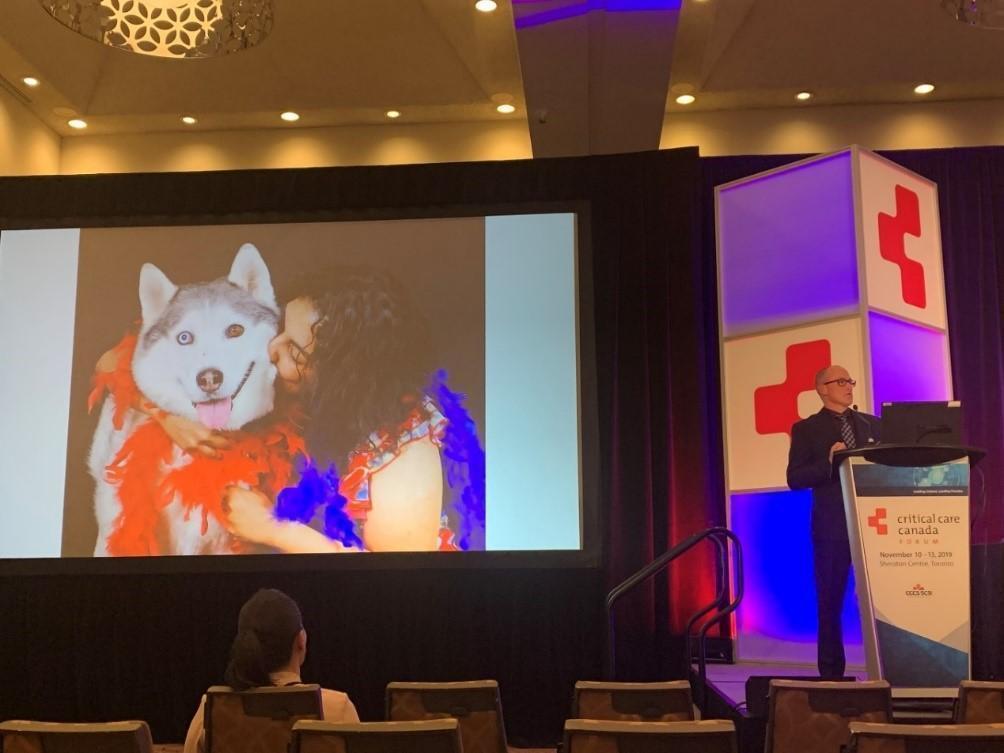 Medical assistance in dying and organ donation — The legalization of medical assistance in dying (MAID) in Canada has led to requests for donation after circulatory determination of death from patients who are conscious and competent. Randy Tresidder, whose wife Dr. Shelly Sarwal was the first person to undergo MAID and organ donation in Nova Scotia, shared his story. His honesty about the personal conflicts he experienced in order to accept and wholly support his wife's decision to become an organ and tissue donor brought great insight to a sensitive subject.
The incredible story of Dr. Sarwal is captured in the documentary film Her Last Project, which attendees also had the opportunity to view during the conference.
Non-Perfused Organ Donation – Dr. Marcelo Cypel, from the Toronto Lung Transplant Program, described an innovative technique that is being used to expand the donor – non-perfused organ donation (NPOD). 
At select hospitals in Ontario, patients who were unable to be resuscitated after an unexpected death, such as a cardiac arrest, are referred to the organ donation organization for initial suitability screening.   Potential NPOD donors have their lungs inflated with oxygen for up to three hours; the timeframe permitted for family approach and consent, deployment of the recovery teams, and lung recovery to take place.  After recovery, the lungs are placed on an ex-vivo lung perfusion machine to evaluate the quality of their function prior to transplantation. 
Dr. Cypel shared that this type of donation had resulted in five transplants to date.  One recipient was a surprise guest at the Symposium.  Eric Celentano's gratitude for a second chance at life reminded attendees why this work is so important. 
Recordings from all of the Deceased Organ Donation Symposium sessions are posted on the Professional Education website, available here.
Check out the gallery for more photos, including one of the inaugural meeting to begin development of a national pediatric donation and transplantation strategy focused to optimizing neonatal and pediatric donation, organ utilization and transplant outcomes. The meeting included more than 30 participants from pediatrics, critical care, donation, transplantation, research as well as donor families and Canadian Blood Services. Meagan Mahoney, a pediatric intensivist from Calgary; Laurie Lee, a pediatric nurse practitioner from Calgary; and Lee James from Canadian Blood Services' Deceased Donation team will lead and support a steering committee to advance this important work.
Did you miss the 2018 event? Videos from the 2018 Deceased Donation Symposium at CCCF are available here.
---
Canadian Blood Services – Driving world-class innovation
Through discovery, development and applied research, Canadian Blood Services drives world-class innovation in blood transfusion, cellular therapy and transplantation—bringing clarity and insight to an increasingly complex healthcare future. Our dedicated research team and extended network of partners engage in exploratory and applied research to create new knowledge, inform and enhance best practices, contribute to the development of new services and technologies, and build capacity through training and collaboration. Find out more about our research impact. 
The opinions reflected in this post are those of the author and do not necessarily reflect the opinions of Canadian Blood Services nor do they reflect the views of Health Canada or any other funding agency.
Related blog posts
---
Tuesday, November 06, 2018
Jenny Ryan
The Critical Care Canada Forum (CCCF) takes place this week in Toronto. The annual event is attended by hundreds of health professionals working in critical care, primarily physicians. A key event within the Forum is an unopposed plenary on brain death determination, to be held on Wednesday, November 7th.
---
Tuesday, October 08, 2019
Jenny Ryan
This year marks the fifth annual Deceased Organ Donation Symposium at the Critical Care Canada Forum in Toronto. This two-day symposium held Nov. 11–12, 2019 promotes scientific research in organ donation and transplantation and its application to critical care practice.
---
Wednesday, December 20, 2017
Jenny Ryan
Canadian partners bring experts together for two-day Deceased Donation Symposium as part of CCCF