Deceased donation in the spotlight at Critical Care Canada Forum 2017
---
Wednesday, December 20, 2017
Jenny Ryan
The Critical Care Canada Forum (CCCF) is a four-day conference for intensive care physicians and other health professionals involved with the care of critically ill patients. For a third year in a row, Canadian Blood Services and Trillium Gift of Life Network (TGLN) led the planning for a focused two-day deceased donation program for donation specialists and intensivists in collaboration with the Canadian National Transplant Research Program (CNTRP) and the Critical Care Canada Forum (CCCF).
Image
Taking place in Toronto in early October, the Deceased Donation Symposium at CCCF focused on sharing knowledge and learning from both Canadian and International experts. Dr. Paul Murphy, who works in deceased organ donation for the UK National Health Services Blood and Transplant program, shared challenges his program faces and potential opportunities going forward. 
Image
Dr Paul Murphy of @NHSBT talks about the paradigm shift that must occur in #deceaseddonation to improve and advance performance #cccf2017 pic.twitter.com/zs3vJDiv0n

— Amber Appleby (@amberappleby3) October 3, 2017
The deceased donation program focused on important, timely and relevant topics such as the impact of missed donation opportunities and Medical Assistance in Dying (MAiD) on organ and tissue donation in Canada. There was also a Sunrise "Ask the Expert" Breakfast session for attendees to learn from prominent leaders in the field, ask challenging questions and discuss highlights and successes of leading donation programs from around the globe.
A key feature of this year's Deceased Donation Symposium was a Donation after Circulatory Determination of Death (DCD) Heart Donation and Transplant Mini-Symposium to inform the conversation in Canada. It was a unique opportunity to clarify bioethical implications and perspectives while also learning about evolving processes, practices, and technologies from content experts who shared their experience in Australia, the United Kingdom and the United States.
Image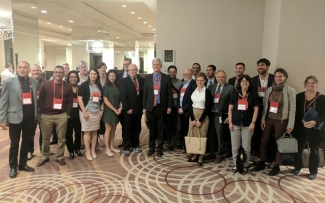 Participation in CCCF is one of many knowledge exchange mechanisms employed by Canadian Blood Services. This year's event also served as the first face-to-face meeting of the recently created Canadian Donation Physician Network, which focuses on building a national community of donation-focused physicians committed to enhancing deceased donation activity in Canada. The Network serves as a forum for members to collectively champion leading practices in donation, support research collaboration, share knowledge and build expertise.
To support clinical decision making and professional development, members have access to monthly educational webinars on emerging topics and case study discussions as well as a monthly e-newsletter containing up-to-date information on leading practices, recent publications and upcoming webinars and conferences. Building this community provides donation physicians with access to mentors and leverages internal expertise that would otherwise be unavailable to many physicians, especially those working in smaller provinces or remote regions of the country.
A few minutes with Dr. Sonny Dhanani, Chair, Canadian Donation Physician Network
Dr. Sonny Dhanani is chair of the recently formed Canadian Donation Physician Network, and vice-chair of Canadian Blood Services' Deceased Donation Advisory Committee. He is also chief of the pediatric intensive care unit at the Children's Hospital of Eastern Ontario (CHEO) in Ottawa and Associate Professor (Pediatrics) at the University of Ottawa.
Image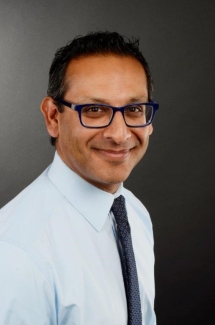 Dr. Dhanani was one of the scientific program advisors for the deceased donation stream at CCCF 2017.We took a few minutes to chat with him about the importance of this event, the opportunities it provides physicians, and how it may ultimately benefit the patients, families and the public they serve.
He explained that the donation track was designed to create a forum for early, middle, and late career intensivists, researchers, and specifically donation specialists. The hope was to inspire best practices, encourage healthy debate, and advance the science of donation.
"There are very few arenas for knowledge translation for donation science specifically," said Dr. Dhanani. "The CCCF is a unique environment to share best practices that will ultimately increase the opportunity for donation during end-of-life care for patients in Canadian intensive care units."
Because there are still many areas of practice that continue to evolve, he network and events like CCCF bring experts together to collectively identify and motivate research and science in donation and transplantation.
Dr. Dhanani was extremely pleased with the how the event came together, emphasizing that 2017 had record attendance, and the keen interest and discussion after each session highlighted the value of bringing the donation community together.
The CCCF donation stream has garnered international interest and moving forward, Dr. Dhanani hopes to continue expand and enhance opportunities for knowledge sharing of experience, expertise, and research  with and by international colleagues.
Image
Presentations from CCCF are available online. Every year we record talks and post them on our Professional Education website to offer opportunities to further educate the organ donation and transplantation, critical care and resuscitation community professionals about the current and future advances in deceased donation in Canada and internationally.  
Given CCCF's recognition internationally, we are exploring the possibility of offering some real time content to international audiences and stakeholders interested in donation during future events.
Further Reading

"Canadian Guidelines for Controlled Pediatric Donation after Circulatory Determination of Death (pDCD) have recently been released. A summary report of these guidelines was published this month in the journal Pediatric Critical Care Medicine.
---
Canadian Blood Services – Driving world-class innovation
Through discovery, development and applied research, Canadian Blood Services drives world-class innovation in blood transfusion, cellular therapy and transplantation—bringing clarity and insight to an increasingly complex healthcare future. Our dedicated research team and extended network of partners engage in exploratory and applied research to create new knowledge, inform and enhance best practices, contribute to the development of new services and technologies, and build capacity through training and collaboration. Find out more about our research impact. 
The opinions reflected in this post are those of the author and do not necessarily reflect the opinions of Canadian Blood Services nor do they reflect the views of Health Canada or any other funding agency.
Related blog posts
---
Tuesday, June 20, 2017
Jenny Ryan
500 transplants made possible thanks to the selflessness of living organ donors and kidney paired exchange
---
Thursday, November 09, 2017
Jennifer Ciavaglia
The James Kreppner Award Program supports legal research relevant to Canadian Blood Services. This year's award competition closes November 30.