The 2019 Critical Care Canada Forum hosts fifth annual Deceased Organ Donation Symposium
---
Tuesday, October 08, 2019
Jenny Ryan
This year marks the fifth annual Deceased Organ Donation Symposium at the Critical Care Canada Forum in Toronto.
Presented by Canadian Blood Services, Trillium Gift of Life and the Canadian Donation and Transplantation Research Program (CDTRP), this two-day symposium held Nov. 11–12, 2019 promotes scientific research in organ donation and transplantation and its application to critical care practice. 
Image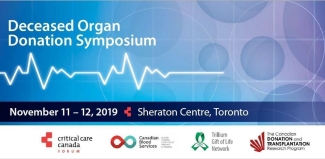 Highlights from the 2019 Symposium program:
Donation after circulatory determination of death is responsible for the largest quantitative increase in deceased donation and transplantation in Canada. This year's Deceased Donation Symposium will feature presentations on the latest research about the physiology of dying and the impact of withdrawal of life sustaining measures procedures on donation after circulatory determination of death. A panel discussion will highlight some of the tensions – old and new – that surround this type of donation.
Presumed consent — In April 2019, Nova Scotia became the first jurisdiction in Canada to pass presumed consent (opt-out) legislation, designed to increase organ and tissue donation. Though countries with deemed consent models generally have higher donation rates, this consent model is only one of the many key components necessary for an optimal organ donation and transplantation system. After a presentation by Phil Walton, the United Kingdom's deemed consent project lead, we'll hear Canadian perspectives on what this legislation means, not only for Nova Scotia, but for the rest of the country — and whether Canada is really ready for this. 
Medical assistance in dying and organ donation — The legalization of medical assistance in dying (MAID) in Canada has led to requests for donation after circulatory determination of death from patients who are conscious and competent. The 2019 Deceased Donation Symposium will look at the state of MAID and organ donation today and what it might look like in the future. A donor coordinator who, instead of speaking to substitute decision makers about donation opportunities, is speaking directly to the patient themselves, will describe how and why MAID cases are different from other DCD cases.  
A family perspective — Finally, Randy Tresidder, whose wife was the first person to undergo MAID and organ donation in Nova Scotia, will share his experience and perspectives on MAID and organ donation. The incredible story of Randy's wife, Dr. Shelly Sarwal, is captured in the documentary film Her Last Project. CCCF attendees will have an opportunity to watch the film on Wednesday, November 13 at 12:30pm. 
About the Critical Care Canada Forum
The Critical Care Canada Forum is a four-day conference focusing on topics that are relevant to the individuals involved with the care of critically ill patients, wherever the patients are located. Internationally recognized, the Critical Care Canada Forum focuses on leading-edge science through informative and interactive sessions, led by an outstanding international faculty, with poster presentations and exhibits with the latest products and services for the critical care professional.
Did you miss last year's event? Videos from the 2018 Deceased Donation Symposium at CCCF are available here.
---
Canadian Blood Services – Driving world-class innovation
Through discovery, development and applied research, Canadian Blood Services drives world-class innovation in blood transfusion, cellular therapy and transplantation—bringing clarity and insight to an increasingly complex healthcare future. Our dedicated research team and extended network of partners engage in exploratory and applied research to create new knowledge, inform and enhance best practices, contribute to the development of new services and technologies, and build capacity through training and collaboration. Find out more about our research impact. 
The opinions reflected in this post are those of the author and do not necessarily reflect the opinions of Canadian Blood Services nor do they reflect the views of Health Canada or any other funding agency.
Related blog posts
---
Wednesday, December 20, 2017
Jenny Ryan
Canadian partners bring experts together for two-day Deceased Donation Symposium as part of CCCF
---
Wednesday, May 08, 2019
Jenny Ryan
Canadian Blood Services, Trillium Gift of Life Network and the Canadian Donation and Transplantation Research Program partnered to host the Deceased Organ Donation Symposium that took place at the Critical Care Canada Forum (CCCF) on November 7 – 8, 2018. The CCCF is a national forum attended by...
---
Tuesday, November 06, 2018
Jenny Ryan
The Critical Care Canada Forum (CCCF) takes place this week in Toronto. The annual event is attended by hundreds of health professionals working in critical care, primarily physicians. A key event within the Forum is an unopposed plenary on brain death determination, to be held on Wednesday, November 7th.