Exploring barriers and enablers to more inclusive source plasma donations
---
Thursday, May 16, 2019
Pilar Castro
One of fifteen MSM research projects being funded by Health Canada, the Feasibility of implementing source plasma with alternative screening criteria for men who have sex with men seeks to identify barriers and enablers that will inform how Canadian Blood Services and Héma-Québec address eligibility screening criteria in the future.
Canadian Blood Services, medical director Dr. Mindy Goldman, and research project lead investigator Justin Presseau provide insight into how this project will unfold; what it means to Canada's national blood system; and why it matters.
Plasma, which can be stored frozen for months before being sent for manufacture of plasma protein products, offers a unique avenue for undertaking the type of research that may help broaden Canada's eligibility criteria to include groups that were unable to donate in the past.
"This research is necessary to try and identify a low risk group of MSM who could donate plasma and move away from a time-based deferral for all sexually active MSM," explains Dr. Goldman.
For Justin Presseau - whose research program involves studying how to improve healthcare services, while seeking to understand and support altruistic behaviours or selfless acts that people undertake for the benefit and health of others - a feasibility study focused on studying barriers and enablers for men who have sex with men (MSM) to contribute, was a natural fit.
Image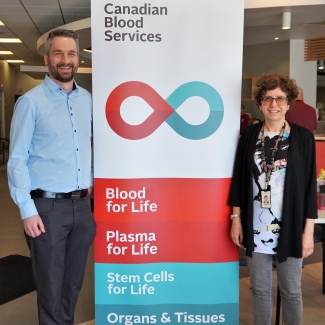 "While sexually active MSM have historically been limited from donating, the national and international conversation and research are starting to explore alternative criteria that would allow more MSM to donate by focusing on what people do, rather who they do it with, or how long it has been since they have," explains Presseau. "And speaking personally, that is just the right thing to do. Lots of MSM have safe, low risk sex and could give back by providing life-saving plasma donations if given the opportunity to do so," he adds.
"A lot of my work is in practice-changing research, and so I also understand that policy changes can be slower than we might like, but ultimately thanks to research evidence, the policies for MSM in Canada are moving in the right direction towards greater inclusivity," explains Presseau. "My hope is that our research will meaningfully contribute to the move towards more inclusive policies that maintain the safety of the supply that Canadians expect," he says.
This project involves a great many collaborators and requires active engagement with the MSM community at various intervals. In Justin Presseau's view, meaningful, impactful research needs to be a 'team sport' that brings together partners with different skills, knowledge, and expertise to address complex issues.
"Throughout this study, from start to finish, we're making community engagement an ongoing priority. I am delighted that we have assembled an engaged team of collaborators including health researchers, Canadian Blood Services, donation centre staff in London, and MSM from the community," notes Presseau. "Building this research team was the first step and branching out beyond this core team to welcome community members onboard is the next step," he adds.
Collaboration efforts include: open community conversations in London, Ontario, such as the Aeolian Talk on May 13, 2019 and having a presence at the annual Pride London Festival in July. Presseau is hoping that these types of discussions will lay the foundation for building trust and establishing partnerships that will span the length of the study and beyond.  "We're currently looking for local advisory group members, who are passionate and interested in this topic—no previous research experience required," says Presseau.  He enthusiastically encourages all who are interested to 'get in touch'.
The project, which is just getting started in London, is expected to last two years. During this two-year period, researchers will seek to engage and document the perspectives expressed by the London MSM community, through discussions, interviews, and an online survey. "As research evidence continues to play a central role in the evolution of donor eligibility criteria in Canada, MSM should have a seat at the table in discussions on the move to more inclusive criteria," adds Presseau.
The research team will also work closely with Canadian Blood Services donation centre staff to understand their views, training needs, and methods, as well as to ensure that any future changes to eligibility criteria can be implemented as smoothly and consistently as possible. Likewise, they intend to speak with current, repeat donors to better comprehend the practical and social aspects of donation. In the second year, they will build on what they've learned. "Once we have analyzed what we hear from MSM, ongoing donors, and clinic staff, we will work in partnership with them to develop solutions and materials that can usefully address the barriers that have been identified,' says Presseau.
"We have seen tremendous evolution in our policies, while maintaining the safety of the blood supply.  We realize that there is still quite a bit more work to do, but with the help of our stakeholders, we will continue to make progress," says Dr. Goldman.
Guided by what the community feels would be most helpful, Presseau expects to develop a range of content such as videos, online resources, policy briefs, training and workshops. "Our hope is that this research will set the stage for better implementation of alternative eligibility criteria if/when policies in Canada change" adds Presseau.
Justin Presseau is a Scientist at the Ottawa Hospital Research Institute and Assistant Professor at the University of Ottawa in the School of Epidemiology and Public Health and the School of Psychology. He is also the Scientific Lead for Knowledge Translation at the Ottawa Methods Centre. He has particular expertise in implementation science research, and in the development and evaluation of healthcare improvement interventions including pilot and feasibility studies that inform larger scale randomized trials of healthcare interventions. He has particular methodological expertise in the use of rigorous methods for identifying barriers and enablers in various stakeholders (patients, members of the public, and healthcare providers) to inform the development of strategies for changing health behaviours. Dr. Presseau will ensure the methodological rigour of the research approach and oversee the conduct of the research, the analysis of findings, the budgetary expenditures and the dissemination of findings. 
Mindy Goldman is the Medical Director for Donor & Clinical Services, Medical Affairs and Innovation, Canadian Blood Services, whose group is responsible for developing donor eligibility criteria.  She has participated in the development, evaluation and implementation of criteria changes for MSM, and has expertise in regulatory requirements and international policies for blood and plasma donation.  She will develop potential alternative eligibility criteria for MSM plasma donors, in collaboration with other members of the study team, Héma-Québec, and consultations with the regulator, Health Canada.  She will ensure that study results will be as applicable as possible to Canadian Blood Services operations after conclusion of the study.
---
Canadian Blood Services – Driving world-class innovation
Through discovery, development and applied research, Canadian Blood Services drives world-class innovation in blood transfusion, cellular therapy and transplantation—bringing clarity and insight to an increasingly complex healthcare future. Our dedicated research team and extended network of partners engage in exploratory and applied research to create new knowledge, inform and enhance best practices, contribute to the development of new services and technologies, and build capacity through training and collaboration. Find out more about our research impact. 
The opinions reflected in this post are those of the author and do not necessarily reflect the opinions of Canadian Blood Services nor do they reflect the views of Health Canada or any other funding agency.
Related blog posts
---
Tuesday, January 30, 2018
Ross FitzGerald
Researchers are invited to apply for funding under the MSM Research Grant Program
---
Thursday, January 24, 2019
Dr. Geraldine Walsh
In this study, Dr. William Sheffield and Craig Jenkins from the Centre for Innovation tested levels and activities of important plasma factors for coagulation in recovered plasma. They found that the way in which plasma is manufactured from whole blood impacts the composition of recovered plasma.
---
Wednesday, November 30, 2016
Jenny Ryan
A two-day meeting will be held in January 2017 with national and international stakeholders to identify research priorities for closing knowledge gaps that impact donor eligibility for men who have sex with men.