Research aims to close knowledge gaps on donor screening of men who have sex with men
---
Wednesday, November 30, 2016
Jenny Ryan
A two-day meeting will be held in January 2017 with national and international stakeholders to identify research priorities for closing knowledge gaps that impact donor eligibility for men who have sex with men.
In January 2017, health leaders will converge in Toronto to set out the research priorities needed to inform future change for blood donation eligibility for men who have sex with men. The general idea is to examine alternative screening approaches for blood donors and alternative technologies to provide data to change the current donor eligibility requirements, while maintaining the safety of the blood supply for Canadian patients.
The current donor eligibility criteria for men who have sex with men results in the deferral of many individuals who would like to participate in blood donation in Canada. After decades with no change in the deferral policies, we were able to demonstrate that a change to a five-year deferral period, as opposed to an indefinite deferral period did not result in a change in safety. We have now moved to a one-year deferral policy, and are carefully monitoring any impact on safety.
We need solid evidence to support a further regulatory change, and that research and evidence collection takes time. However, with dedicated financial support from Health Canada and a global desire to see this eligibility criteria permit more individuals to donate while maintaining safety, Canadian Blood Services and its partners can plan for and deliver a research program that is focused on inclusivity for donors. 
"… Health Canada will provide a $3M contribution to Canadian Blood Services and Héma-Québec to fund behavioural research to ensure non-discriminatory practices; organize an international seminar with health leaders from around the world to discuss blood donor policy; and encourage further development of technologies (such as pathogen reduction technologies) by working with industry and academia." Minister of Health statement on MSM deferral
The process of setting this research agenda and launching the granting process is happening in partnership with Héma-Québec, and in collaboration with key stakeholder organizations such as Egale Canada Human Rights Trust, the Community-Based Research Centre for Gay Men's Health and the Canadian Centre for Diversity and Inclusion. Representatives from patient groups and LGBTQ groups will also be involved.
The main goals of this meeting will be to review current international practice and collect existing evidence; identify knowledge gaps and research priorities; and design funding programs to facilitate the completion of the needed research. It will also be an opportunity to discuss the existing barriers to research and how to overcome them.
Image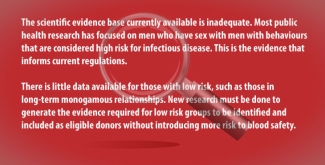 Why is this research necessary?
The overall rationale for a research program dedicated to this issue is to ensure the generation of adequate evidence to support a change in deferral policy.  
Unfortunately, the scientific evidence base currently available is inadequate. Most public health research has focused on men who have sex with men with behaviours that put them at high risk of infectious disease. This means there is little data available for those with low risk, such as those in long-term monogamous relationships. Given Canadian Blood Services' commitment to sound evidence-based decision-making, more data is required to move the issue forward while maintaining the highest blood safety standard.  Any change in eligibility criteria must be approved by our regulator, Health Canada, and therefore must be supported by evidence showing the safety of the proposed approach.
With a proper research agenda, dedicated funding, brain power and resources, the evidence needed to support a request for change can be collected. It will also be the opportunity to collect Canadian data to better explore the issue within the Canadian context.
The entire process – from identifying research questions to conducting the research and providing the data to Health Canada for a policy change – will take some time. In the meantime, a focused effort toward evidence-based change is most certainly underway. 
---
Canadian Blood Services – Driving world-class innovation
Through discovery, development and applied research, Canadian Blood Services drives world-class innovation in blood transfusion, cellular therapy and transplantation—bringing clarity and insight to an increasingly complex healthcare future. Our dedicated research team and extended network of partners engage in exploratory and applied research to create new knowledge, inform and enhance best practices, contribute to the development of new services and technologies, and build capacity through training and collaboration.
The opinions reflected in this post are those of the author and do not necessarily reflect the opinions of Canadian Blood Services nor do they reflect the views of Health Canada or any other funding agency.
Related blog posts
---
Wednesday, July 13, 2016
Jenny Ryan
While blood transfusion is safer now than ever before, scientists continue to look for ways to reduce risk and ensure the healthiest possible outcomes for patients. A unique collaboration between Canadian Blood Services, The Ottawa Hospital and Université Laval has led to some interesting and...
---
Wednesday, May 18, 2016
Lisa Willemse
On that front, Canada is doing a very good job. Dr. David Allan, medical director for Canadian Blood Services' Cord Blood Bank and OneMatch Stem Cell and Marrow Network, reports that more than 1,000 units of cord blood are now available in the public Cord Blood Bank.