Encouraging meaningful careers in STEM – Part 1
---
Tuesday, October 10, 2017
Jennifer Ciavaglia
To encourage more young people to consider careers in science, technology, engineering and math, and in honour of Ada Lovelace Day 2017, we are pleased to share profiles of women in these essential fields at Canadian Blood Services.
We chose these stories in particular because they share a common theme of both perseverance and flexibility. They represent just a sampling of the convergence of skills, abilities and professional backgrounds that support Canada's national blood system, its related activities, and the patients it serves.
Image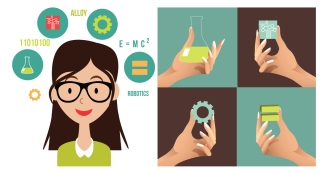 Words of wisdom from the field of Science
Dr. Michelle Zeller, Medical Officer
Assistant Professor, Division of Hematology & Thromboembolism, Department of Medicine, McMaster University
Academic lead, Transfusion Medicine, Hamilton Health Sciences
Program Director, Transfusion Medicine AFC Diploma Program, McMaster University
Image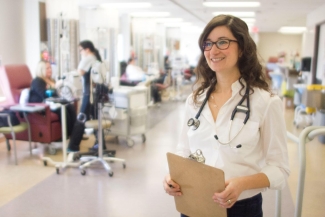 Looking back, my path seems like a straight line, but at the time, each step was an independent decision influenced by incredible mentors, new-found exciting subject matters, and challenging patients.
I had the great fortune of being mentored by remarkable individuals who inspired and encouraged me – by their compassion, dedication, and medical contributions – to enter medicine, then hematology, medical education and finally transfusion medicine.
I was similarly influenced by subject matter; for example, hematology is a dynamic field that offers century-old therapies (e.g. blood-letting) along with novel therapies (e.g. targeted immune-therapy) to treat diseases that span benign to malignant, acute to chronic and indolent to aggressive. This specialty allows me to move between bedside patient care and laboratory investigation and analysis to make diagnoses, determine prognoses and follow impacts of management. I chose to further specialise in transfusion medicine because of its intriguing complexities and because it provided an excellent platform to support my interest in medical education. There are knowledge gaps around how blood is collected, processed and transfused; working at Canadian Blood Services has given me the tools to advocate, research and educate towards closing these gaps.
Daily, my patients inspire me with their complex conditions, graciousness, bravery and thoughtful contributions to their care. Choosing medicine as a career means committing many, many hours of hard work. It is extremely humbling and gratifying, and I am thrilled to learn something new everyday.
To young people considering a career in STEM,  I have four pieces of advice:
Don't let fear keep you from pursuing your dreams. As a child, I would cry/faint when getting a needle or having blood taken. My family members have noted (on more than one occasion) the irony that I who had such a fear of blood and needles now work as a blood doctor, performing bone marrow procedures on patients with giant needles, surrounded by fridges of blood! I got over my fear of needles when my 94-year-old grandfather needed a weekly injection of erythropoietin and I volunteered to administer the injections. I remember how calm and appreciative he was with each injection. Each time, he would say "Mickey, you are so gentle!" with a smile.
Take strength from those around you and develop strategies to move forward. Caring for patients with hematologic malignancies like acute leukemia, aggressive lymphoma and multiple myeloma has taught me many lessons about resilience, hope, strength, grace and humility. I am motivated by my patients. However, I have also been deeply saddened by their loss and that has made me grateful for every day spent in health with those I love.
Accept as much help as you can find, and/or hire as much help as you can afford. As a woman in medicine who is constantly balancing being a wife and mom, caring for patients, training professionals, and pursuing an ambitious academic career, I have benefited from a LOT of help along the way. I would not have made it through 16 (!) years of post-secondary education without my supportive network of family, childcare, friends and colleagues.
Use your time effectively. Building a loving family is compatible with enjoying a STEM career. Manage both work and home time efficiently and effectively, delegating where possible. Carve out moments for yourself and cherish occasions with your family! I remember being 34 weeks pregnant with my second child, mom to a busy 20-month-old, still a hematology trainee, studying for my hematology licensing exams, having recently started a Masters in Health Professions Education and feeling very overwhelmed. I got through each day, one task at a time – focussed and efficient. I set aside time to spend with my son, time to study and had a lot of help with childcare from my husband, parents and in-laws. My successes were that much sweeter sharing them with loved ones who were and are integral to my journey.
---
Dr. Heidi Elmoazzen, Director, Cord Blood Bank and Stem Cell Manufacturing
Growing up I always had a strong interest in math and science and making the connection between these disciplines and the everyday world we live in.  During my graduate degree I started taking an interest in cryobiology – the study of life at low temperatures, particularly freezing cells and tissues for transplant and reproductive medicine. I was able to do some cutting-edge research including working with endangered leopards at the Smithsonian Zoo in Washington DC, as well as working with various IVF clinics helping women undergoing cancer treatment or dealing with fertility issues with freezing their eggs. 
Image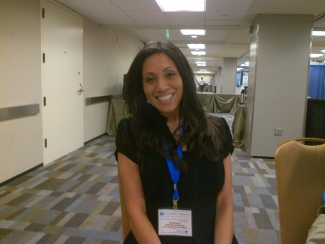 My current position as the director of Canadian Blood Services' Cord Blood Bank has probably been the role that has given me the most pride. Being a part of building a program from the ground up, and seeing patients actually receiving cord blood stem cell transplants, has been extremely rewarding.
My chosen path has given me a career that I love and that I feel very fortunate to have. It is not every one who can say they get to do something they love and have a direct impact on saving and improving lives. As with any career there are challenges. However, I would advise anyone who is thinking about their career path to find something they are passionate about and that they love doing and success will surely follow! 
---
Dr. Chantale Pambrun, Associate Medical Director, Donor and Clinical Services
I have always enjoyed science and math because of the logical thinking required. I ended up studying laboratory medicine — hematopathology — where my passion for detective work (e.g., diagnosing) could be applied.
I was influenced by a great mentor, an anatomical pathologist, who gave a lecture on the work she did with unmarked graves in Bosnia from the Cold War. She had a fascinating career and made an impact on people's lives. Her story opened my world to pathology.
Image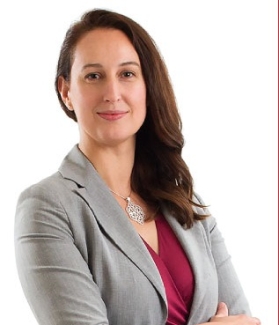 I have also had both male and female role models from the STEM fields, so a career in the field always seemed attainable to me. .I am thankful for a career in medicine and to be working for an organization that respects my opinions,  equally as those from my colleagues. Today I enjoy a broad scope of practice. I work in a challenging environment where I can apply my knowledge and experience to solve the problems of the day.
To those considering a career in STEM: find your goal. Not the tangible end-product, but an intangible state of being. Be open to alternative paths. Be flexible and be resilient because the path to your goal may not be as you initially envisioned. If you're open to something that might feel slightly uncomfortable, you might uncover something that truly ignites your passion.  
Try to find balance in your roles. As a child, sibling, friend, wife, mother, and doctor, I have a duty to respect my limits and to tend to those around me. I believe we have a social responsibility to those coming up behind us, to model behaviors, attitudes and values that will continue to grow and improve our fields. The outcome is a better human experience.
Finally, diversity of thought is an asset that comes from individuals who have had different experiences. When diversity is infused into strategic planning, leadership, human resource development and change management, it makes for a balanced and holistic approach. Your contributions can engage others to move forward as a collective. Don't be afraid to share your ideas.
---
Dr. Sandra Ramirez-Arcos, Development Scientist, Centre for Innovation
Ever since I was a little girl, I have been fascinated by the sciences. After finishing high school in my home country Colombia, I decided to study medicine. However, at the time, medical school was only open once per year at the university where I intended to study. I then decided to register to microbiology for one semester until I could apply to medicine. After only one week of being in the program, I knew that I wanted to be a microbiologist, and I have never looked back.
Image
It is difficult to explain but "bugs" became my passion very quickly as I realized that the potential application of the microbiology field was enormous. I practiced industrial microbiology for a few years before getting involved in clinical microbiology, which led me to work at Canadian Blood Services.
Here, I have seen my passion rewarded in many ways. Each small or big project brings me excitement as I anticipate the learning experience and the impact that these studies have on improving the safety of our blood products. I am a microbiologist at heart!
I would recommend to any young person who wants to study science to trust their instinct and do not get discouraged by the many challenges that they will encounter. Working in research and development is not always easy and it is important to be passionate about it and have an open mind for change, and embrace the unexpected. Especially to young women, I would advise them to believe in their ability to excel, to dream big, to not let anyone tell them that what they have in mind is impossible. And, very importantly, I recommend to young women that they balance their personal life with the demands of a successful career. Balance can be challenging but it is necessary to truly enjoy our work.
---
Roya Pasha, Senior Development Assistant, Centre for Innovation
My interest in biological sciences started at a young age. I remember being keenly interested in science shows on TV about human karyotyping when I was only in middle school. Later on, my studies took me in a different direction, both academically and geographically. I began in chemistry, and through my graduate degrees I shifted toward research in biochemistry and biological products. 
Image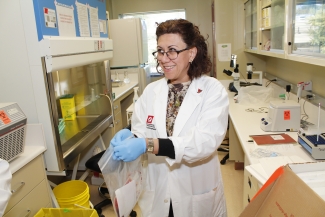 For me, family has always been the most important priority in my life. However, I have learned that when you are passionate about your work, other priorities will not compromise your aspirations. Instead, opportunities will present themselves along the path, both big and small, which allow you to enjoy a fulfilling career while raising a family. 
A few words of advice to young people pursuing a rewarding career in STEM: Know your general area of interest and stick to it. Don't worry if plans don't always go accordingly. In research as in life this is a rarity; you will find your path eventually. Good research is accomplished through team work, so always value others' contributions. Finally, one of the most important factors for successful work in research is to find a good mentor and learn from  that person.
---
Dr. Tanya Petraszko, Associate Medical Director (West) – Medical Services and Innovation
Image
"Science" drives my everyday life as well as my career. I am constantly asking my family to justify their claims. That's science. Prove it, I say, tell me something, teach me something, ask me something and show me the evidence for or against your claim. This process for gathering evidence is everywhere in medicine. It is part of how I was I trained and part of how I live life, but it is sorely lacking in the media and socially.
Today, I would encourage young people to carefully consider the evidence and make their decisions accordingly. Make fact checking part of their daily consumption of media and how they navigate the world and how they choose a career path. In training and working in medicine, I am fortunate to have this evidence-based filter to see the world through and I'm grateful for that.
In part 2 of Encouraging meaningful careers in STEM , we hear  words of wisdom from the fields of Technology, Engineering and Math. 
---
Canadian Blood Services – Driving world-class innovation
Canadian Blood Services promotes leading practices and is actively involved in raising awareness and education of organ and tissue donation and transplantation. We maintain patient registries and help save and improve lives though research and innovation and by working closely with the organ and tissue donation and transplantation community.
The opinions reflected in this post are those of the author(s) and do not necessarily reflect the opinions of Canadian Blood Services.
Related blog posts
---
Wednesday, March 02, 2016
Jenny Ryan
One of our own medical experts helped bring believability to the newest season of The X-Files.
---
Tuesday, October 10, 2017
Jennifer Ciavaglia
To encourage more young people to consider careers in science, technology, engineering and math, and in honour of Ada Lovelace Day 2017, we are pleased to share profiles of women in these essential fields at Canadian Blood Services. We chose these stories in particular because they share a common...