Helping put the science fact in science fiction
---
Wednesday, March 02, 2016
Jenny Ryan
One of our own medical experts helped bring believability to the newest season of The X-Files.
By Jenny Ryan
The X-Files reboot (Season 10) premiered on Jan. 24 and wrapped up on Feb. 22.  Limited to a short but compelling six episodes, the series has left many fans wanting more. One of our own medical directors – our in-house expert on infectious diseases – played a contributing role in this much anticipated series revival and was credited as co-writer on the sixth episode. 
Image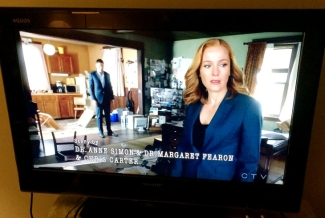 I connected with Dr. Margaret Fearon, director of medical microbiology at Canadian Blood Services, about her experience with the show, which she called "a nerd's dream come true."  We also chatted about the importance of science fact in science fiction. If you want the audience to believe the science it'd better be as 'real' as possible. 
Dr. Fearon's day job is pretty fascinating, too. 
She conducts surveillance on bloodborne pathogens and is an expert on emerging infectious threats to the blood supply.
Throughout the series, science fact is key and as with any good scientist, the pursuit of evidence is paramount.  Scully is the scientist, the skeptic in search of evidence, while Mulder is the dreamer. It's the tension between wanting to believe and nailing down the evidence that makes it more believable and is an essential part of the show.
Fans of the original series may remember the scientific influence in many of the episodes. Chris Carter, creator of the series was a stickler for the 'truth' and relies on experts to help get the story, and the setting right, whether in the lab or the autopsy room. Season 10 is no different.
In an interview with TV Insider, Chris Carter commented on his appreciation for his science experts, Drs. Anne Simon and Margaret Fearon, "I want this to be realistic. I don't want this to be just made up science."
Trust the science, believe the plot…
---
A Q&A with Dr. Fearon
What do you love about The X-Files?
Getting it right
I was always a big fan of the show. I loved the stories, they were really well done.  They had fantastic writers, and a nice mix of the suspense and the mystery and the scary stuff. But also, they had great characters. You came to feel like they were part of your family. Plus, there was a clever bit of humour thrown in every now and then.
I really appreciate good science fiction and programs that not only have good stories but make a point of getting the science part of it correct. The attention to detail carries over into the whole production. It's not just getting the science right, it's also making sure things look right, the characters are genuine, and the stories are good. So it's all part of the same package that makes a show enjoyable.
A woman in science
One of the key things for me was the really strong female character who was a medical doctor. That so rarely happened, certainly in the 90s, where a female character in a series had such a key role and was a role model for young women who might consider getting into a medical or a science career. (Still holds true in 2016!)
Image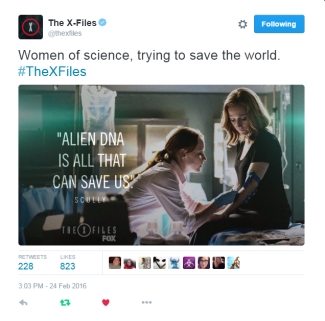 How did you get involved in the show?
I met Anne Simon, PhD, a virologist (Read: Meet the Scientist behind the return of the X-Files) about 15 years ago. Anne happens to be a family friend of Chris Carter, The X-Files producer.  Since the series began, Chris often turned to Anne when a science advisor was needed. Sometimes she'd reach out to me when there were questions more on the medical side rather than pure science.
During the filming of the final season, years ago, Anne and I got invited out to LA to visit the set.  The episode being filmed was directed by Vince Gilligan (who you may know as the producer of Breaking Bad).
They sent me into the morgue/autopsy room set to see if everything looked okay. I went in and fixed the x-rays that were up backwards, and mentioned that they were putting the bodies wrong way around on the autopsy table. But all in all, they had everything set up very nicely. 
"It's fairly minor stuff, but if you know a bit about science or medicine, it's the little things that can be annoying, but they're also the things that are easy to make right." 
It was during that visit that I got to know Chris Carter.  We remained in contact over the years.
When they got word from FOX that season 10 was go, he got in touch with Anne and me and asked us to help think up some "cool science" that could be used in the show.
Can you tell us a bit about how it all came together?
Anne and I work really well together. She's on the pure science side of it and is very strong in molecular biology, up-to-date on all the latest cool things that are happening in that area. I'm on the medical side. We hit ideas off each other and developed them, mainly for the final episode of the series, the sixth one.
We both were given a story credit for it, which we weren't expecting. So you will see our names on the sixth episode as contributors. (Exciting!)
Image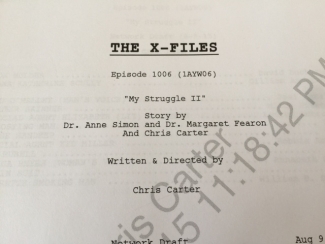 Like I said, it's been a nerd's dream come true. I've had so much fun.
 
Along with the ever-present conspiracy theories that are tenuously science-based, episode 6 also touches on a number of hot topics in science today: for example, the use of genome-editing tools like CRISPR-Cas9 -- very 'cutting-edge' stuff (no spoilers here but if you want to read more of the details about the episode "My Struggle II"). 
So, you think keeping the science "real" makes for a better story?
Yes, for sure. The closer a story is to reality, the scarier it is. This is something Chris learned early on. He uses real science, real medicine as the basis for the story and then just kind of extrapolates from there.
These are all things currently happening in science, but what if we extrapolate into the future? That's the kind of thing that makes for a really good story. It's believable because you think "wow, you know, that could really happen and that's scary."
Image
Dr. Margaret Fearon is a medical director at Canadian Blood Services. She is an expert in infectious diseases and conducts surveillance of bloodborne pathogens and emerging infectious threats to the blood supply.
---
The opinions reflected in this post are those of the author and do not necessarily reflect the opinions of Canadian Blood Services.
Original content on R.E.D. falls under a creative commons CC BY license. We we invite you to take it and republish it (with attribution and a link back to the source).
Related blog posts
---
Monday, February 08, 2016
Jenny Ryan
A research, education. and discovery blog Did you know that we do research? Quite a lot of it, in fact. Last year, our research teams, working in our labs across Canada, published 250+ scientific papers in peer-reviewed journals and presented 200+ posters or talks at major national and international...