2018-2019 Centre for Innovation annual progress report now available
---
Thursday, August 15, 2019
Dr. Geraldine Walsh
Housed within Canadian Blood Services' Medical Affairs and Innovation division, the Centre for Innovation conducts and supports research, development, and knowledge mobilization to ensure a safe, effective, and responsive blood system. This last year was another outstanding one for the Centre for Innovation – the heart of Canadian Blood Services' research and development activities – as highlighted in the 2018-2019 annual progress report, which was recently published. 
2018-2019 highlights include: 
The Centre for Innovation is proud to support Canadian Blood Services' efforts to continuously improve products and processes and to help every patient, match every need, and serve every Canadian and is honoured to be part of "the connection between the profound discoveries of science and the joyful restoration of health."  
Learn more about Canadian Blood Services' mission.  
Read the 2018-2019 Centre for Innovation annual progress report in English or French.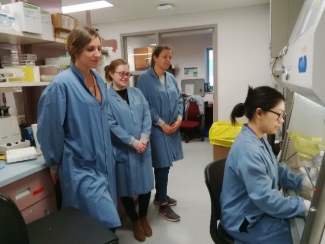 ---
Canadian Blood Services – Driving world-class innovation
Through discovery, development and applied research, Canadian Blood Services drives world-class innovation in blood transfusion, cellular therapy and transplantation—bringing clarity and insight to an increasingly complex healthcare future. Our dedicated research team and extended network of partners engage in exploratory and applied research to create new knowledge, inform and enhance best practices, contribute to the development of new services and technologies, and build capacity through training and collaboration. Find out more about our research impact. 
The opinions reflected in this post are those of the author and do not necessarily reflect the opinions of Canadian Blood Services nor do they reflect the views of Health Canada or any other funding agency.
Related blog posts
---
Thursday, January 10, 2019
Dr. Geraldine Walsh
#WeDoResearch! Through our Centre for Innovation, our engaged network of scientists, medical experts, partners, and collaborators conduct and disseminate high quality, impactful research for the benefit of Canadian patients and the Canadian healthcare system.
---
Wednesday, July 26, 2017
Jenny Ryan
This post is based on the introduction to the report written by Dr. Dana Devine, Chief Medical and Scientific Officer, and Judie Leach Bennett, Vice-President, General Counsel and Chief Risk Officer. Evaluating value and impact The Centre for Innovation is the organization's hub for research...