A look back on Centre for Innovation progress in 2016-2017
---
Wednesday, July 26, 2017
Jenny Ryan
This post is based on the introduction to the report written by Dr. Dana Devine, Chief Medical and Scientific Officer, and Judie Leach Bennett, Vice-President, General Counsel and Chief Risk Officer.
Evaluating value and impact
The Centre for Innovation is the organization's hub for research, education and discovery. Our multi-disciplinary network of internal and external partners and labs across the country uncover the evidence that improves our effectiveness and influences our practices and policies — for the benefit of Canadian patients, and ultimately, the greater health-care system.
Our efforts focus on making a measurable impact across five program areas: Research; Product and Process Development; Knowledge Mobilization and Education; Policy Research and Leading Practices; and International Collaboration. Over the last year, our programs and services have delivered value to the system as exemplified by our key achievements and their impacts. These accomplishments are showcased in the 2016-2017 Centre for Innovation Annual Progress Report.
Image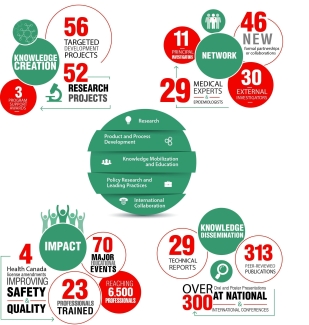 A few highlights from the 2016-2017 report include:
Clarification of how pathogen inactivation technology affects the quality parameters of blood products and validated the production process for platelets treated with pathogen inactivation technology. 
 
Demonstrating that apheresis fresh frozen plasma remains biologically active after 120 hours of refrigerated storage, providing evidence for an upcoming change in regulations to reduce waste while maintaining the high quality of Canadian Blood Services' plasma products.
 
Developing two new potential anticoagulant drugs that rapidly and safely dissolve clots in mouse models. 
 
Advancing the development research required to deliver Canada's first plasma-reduced blood forming stem cell unit, enabling a reduction of the freezing solution needed and a shorter transfusion time.
 
Generating the scientific knowledge needed to support important improvements in Canadian Blood Services' supply chain operations, such as the transition to extended shelf-life platelets and the shift to new manufacturing equipment.
 
Designing and implementing a new research funding program, in close collaboration with Héma-Québec, to generate scientific evidence to evaluate alternative screening approaches for blood or plasma donors, specifically with respect to deferral policies for men who have sex with men. 
 
Supporting investigation into mitigating iron deficiency in blood donors, leading to changes in our organization's inter-donation interval and hemoglobin requirements that further enhance donor safety. 
 
Further developing the Alliance of Blood Operators Risk-Based Decision-Making Framework for Blood Safety, facilitated its international uptake, and obtained benefit from applying the framework to a number of issues affecting the Canadian blood supply. 
 
Launching of a new Professional Education website, focusing on relevant and high-quality transfusion and transplantation content. The site has attracted more than 62,000 visitors, viewing 167,000 pages since launch in August 2016. 
 
Supporting the International Collaboration for Transfusion Medicine Guidelines in developing and disseminating clinical guidelines, a new website, and, together with the AABB, a platelet guidelines podcast. 
Be sure to read the full progress report to find out more about how we work together to improve today's transfusion and transplantation products, services, and clinical care for Canadians, and enrich tomorrow's possibilities for innovative advances in our field.
The needs of patients, donors, and the healthcare system will continue to inspire future research, development, and education to support a safe and effective system of blood and related biologics for Canadian patients — a system that is well-positioned to address emerging scientific and clinical knowledge, risks, opportunities and technologies.

Read the 2016-2017 Annual Progress Report
---
Canadian Blood Services – Driving world-class innovation
Through discovery, development and applied research, Canadian Blood Services drives world-class innovation in blood transfusion, cellular therapy and transplantation—bringing clarity and insight to an increasingly complex healthcare future. Our dedicated research team and extended network of partners engage in exploratory and applied research to create new knowledge, inform and enhance best practices, contribute to the development of new services and technologies, and build capacity through training and collaboration. Find out more about our research impact. 
The opinions reflected in this post are those of the author and do not necessarily reflect the opinions of Canadian Blood Services nor do they reflect the views of Health Canada or any other funding agency.
Related blog posts
---
Wednesday, October 05, 2016
Dr. Kendra Hodgkinson
Did you know that Canadian Blood Services directly funds innovative research?
---
Wednesday, January 04, 2017
Dr. Kendra Hodgkinson
We are now accepting applications for the 2017 competition of our Intramural Research Grant program!