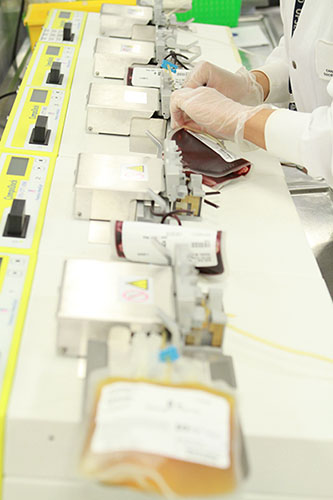 Welcome to our new R.E.D. blog series where we focus on our Centre for Innovation development projects to give you a glimpse into the future of blood banking... our future!
At Canadian Blood Services, we continuously strive to improve our products and the processes we use to manufacture them. Ensuring we provide quality products that meet the needs of Canadian patients, while being good stewards of Canadian health care dollars is core to our mission. One of the players supporting us in this mission is the Centre for Innovation's Product and Process Development (or 2PD) group.
The 2PD group acts as a bridge between an idea and its implementation, bringing together expertise in fields such as science, engineering, nursing and medical lab technology along with decades of hands-on collection, production, and testing experience. They explore ideas that will lead to change in the products Canadian Blood Services supplies to support patient care, and the technologies and processes we use in our facilities across Canada to produce these products.  
For example, have you ever wondered how Canadian Blood Services evaluates and chooses new equipment for blood product manufacturing? Where we test new technologies and manufacturing processes? What new products may be coming to improve care for Canadian patients? How we reduce the cost of producing our products for the Canadian taxpayer? The 2PD group plays a role in all of these, leveraging the Centre for Innovation development laboratories in Ottawa and Vancouver (the latter often referred to as the netCAD Blood4Research Facility).  
The role of the 2PD group is essentially to generate data about our products and the processes used to manufacture them, providing evidence to help make informed decisions, seek regulatory approvals and confidently and successfully implement change. 
So, what kinds of technologies and manufacturing processes might we be using in five years? What will our blood products inventory of the future look like? In this blog series, we'll give you insight into the work of the 2PD group, their collaborations with supply chain and other divisions, and a glimpse into the exciting future of blood banking here at Canadian Blood Services.