Update: Critical need for donors continues as Canada's supply of universal blood type dips beneath two days
---
(OTTAWA) – Throughout National Blood Donor Week from June 11 to 17, Canadian Blood Services urged Canadians to make an appointment to donate. More than 60,000 blood donors need to book appointments to donate by July 1 to ensure all patients have access to the blood and blood products they need.
Image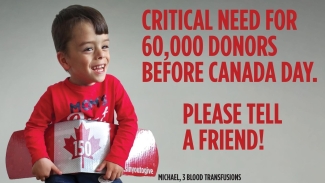 A noticeable increase in blood donations across the country last week indicates many Canadians have responded. However, the need for donors remains critical.

All eligible donors are urged to book an appointment now to help replenish supplies.

Less than two days' supply of O-negative blood

The national inventory slipped below two days' supply of O-negative blood last week, maintaining the urgency for more donations.

At any given time, between a five and eight day supply of blood and blood products are needed to meet anticipated hospital demand. All blood types are needed but there is a greater need for type O blood.

As the universal blood type, O-negative is always in need. O-negative is the only blood type compatible with all others and is used in the most critical situations, including treatment for newborns, patients with compromised immune systems, and for trauma victims.

By holding a steady national inventory of blood, patients can be assured their needs will be met. Avoiding low inventory levels means Canadian Blood Service and hospitals can maintain appropriate patient care across the country.

Critical need for donors

Canadian patients urgently need donations to return Canada's low blood supply to an optimal level.

To book an appointment today, locate a clinic, check for eligibility and more, Canadians can download the GiveBlood app available on iOS or Android or visit blood.ca.