Because 'Schmidt happens': Windsor family celebrates holiday by giving blood together
Adam Schmidt has a message for those on the fence about donating blood: don't fear the first time.
December 20, 2019
By Susan Burgess
Adam Schmidt has a message for those on the fence about donating blood: don't fear the first time.
"Definitely bring a friend to support you, and give it a try," said Adam, 26, who made his first donation in December. "It's surprised me how much I want to go back and give blood, having donated the first time."
Image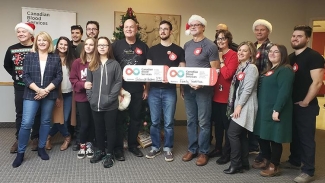 Adam was lucky to have more than just a friend to support him on his big day. He was joined by 15 other members of his extended family, all gathered in Windsor to give blood in the morning before their annual holiday party in the afternoon.
Image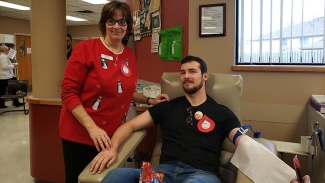 'It was a dream come true'
The event was organized by Adam's aunt Cathy Schmidt, an employee of Canadian Blood Services who is also a longtime blood donor.
"It was a dream come true," Cathy said. "I've worked very hard, encouraging pretty much everybody in my family to donate.
"Just seeing that next generation come on board and be passionate like I am, and willing to help save lives, it was awesome."
Not all family members who attended were eligible to donate at the event, but the six who did brought the family's lifetime total donations to 481.
Donors included Cathy's brother Bill, who made his 100th donation, and her nephew Mike Schmidt, who booked an appointment in Toronto to coincide with the family event in Windsor.
Image
Mike's father Larry Schmidt, a family physician in Sauble Beach, Ont. travelled to Windsor to make his 142nd donation at the event.
"I feel very blessed that I've been given good health, and I think it's my way of giving back," said Larry. "Over the years I've had many patients who have required blood transfusions for various reasons, and I just think it's my civic duty."
Feeling good afterward, and not just emotionally, is a bonus.

"I've always felt physically better when I give blood," Larry said. "So to me it's a no-brainer."
Image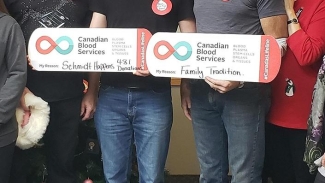 'We get stuff done'
After the donation the family posed for a photo with a sign that read "Schmidt happens," an old family joke that dates back to a golf tournament where the Schmidt brothers all donned caps with the slogan.
The cheeky catchphrase is a nod to the family's can-do spirit, which has often brought them together to help people in need, Larry said.
"It's been kind of a family tradition. We get stuff done," Larry said. "So when we all got together a couple of Saturdays ago (to give blood), it felt good."
Image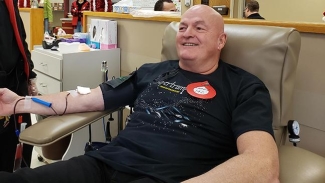 A family that has given and received
While Larry and some of his siblings have been giving blood for decades, more family members began giving a few years ago when Cathy and Larry's great-nephew Nicholas was diagnosed at age seven with a brain tumour. He endured surgeries and radiation and received blood products during his treatment.
Giving blood was an important outlet for the family's impulse to help.
"We didn't really know if this little guy was going to pull through," Cathy said. "The only thing that we could do was donate blood."
Thankfully, Nicholas recovered fully, but the family's commitment to blood donation has continued. Family members now give as part of the group Schmidt House in Canadian Blood Services' Partners for Life program.
Their December giving event was especially moving, Cathy said, fueling plenty of conversation at the family's afternoon party and beyond.
"The hype is still there. Everybody is really pumped," Cathy said. "We've always been a very tight-knit family, but now we're even more so."
Canadian Blood Services donor centres are open throughout the holiday period. To donate, you can download the GiveBlood app, call 1 888 2 DONATE or book now at blood.ca.