Why blood donations are crucial for patients with sepsis
Without blood, Christine Caron would have died as a result of her body's extreme response to an infection from a dog bite
September 8, 2021
Eight years after complications from a dog bite nearly ended her life, Christine Caron is working hard to raise awareness of sepsis ― as well as the important role of donated blood in the recovery of patients.
Sepsis is a life-threatening illness that is caused by the body's overreaction to an infection. The infection can be bacterial, viral, parasitic, or fungal. Normally, a person's immune system would fight the infection, but in sepsis it triggers a chain reaction that leads to tissue damage, organ failure and even death.  
This type of emergency can happen to anyone, but Caron, a mother of four in Ottawa, Ont., certainly never imagined it would happen to her.
It began with a nip on her left hand from one of her dogs during play. She took care to clean and disinfect the tiny break in the skin, and since there was no pain or redness, she planned to consult her doctor at a scheduled appointment in a few days. At the time, she was also dealing with a stubborn bout of bronchitis.
Five days later, however, Caron had to abandon her morning run when she quickly became winded. Later, at work, she felt nauseous and lightheaded, so she went home and spent most of the day sleeping on the couch.
"My son woke me when he came home from school to tell me I was breathing funny," Caron recalls. "I assured him I was fine and went back to sleep."
She didn't wake up again until 8 p.m. Agitated, confused and sweating profusely, she decided to head to an urgent care clinic, but it closed just before she arrived. After spending most of the night awake with flu-like symptoms, and feeling certain that if she fell asleep, she would die, had a friend take her to the emergency room early the next morning. (The Global Sepsis Alliance lists "It feels like you're going to die" as an important symptom of sepsis).
"As soon as I walked into the hospital, I collapsed," Caron says.

Her next memory is of awakening from a coma nearly a month later. She learned she'd been fighting a dangerous bacterial infection, Capnocytophaga canimorsus, from the dog nip. It also turned out that at the time of the bite, Caron had been especially vulnerable. What she had thought was bronchitis was actually pneumonia; her compromised immune system put her at greater risk of sepsis following the bite.
And she was not yet out of the woods. Doctors told her that to survive, both her arms and legs would need to be amputated.
"At that point, I wasn't sure 'surviving' was the best option for me or my family," Caron says. "I suffered some dark days."
Fortunately, prior to her first surgery, the condition of Caron's right arm improved and she was able to avoid amputation of that limb. But her road to recovery was long and difficult. She nearly died again after the surgery to amputate her legs. It took several more weeks in hospital before she could be discharged to continue her recovery at a rehabilitation centre.
At the end of July 2013, she took her very first steps in prosthetics, and by September she was walking without assistance.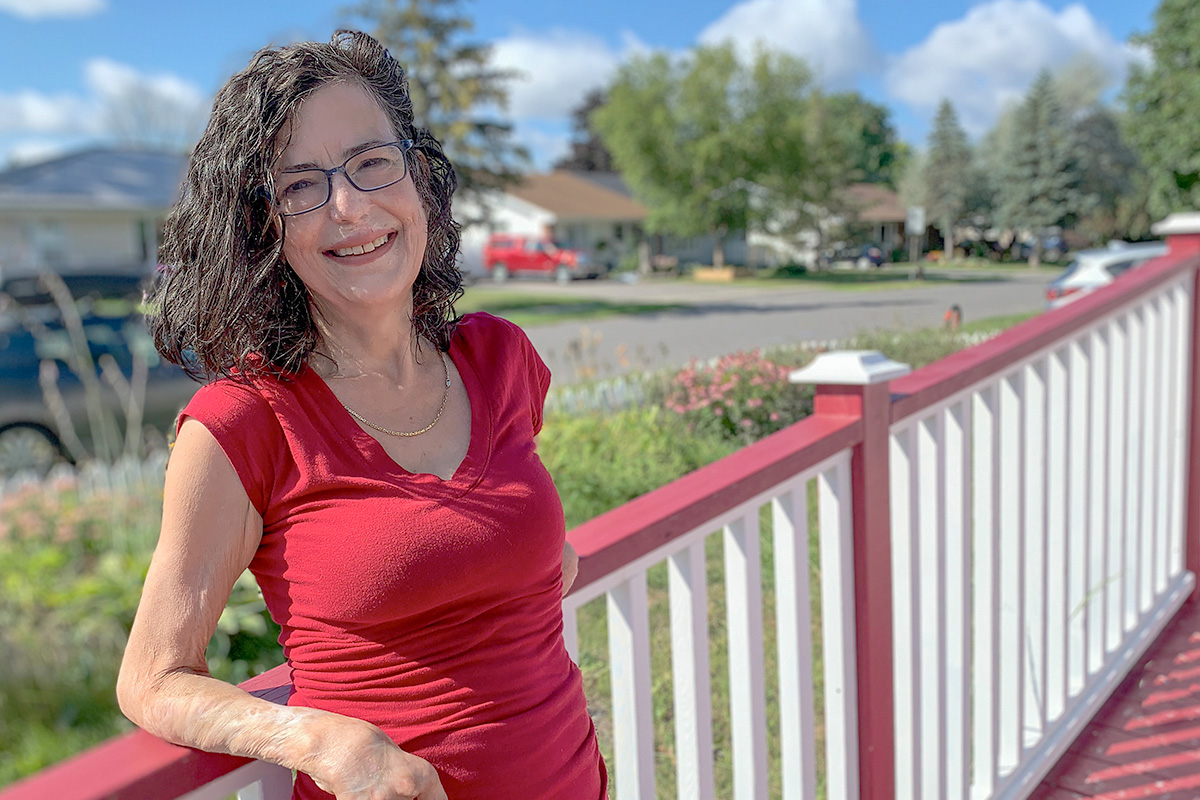 Christine Caron developed sepsis following a dog bite in 2013. Blood donations were essential to her recovery, which also included the amputation of both of her legs and one of her arms.
Blood donations make a life-and-death difference
Caron's recovery is a testament to the incredible medical care she received and her own fighting spirit. But she is also grateful to the blood donors whose gifts helped her throughout her ordeal, starting that day she collapsed in the hospital.
"I was told that as soon as the ICU doctor came flying in the door, he instantly ordered fluid resuscitation which included blood," says Caron, who is encouraging people to donate blood in honour of World Sepsis Day on Sept. 13. "People need to know about sepsis, and they need to know about the role that blood plays."
Blood is made up of many components, and a patient with sepsis could require treatment with one or several of them. Patients arriving in hospital with sepsis frequently require transfusions of platelets because of a low platelet count, according to Dr. Alison Fox-Robichaud. She's a critical care physician and professor of medicine at McMaster University, as well as the scientific director of Sepsis Canada. Red blood cell transfusions can also be required because the bone marrow, in response to infection, begins over-producing white blood cells while failing to generate enough red cells.

Dr. Alison Fox-Robichaud is a critical care physician who treats patients with sepsis. She is also a professor of medicine at McMaster University and the scientific director of Sepsis Canada. (McMaster University)
Plasma transfusions may also be needed to address problems with blood clotting related to liver dysfunction.
"We've seen that commonly, particularly with COVID-related sepsis," says Dr. Fox-Robichaud. While sepsis frequently begins with a bacterial infection, it can also start with a virus, including the coronavirus that causes COVID-19. "Any of those patients that you've heard about being in an ICU with COVID have sepsis," she adds.
Some of the most severe cases of sepsis require the patient to be treated with extracorporeal membrane oxygenation (ECMO). The procedure involves blood being pumped outside the body to a heart-lung machine that removes carbon dioxide and sends oxygen-filled blood back to the patient. Many people have heard about ECMO machines for the first time during the pandemic, in news reports about the very sickest COVID patients. But Caron also required that treatment for a period of weeks during her own stay in intensive care. And according to Dr. Robichaud, blood transfusions are universally required for patients receiving ECMO. They may receive red blood cells and platelets as well as fibrinogen, a protein found in plasma.
These are just some of the reasons why Caron is supporting Sepsis Canada's campaign to promote blood donation on and around World Sepsis Day on Sept. 13. She hopes people across Canada will book appointments ― just as one of her own family members did in the frightening early days of her own devastating illness.
"My nephew, who is terrified of needles, donated for the first time when I went into the hospital," says Caron.
A blood donation made today could well be needed for another patient with sepsis. While the details of Caron's experience are shocking, sepsis is not rare. Worldwide, there were an estimated 49 million cases in 2017.  A global report published in the journal Lancet in 2020 identified sepsis as the cause of death for one in five people. In Canada, Dr. Fox-Robichaud says, it is estimated that 170,000 adult hospital admissions each year are due to sepsis, and between 40 and 50 per cent of those cases prove fatal.
"It is common. But people often don't recognize the signs and symptoms," says Dr. Fox-Robichaud. "If someone has an infection ― or thinks they have an infection ― and is feeling horribly unwell, it's a medical emergency. Similar to a heart attack or a stroke, you need to get yourself to the hospital.
"It can affect anybody at any age, from a newborn infant all the way to the elderly."
Blood components are a lifesaving part of treatment for many people who develop sepsis. As World Sepsis Day approaches on Sept. 13, we encourage people across Canada to book appointments to donate blood, plasma or platelets at Canadian Blood Services donor centres. To book, download the GiveBlood app, visit blood.ca or call 1 888 2 DONATE.