'We give the donors lots of laughs and colour commentary'
Raj Damhar's miniature "Thor's hammer" is just one of his many conversation starters
June 5, 2020
During the COVID-19 pandemic, we're bringing you stories of our employees who continue to work on the front lines. Raj Damhar is a registered nurse at the donor centre in Saint John, N.B. 
I graduated from the University of New Brunswick with my Bachelor's degree in nursing and started my career in geriatrics. After a few years of working mainly night shifts, I started yearning for change.
Four years ago, I saw a job posting for Canadian Blood Services and I talked about it with my dad, Jay Damhar. He is a retired nurse and he used to work here when I was still in school. He encouraged me to go for it. I landed the position and have been loving it every day since. Everyone who worked with my dad has said they loved having him around.
Since joining Canadian Blood Services I've also become a dad myself. My son, Jaxys, was born December 2, 2016. He has changed my life completely. Being a father is easily the greatest title I have ever earned.
'I've always got talking points for our visitors'
I work mostly with our platelet and plasma donors and we establish great connections with our donors. I find I have lots in common with our mostly-male donors. I'm a lifelong wrestling fan, video gamer and action figure collector. My miniature "Thor's hammer" is a nice reminder to be heroic in the face of adversity! Between all that and fatherhood, I've always got talking points for our visitors. My tattoos and lanyard decals usually act as ice-breakers as well.
Image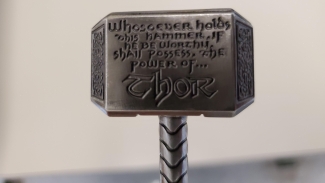 I work closely with two other RNs, Joelle Nordstrom and Karla Campbell, and we get along great. They always have snappy comments to get a laugh out of the donors. When the three of us are working together it's basically a comedy act the whole time. We give the donors lots of laughs and colour commentary.
'This is what I was trained to do. This is what I am.'
During the pandemic our donors have been so patient and supportive. It's phenomenal. That's so important because we're a critically essential service. If we stop getting donations, what happens to all those people who rely on us? I also feel that it's kind of a privilege for me to be doing this work right now. I'm a nurse, this what I was trained to do. This is what I am.