From trauma to lasting love — and a lifelong commitment to blood donation
Ron Rupke has donated blood 201 times since his friend nearly died in a car crash. Today, that friend is his wife of nearly 50 years.
June 14, 2022
We need 100,000 new blood, plasma and platelet donors to join Canada's Lifeline this year. You can help by making an appointment to donate blood or plasma sometime this summer. Using the GiveBlood app? Just click "take a selfie" to inspire others on social media. Don't forget to tag @canadaslifeline! 
Ron Rupke's blood donation journey began in June 1972 on an unlit, unfamiliar road in northern Ontario.
That summer, Ron was starting a gap year in his college studies and driving from Bradford, Ont., to a job in British Columbia. His friend Margaret Reitsma was along for the ride as far as Thunder Bay, Ont. She hoped to begin her teaching career and had plans to visit a school there.
The friends had arrived in Thunder Bay and were looking for a place to sleep when tragedy struck at around 11 p.m. The car veered off the darkened road and into an unmarked open culvert. While Ron escaped injury, Margaret was thrown through the windshield.
"The situation was life-threatening to say the least," recalls Ron, who now lives in Brighton, Ont. "There was so much blood."
Paramedics acted quickly, as did the doctors at the local hospital. Margaret had many lacerations to her head and neck; she required hours of surgery. She also needed blood transfusions — about five units in total, Ron recalls. Margaret's blood type is O-positive, but in trauma situations — when there is no time to check blood type — patients often receive O-negative, the universal blood type.
Why O-negative blood is liquid gold in life-or-death situations

Tragedy gives way to courtship, and a legacy of blood donation begins
Margaret spent many weeks in the intensive care unit, prompting Ron to cancel his plans to travel west. He found a job in Thunder Bay instead, and visited Margaret at the hospital daily. The visits soon progressed from friendship to courtship.
Despite her severe injuries, Margaret recovered rapidly and was even able to start teaching in September. Meanwhile, Ron headed to a Christian college in Iowa to finish his bachelor of arts degree.
In August 1973, Ron and Margaret got married. Ron made his first blood donation that same year in Thunder Bay. It was through Canadian Red Cross, which collected blood donations in Canada prior to Canadian Blood Services' founding in 1998.
Ron knew all too well that Margaret would not have survived if blood donors had not shown up to donate, but the sense of community among blood donors also motivated him to keep giving.
"Local media would record the number of donations made at each clinic, encouraging a friendly competition between rival towns. It was really quite something to see."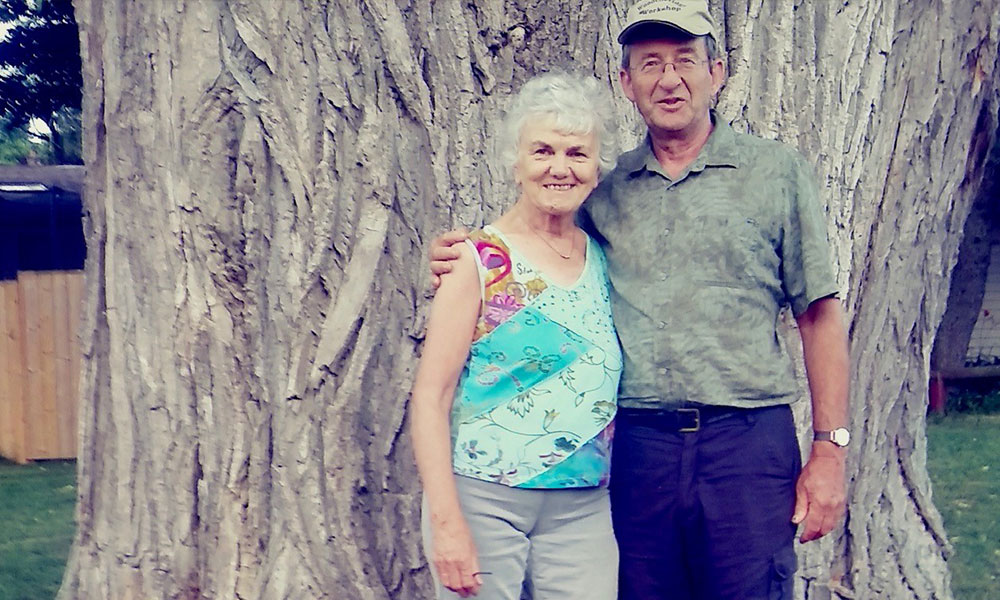 Ron continued to donate blood after moving nearer to Toronto in the 1980s, and now donates in his current hometown of Brighton, Ont. He never missed an appointment, donating as frequently as he could (our current blood donation eligibility criteria allow men to donate blood every 56 days).
He hit the 100-donation milestone in the year 2000. By then, his five children were also old enough to be eligible to donate blood, and began joining him for appointments — though Ron hesitates to take much credit for inspiring their generosity.
"I don't really talk about being a blood donor all that much," he says. "When I'd leave to make my donation, I'd simply tell the family where I was going. But I've never had to pressure anyone to give blood.
"My children know that blood saved their mom's life. They didn't need any more motivation than that."
In March 2022, Ron made his 200th blood donation at the mobile donation event in Brighton. And he is proud to say that some of his grandchildren have now become blood donors as well. While 1 in every 2 people in Canada is eligible to donate blood, plasma or platelets, only 1 in 81 actually does — which makes Ron all the more proud of his family. He knows many more donors are needed, and hopes that Margaret's story will encourage them to show up.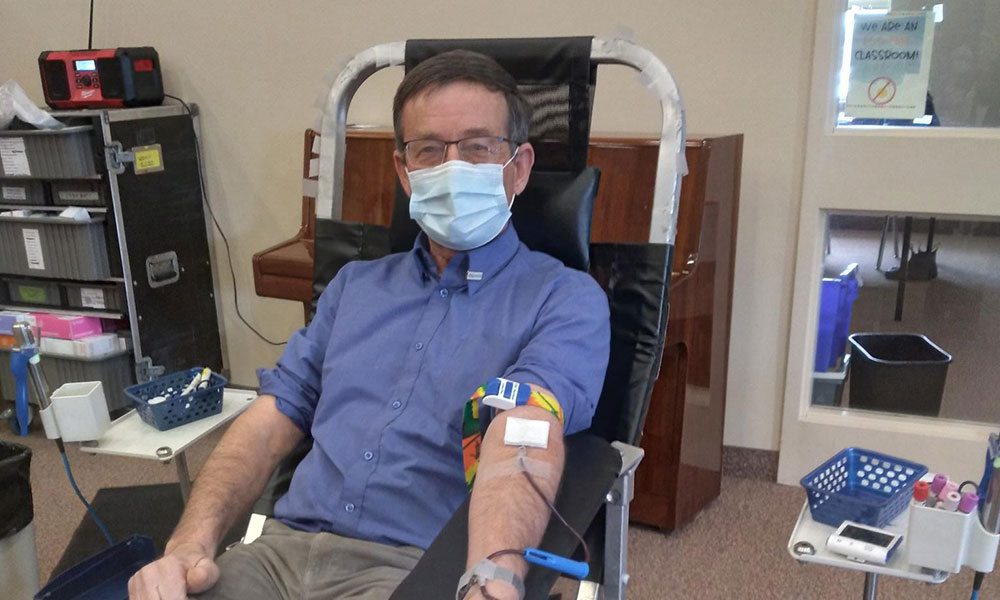 'The simple act of someone sitting on a bed and giving blood saved my wife's life'
Later this year, Ron and Margaret will celebrate their 49th wedding anniversary. Ron is emotional as he reflects on the life and family that blood donors made possible.
"The accident was terrible, but I also know it brought us together. Margaret never held any bitterness about what happened. She simply fought to survive, remained positive and never looked back."
Ron proudly displays his blood donation milestone certificates in his home and appreciates being celebrated during National Blood Donor Week. But like most donors, he doesn't do it for the fanfare or accolades. He plans to continue donating blood regularly after completing his 201st donation in May.
"I will never fully pay back the gift of blood that saved Margaret's life when she really, really needed it. She inspired me to take a devastating moment and turn it into something positive — and for that I am forever grateful."