'I love hearing the donors' stories'
Kristy Schwenning is part of the "travelling roadshow" that visits communities on Vancouver Island 
August 6, 2020
During the COVID-19 pandemic, we're bringing you stories of our employees who continue to work on the front lines. Kristy Schwenning is a donor centre supervisor in Nanaimo, B.C.  
I've been with the team in Nanaimo for about eight years, after spending four years as a registered nurse at the donor centres in Vancouver. Before that, I worked in a hospital. I used to hang blood transfusions for patients so I saw firsthand the difference blood made for them.  
I don't work directly with patients now, but I do still hear about them from our donors. They tell us heartwarming, amazing stories about their reasons for donating. It could be their parent, grandparent or even their child who has received blood products.  
A couple of months ago I spoke with a donor whose son was treated for cancer as a teenager.  He's 21 now and doing well, and she is just so grateful for the blood products he received during that time. On the day I met her, she was donating with a friend whose daughter had also survived cancer. They had actually met while their children were going through treatment. They bonded over that experience, and now they wanted to give back.   
I feel very lucky to be on the frontline where I get the chance to talk with donors. I love hearing their stories.
Image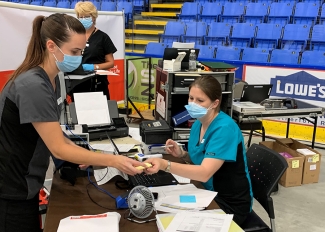 'We build a bond with our donors'
My title is "donor centre supervisor" but we don't actually have a permanent donor centre here in the North Island region. We're kind of a travelling roadshow, running donation events in several different communities. We build a bond with our donors because we see them again and again during our visits. As an example, there's a man in one of our communities who donates every time we're there. He often talked with us about his wife's battle with pancreatic cancer, and when he told us that she passed away last November, it affected us all. Even though we'd never met her, some of us were in tears.  
'We really care about each other'
I only became a supervisor in October, so I hadn't been in this role very long when COVID-19 arrived. Everybody was anxious at first. Things were changing, sometimes daily, but we seem to have settled into a routine now with the temperature checks, the masks and all the extra cleaning.  
We have a great team and we really care about each other. If someone is having a bad day and says something that's a bit out of character, we know not to take it personally. We see they're under stress and we look for ways to support them.  I would say the pandemic has brought us closer as a team. 
'Just be brave and do it'
I'm an introvert, so taking on this new job was a big deal for me even without a pandemic. But I love the job and its challenges, both personal and professional. If you don't grow you get stale.  I find ways to manage my stress, whether it's pausing to take stock of my feelings at work or spending my days off camping with my family. There's also a particular saying I embrace: "You are not required to set yourself on fire to keep other people warm." I can't remember where I first heard it, but when I did, I thought yes! That's exactly it. I'm just one person, so I'll do what I can, and ask for help when I need it.  
I have a tattoo on my wrist that says, "Be brave." As a shy, quiet person I like that reminder to push myself — to just be brave and do it.
Image