'Surprise' baby brings joy, while his cord blood gives hope to patients
Little Connor Morrell's umbilical cord blood could save a life
July 27, 2020
Connor Morrell is just a couple of weeks old, but he's already brought plenty of drama to his family.
"The funny thing is, I didn't find out I was pregnant until the pandemic started," says Connor's mother, Trisha Crowder-Morrell. "I was 25 weeks along before I found out.
"It was March break, I was standing at the end of my driveway, and I was like, 'wow, that feels like kicks or something.'"
A hastily acquired drugstore test settled Trisha's urgent question. Her five-year-old daughter, Chloe, and son, Blake — just ten months old at the time — were getting a sibling, and fast. Now other questions welled up. What would pregnancy be like in a pandemic? Trisha's home province of Ontario was rapidly shutting down as the March break week progressed. And what about giving birth? But those worries mingled with joy.
"It was something to look forward to every day when I got up," says Trisha. "It's just a blessing, because I had to do fertility [treatments] with my first two, and then this one was a surprise. It was really crazy."
Image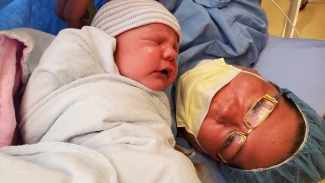 Trisha Crowder-Morrell delivered her son, Connor, in early July. She donated his umbilical cord blood to Canadian Blood Services' Cord Blood Bank.
A third chance to donate cord blood
Many things were different about this pregnancy, such as the mask and gloves Trisha wore on her outings. But it was just like her others in one important way: she registered to donate cord blood.
After a baby is born, the blood left in the umbilical cord and placenta is rich with lifesaving blood stem cells. Like bone marrow or peripheral blood stem cell donation, donated cord blood can treat more than 80 diseases and disorders.
How umbilical cord blood saves lives: one recipient's story
Adapting traditions to save lives with cord blood
Canadian Blood Services collects and stores cord blood for future use by anyone in need of a stem cell transplant. Collection happens after the safe delivery of the baby and placenta, so it does not interfere with the process of labour or birth. But unless mothers opt to preserve cord blood for patients or for research, it is normally discarded as medical waste.
Public cord blood banking at Canadian Blood Services
"It's just very fulfilling knowing that you can save someone's life, just with something you have inside of you," says Trisha.
Trisha learned about donating cord blood from a brochure at the hospital when she was pregnant with her oldest child. All of her children were born at Brampton Civic Hospital in Brampton, Ont., one of four hospitals in Canada where mothers can donate to Canadian Blood Services' Cord Blood Bank. She highly recommends cord blood donation to other expectant mothers.
"I've had nothing but positive experiences with it," says Trisha. "There's no invasion of privacy felt."
Image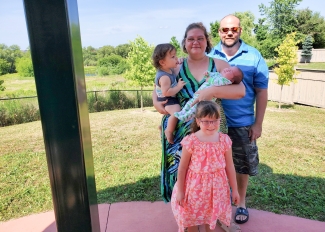 Trisha Crowder-Morrell, seen her with her husband, Gordon Morrell, registered to donate cord blood after the births of all her children: Chloe (five), Blake (one) and Connor, who was born in early July 2020.
Cord blood donation has resumed after a pause
Ontario may have been shutting down when Trisha discovered her pregnancy, but when Connor made his appearance July 8, it was beginning to open up. In fact, his cord blood donation was among the first to be collected after a nationwide pause due to the pandemic.
Just a few days later, Connor moved home to a very full house. There's his own immediate family of five, with Trisha, dad Gordon Morrell, and siblings Chloe and Blake. But during the pandemic, that household has joined with others. Trisha's grandmother and parents, as well as her brother and sister-in-law and their two children, are now all together under the same roof.
Image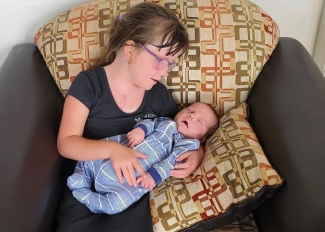 Chloe Morrell holds her newborn brother, Connor. Connor's mother donated his umbilical cord blood to Canadian Blood Services' Cord Blood Bank.
That means lots of family support for Trisha and Gordon as they re-adjust to life with a newborn. Young Chloe is also eager to help. At home during the pandemic, she had lots of chances to feel Connor's dramatic kicks as she watched her mother's belly grow. Now she wants to change his diapers.
"She thinks he's her little doll," Trisha says.
Since the inception of Canadian Blood Services' Cord Blood Bank in 2013, we have collected more than 34,000 cord blood units from healthy volunteer mothers across the country. Collection takes place at hospitals in Ottawa, Brampton, Edmonton and Vancouver. Mothers expecting to deliver in those cities can register online to donate. Each donation can help save a life.