Stollery Children's Hospital staff lend an arm for group blood donation
Dena Chuckrey rallied colleagues to donate
June 12, 2020
During National Blood Donor Week, we celebrate and thank donors for their generosity and commitment. This year, during the COVID-19 pandemic, we need donors to fill every available appointment to meet the rising need. To book an appointment you can download the GiveBlood app, call 1 888 2 DONATE (1-888-236-6283) or book now at blood.ca.
Working on the frontlines with some of the most vulnerable patients, staff at Stollery Children's Hospital in Edmonton understand the importance of blood donation.
In early April, Dena Chuckrey, unit manager, Cardiology and GI Services at the hospital heard the need for blood was urgent because of the COVID-19 pandemic. She had never donated blood before, but she decided it was time to start, and began gathering others to help.
More than 20 of Dena's colleagues decided to join her to donate. They made their first donations in May, and donated again on June 9 as part of National Blood Donor Week.
Many staff were first-time donors and they have bonded over the experience.
"It's been really incredible knowing that our blood can make a difference," said Dena, for patients in her own unit as well as those in the emergency department.
Dena predicts that more staff in the hospital will donate in the future as word spreads about their initiative.
Image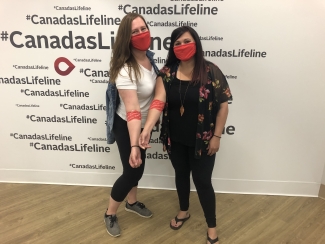 Registered nurse Jenn Brenneis, left, and Chelsea Bates, right, celebrate after donating.
Jenn Brenneis, a registered nurse, donated for the first time as part of the effort. She was moved to give by the children the hospital serves, as well as by the experience of a close friend.
"Unfortunately, you don't realize that you, or someone you love, will need blood [until that need arises]," said Jenn. "Generous donors helped to save the life of one of my closest friends, and I can never thank them for that gift.
"I donate blood to help save other people's friends and family as my way of saying thanks."
Image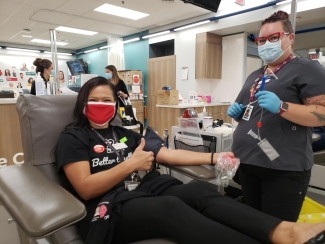 Jannette Hurshowy, program manager for Cardiology and GI Services, donated on June 9.
Sharon Willey, a territory manager with Canadian Blood Services, worked with Dena to schedule donations for the group.
"As we celebrate National Blood Donor Week and thank donors that support Canada's Lifeline, it is incredibly heartwarming that these frontline staff from Stollery Children's Hospital donated blood, many for the first time."