The need goes on #14: One girl's mission to save her brother
Abby Acosta-Pickering wasn't supposed to be a stem cell donor for her brother, but the pandemic changed the plan
April 23, 2020
When Ollie Acosta-Pickering developed a red patch on his neck last summer, his older sister Abby was the first to notice. 
"We were brushing our teeth together," said Abby, 11, a grade six student in Ottawa. "It just looked like a bit of a blister." 
Still, she mentioned it to her parents who took Ollie, seven, to the doctor. A series of appointments and tests gave way to devastating news: that bump, which had been growing since Abby first spotted it, was cancerous. Ollie was diagnosed in November 2019 with anaplastic large cell lymphoma.  
"I remember my mom picking me up early from school. I started crying, bawling my eyes out," said Abby.  
At home, her brother was frightened. She did her best to distract him with a game of foosball. Since then, she and her parents, Dawn Pickering and Mario Acosta, have supported Ollie through intensive chemotherapy, infections and the loss of his sight to the cancer.  
They're now living through the pandemic in a rented condo near the Hospital for Sick Children (SickKids) in Toronto, trying to get Ollie ready for his best shot at survival: a transplant of stem cells from his older sister.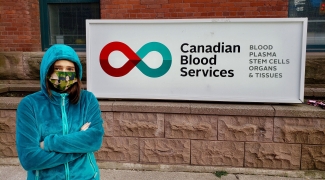 'I didn't even want to ask her' 
Abby wasn't supposed to be the answer.  
The original plan was for Ollie to have a stem cell transplant in April 2020 with cells from an anonymous donor. In fact, three potential donors had been found through Canadian Blood Services Stem Cell Registry.  
"To find out there were three perfect matches, we just felt like we had won the lottery," said Dawn. 
But the COVID-19 pandemic forced a change of plans. Flight cancellations and restrictions began putting the timely transport of stem cells — frequently given by donors in other countries — at risk. Doctors also worried about the possibility of the donor becoming infected with the virus. 
 
So in mid-March the medical team turned to the family instead. Neither Abby nor her parents were perfect matches for Ollie but all of them were "haploidentical," a type of partial match. The transplant could still proceed, thanks to medical advances which have helped to reduce complications. 
As a sibling and Ollie's closest overall genetic match, Abby was now her brother's best hope.   
"I didn't want to ask my 11-year-old to potentially save my seven-year-old," said Dawn. "What a heavy load for her to have to bear. And yet that was the way that it went." 
How is COVID-19 affecting stem cell transplantation in Canada? 
The need goes on #12: A stem cell transplant during a pandemic 
 
But Abby said she was prepared from the time she first learned that stem cells could provide a cure. 
"I really, genuinely thought that I was going to be the donor. I felt that it was fate," she said. "I felt this was my chance to prove to Ollie that I was going to be there for him through the ups and downs."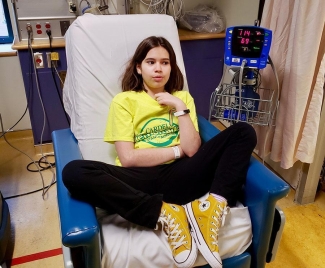 The road to donation 
With much of the country shut down for the pandemic, the family hit the road for Abby's appointment to donate stem cells in Toronto at the end of March. 
Abby was ready but naturally a little fearful of the procedure. The family decided to document her experience in a video. It begins with a visit to hospital for the first of several injections of a growth factor to increase the number of stem cells in Abby's bloodstream.
"It was scary, because I don't usually like needles, and I don't have a very high tolerance for pain," Abby said.  
After a series of injections over five days, she spent about five hours connected to a machine that drew blood from one arm, separated and removed the stem cells, and returned the remaining blood through a needle in her other arm. 
Watching her daughter during that time filled Dawn with pride.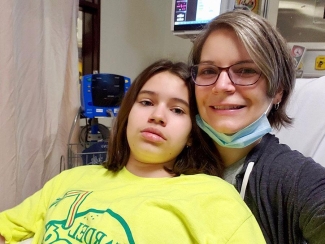 "I've always known she was a kind girl. She has a really sensitive, kind heart," she said. "But for her to do this despite her fear is a pretty huge thing." 
Abby describes the anticipation as far worse than the experience itself.  
"At the end, I was like, 'that was it?'," she said. 
By the time her mother was wrapping up the filming, she'd already started to think about donating again as an adult to help someone else.  
"It's just so surreal, and so magical and so special," Abby said.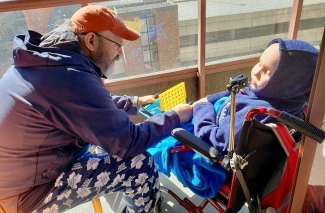 Waiting and hoping 
The last barrier to transplant is Ollie's own health. He was supposed to start radiation treatment to prepare his body for transplant just after Easter, but before that could happen, doctors discovered cancer in his brain for the second time. 
That means the prospect of transplant and cure now hinges on the ability of another round of chemotherapy to put Ollie in remission. Abby's cells are at the ready, frozen for the wait.   
Now more than ever, the family is living life day by day. But they continue to think of others. Abby hopes her video can provide comfort and guidance to other children who donate stem cells for a family member.  
They all hope her story will inspire adults — including some just a few years older than Abby — to join the stem cell registry and donate if called.  
"You could be saving somebody like Ollie," Abby said.
The COVID-19 pandemic is having an impact on stem cell transplantation. That includes travel bans and flight limitations which make it more difficult to transport stem cells internationally. For this reason we expect transplant centres in Canada will rely more than ever on Canadian donors to provide lifesaving matches for patients. We urge healthy Canadians between 17 and 35 years of age to register online and order their swab kit to be delivered in the mail.