She beat cancer. And she couldn't be more thankful to blood donors.
Now Kira Hall and her parents are helping us attract the 100,000 new donors we need this year
June 10, 2022
We need 100,000 new donors to join Canada's Lifeline this year. You can help by making an appointment to donate blood or plasma. Using the GiveBlood app? Click "take a selfie" to inspire others on social media. Don't forget to tag @canadaslifeline! 
Kira Hall was only two-and-a-half years old when she was diagnosed with leukemia in December 2014. It's the most common type of cancer in children 14 and under, accounting for more than one third of all cases.
At first, her parents Curt and Meaghan Hall thought her symptoms stemmed from the flu. But when they took Kira to see their family doctor, blood tests indicated she was seriously ill. So they drove straight to B.C. Children's Hospital in Vancouver, about an hour away from their home, where more blood tests confirmed cancer.
Blood transfusions are a key part of cancer treatment
Kira was admitted to hospital immediately, and it wasn't long before she received her first blood transfusions. A child with leukemia may need the help of as many as eight blood donors a week during cancer treatment.
Her parents stayed with her in hospital for those first two weeks. They describe feeling as if they were submerged underwater, waiting to take a breath, while doing their best to reassure one another that everything would be O.K. Then, after Kira was discharged, they continued to travel to the hospital frequently — sometimes several times per week — for tests and chemotherapy.
Three months after Kira was diagnosed, she welcomed baby brother Gavin, who began joining the family on many of those trips to the hospital. Kira's treatment in the years that followed included many kinds of medication as well as more blood transfusions.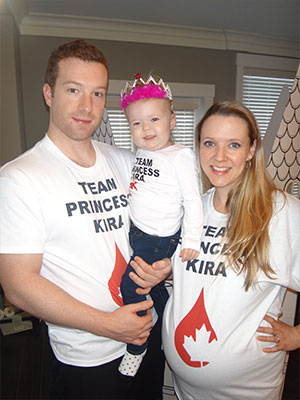 A bright future without leukemia
Today, Princess Kira (a childhood nickname related to her love of dressing up as a princess) is thriving, and looking forward to her 10th birthday in August. She and her family recently celebrated an exciting milestone: five years cancer-free. The cancer-related hospital checkups are down to just once a year.
Kira has also retired those princess dresses in favour of new pastimes. She has lots of energy for wrestling with her little brother Gavin and more.
"Kira is really into art, hanging out with friends, and making forts. She takes swimming lessons, is big into boating with us and is proud of her large sea glass collection," says Curt.
Paying it forward through blood donation and recruitment
Kira's father Curt is an RCMP officer, while her mother Meaghan is a psychiatric nurse. Supporting others comes naturally to them, and they welcome opportunities to help other patients following their own daughter's cancer battle.
In November, Curt donated blood for the first time since 2015. He had been unable to donate blood due to a work-related injury and was ready to commemorate how far his family had come with Kira's cancer journey.
"I really wanted to pick it up again and asked some co-workers to come with me. I'm grateful many of them did," he says.
Curt was so inspired by the support he received that he asked his entire detachment to attend a group blood donation event near his home in early March 2022.
"Kira and I went to the event at the church and greeted people as they came in. We handed out pins, bumper stickers and pens, and welcomed about a dozen of my co-workers," he says.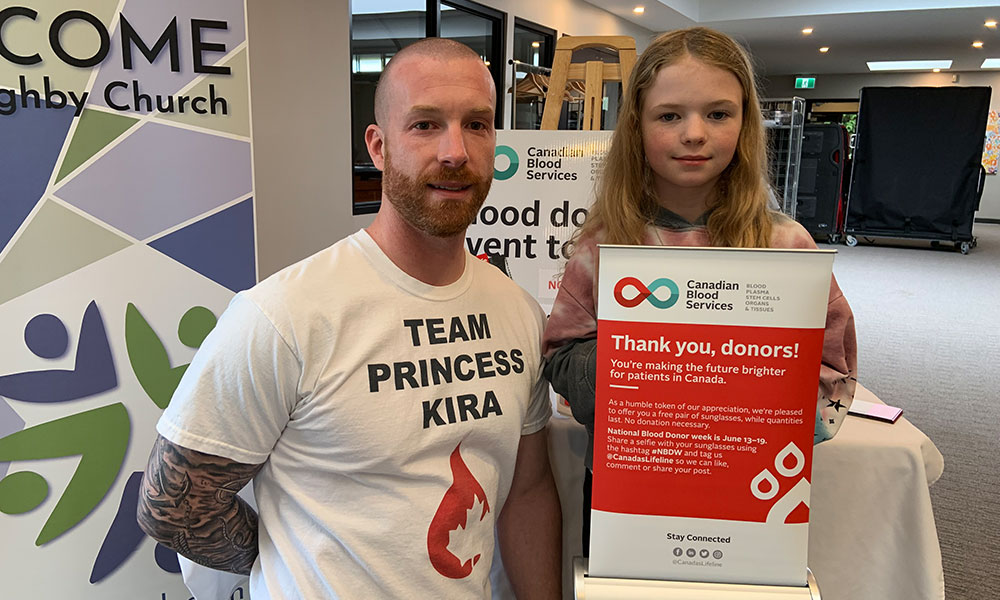 Many of Curt's colleagues joined his pledge-based Partners for Life (PFL) group. He and Meaghan first set it up years ago, to collect blood donations in Kira's honour while she was still in treatment.
Every one of those donations matters. Over the course of the pandemic, the number of people across Canada who donate regularly has decreased by 31,000. We need new and returning donors to keep saving lives.
Support for group blood donation events
Curt is doing what he can to shine on a light on the need for blood donation and encourage people to make it a lifesaving part of their routine.
Donating blood as a team through the Partners for Life program offers his own friends and family an easy and social way to help others. The Hall family's team "In Support of Princess Kira" runs in parallel with a national RCMP Partners for Life group, as well as many other teams set up by emergency service workers across Canada. Many of those groups join forces each summer for an annual campaign called Sirens for Life.
"I just learned about the Sirens for Life campaign this year and plan to make a big push for it, not only in the detachment but across the Lower Mainland of B.C. and then on from there," says Curt.
To help promote the Partners for Life program, Curt, Meaghan, Kira, and Gavin also took part in a weekend photo shoot in Vancouver in mid-March.
"Kira is incredibly shy. I was worried she was looking a bit stunned, but they managed to get a few natural smiles," says Meaghan.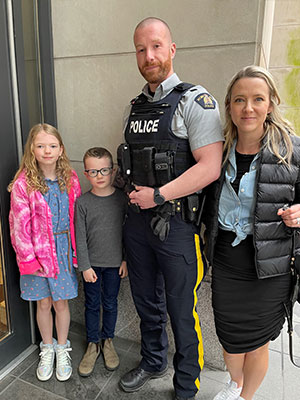 Curt and Meaghan feel indebted to the many anonymous donors who supported Kira through cancer treatment, and who bring hope to so many others every year.
One in two Canadians is eligible to donate blood, plasma or platelets, but only one in 81 does. Canada needs many more donors, new and returning, to be able to meet patient need now and into the future.
"We had no idea how much hospitals depend on blood and blood products to treat patients," Curt says. "We also didn't realize how few people across Canada who are eligible to donate actually do. It was shocking."