Green Shirt Day 2022 continues the legacy that inspired a nation
Logan Boulet's powerful example continues to inspire Canadians to talk to their families and register as organ and tissue donors
April 7, 2022
April 7 is Green Shirt Day, a day to honour all the victims of the Humboldt Broncos bus crash and their families. It is also a day to continue the legacy of Logan Boulet — a Broncos player whose example has inspired thousands of Canadians to both register as organ and tissue donors and talk to their families about it.
BC Transplant, in partnership with the Boulet family and supported by Canadian Blood Services, produced this video about Logan Boulet for Green Shirt Day 2022.
On April 7, 2018, after learning that their son Logan would not recover from his injuries suffered in the crash, Bernadine and Toby Boulet offered to donate his organs and tissues. Those gifts saved at least five lives and gave sight to two other people. All this was possible because Logan had registered as an organ donor, and had also spoken with his family about his wishes. He was inspired to become an organ donor by his coach and mentor Ric Suggitt, who had died on June 27, 2017. Ric was also an organ donor whose gifts helped six other people.
As news spread of the organ donation by this young hockey player, it is estimated that nearly 150,000 people registered to become organ donors in the days and weeks that followed, a phenomenon that became known as the Logan Boulet Effect. To date, no other person or event in Canada's history has motivated so many people to register to donate organs and tissues.
A national organ and tissue donation campaign like no other
Green Shirt Day is led by the Boulet family and the Canadian Transplant Association, in partnership with many others within Canada's organ and tissue donation community. Partners include Canadian Blood Services, the Kidney Foundation of Canada and IA Financial Group.
"The seed for Green Shirt Day was planted in June 2018, when I received a phone call from David Peckham in Surrey, B.C., about improving awareness about organ and tissue donor registration in Canada," says Toby Boulet. "The response has been amazing! The first annual Green Shirt Day in 2019 inspired more than 100,000 people to register their intent to be organ or tissue donors."
Since then, enthusiasm for Green Shirt Day has continued to grow in the organ donation and transplant community, and in schools and workplaces. Anyone can use the Green Shirt Day Ambassador Toolkit to help raise awareness of the importance of organ donation, and to encourage family conversations about it. The kit explains how to submit a request to have Green Shirt Day officially declared in a province or city, or to request that a local landmark be lit up in in green April 7.
This year, the campaign's goal is to inspire 100,000 people across Canada to register as organ and tissue donors. Every person who registers helps bring hope to the more than 4,100 Canadians waiting for a transplant.
"Let's share our support for organ and tissue donation by showing Canada we all want to give the gift of a life,'' suggests Toby Boulet. "Post a picture or video wherever you share and let your friends and family know that you want to give the gift of life and that you are a registered donor."
What's new for Green Shirt Day 2022
This year, Green Shirt Day organizers decided to redesign the logo. At Toby's suggestion, it was done through a contest at the University of Lethbridge in Lethbridge, Alta.
"Bernie and I both have degrees from there, our daughter Mariko has a degree from there, and Logan was accepted there. I'm a Senator there right now, and I also managed the Pronghorns Women's Rugby team for 20 years," explains Toby.
The contest was run by the university's New Media program within the Faculty of Fine Arts. The $750 prize for the winning design, shown below, was awarded to alumnus Joshua Wong, a 2020 graduate with a combined degree in fine arts and management.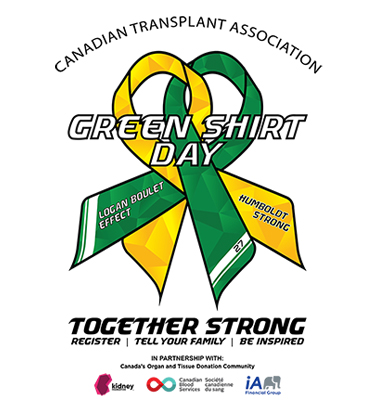 Toby Boulet says he likes the new logo a lot and has received positive comments on its design.
"It replicates Logan's green and yellow ribbons, and I like that the Humboldt Broncos are still recognized prominently in the logo," he says. "I think it speaks to people and carries the message to register, be inspired, and tell your family. If you want to think about Logan, think about the Logan Boulet Effect, and the Humboldt Broncos."
The Boulets take a great deal of pride in their work to encourage organ and tissue donation over the years.
"The biggest accomplishment for me has been the ability to keep the Humboldt Broncos tragedy and the Logan Boulet Effect top of mind," says Toby. "It's a team effort and really reflects who Logan was, a team player."
"For me it's all about the importance of communicating with people, telling the people in your life what you want," says Bernadine Boulet, Logan's mother.
Since Logan's passing, Bernadine, who is a grade two teacher in Lethbridge, has been working to help educators get comfortable speaking with children about organ and tissue donation. Her search for educational resources to use with her own students in 2019 led her to the Orgamites, an educational program first created in the UK. The program's team of nine animated characters inspire children to learn about their organs and how they work, as well as to show compassion for others and respect for the environment.
The Orgamites program is now available in Canada in both English and French to support elementary school teachers and families with young children. The videos, posters, lesson plans and more are available free of charge on our education portal.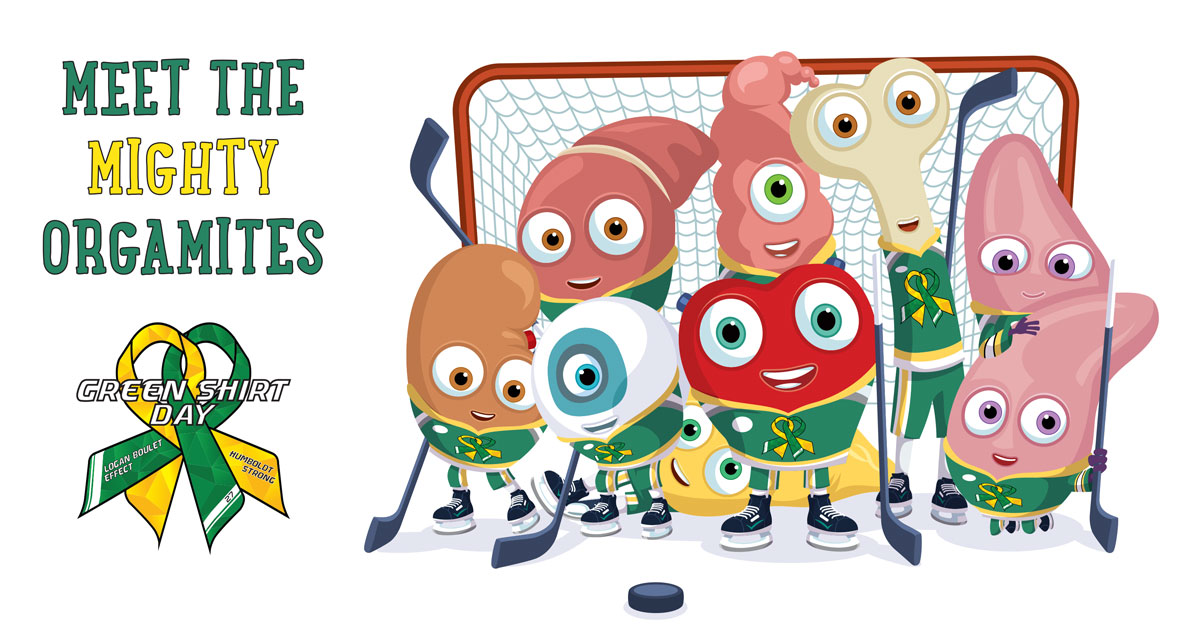 Orgamites celebrate Green Shirt Day with the Coin Hockey Challenge.
This year, in the spirit of Green Shirt Day, the Orgamites have also donned green hockey jerseys for a fun game. Just download, print and assemble a couple of the pop-up paper hockey nets, and challenge a friend to a round of coin hockey (easy instructions available with the download). A new Green Shirt Day Orgamites colouring page is available at the same link.
This April 7, we encourage people across Canada to wear green — or even light up your porch in green! — in honour of Logan Boulet and his Broncos family. You can also continue Logan's legacy by joining the organ and tissue registry in your province, learning more about organ and tissue donation, and sharing what you learn with others. For more great ideas to spread the word about Green Shirt Day, check out the Green Shirt Day Ambassador Toolkit.