Meet Stem Cell Club
Dr. Warren Fingrut and his volunteers have recruited tens of thousands of potential stem cell donors 
February 3, 2021
Dr. Warren Fingrut founded Stem Cell Club while he was a medical student at the University of British Columbia.
Even through the pandemic, some incredible volunteers at universities across the country are continuing to help save lives by recruiting potential stem cell donors to Canadian Blood Services Stem Cell Registry.
The volunteers are members of Stem Cell Club, which is celebrating its tenth anniversary in 2021. The club, which has received support in the form of four grants from Canadian Blood Services' BloodTechNet Award Program, began as an effort to standardize recruitment drives at the University of British Columbia (UBC). Since then, however, it has grown to include 27 teams at universities across the country, all under the leadership of director Dr. Warren Fingrut.
Dr. Fingrut started Stem Cell Club as a medical student at UBC, but his interest in stem cells dates back to his undergraduate days at McMaster University in Hamilton, Ont. In 2010, he helped his fraternity run an event that recruited 1,129 prospective donors in 24 hours ― a feat that qualified as a Guinness World Record.
The record later fell, but Dr. Fingrut's interest in stem cells stuck, as did his concern for patients in search of matching donors for transplants.
"It was very meaningful to me to learn the stories of the patients, especially patients from diverse ethnic and racial groups, who were searching for a match and could not find one anywhere in the world," says Dr. Fingrut, who is now completing training as an Adult Bone Marrow Transplantation Fellow at Memorial Sloan Kettering Cancer Center in New York City.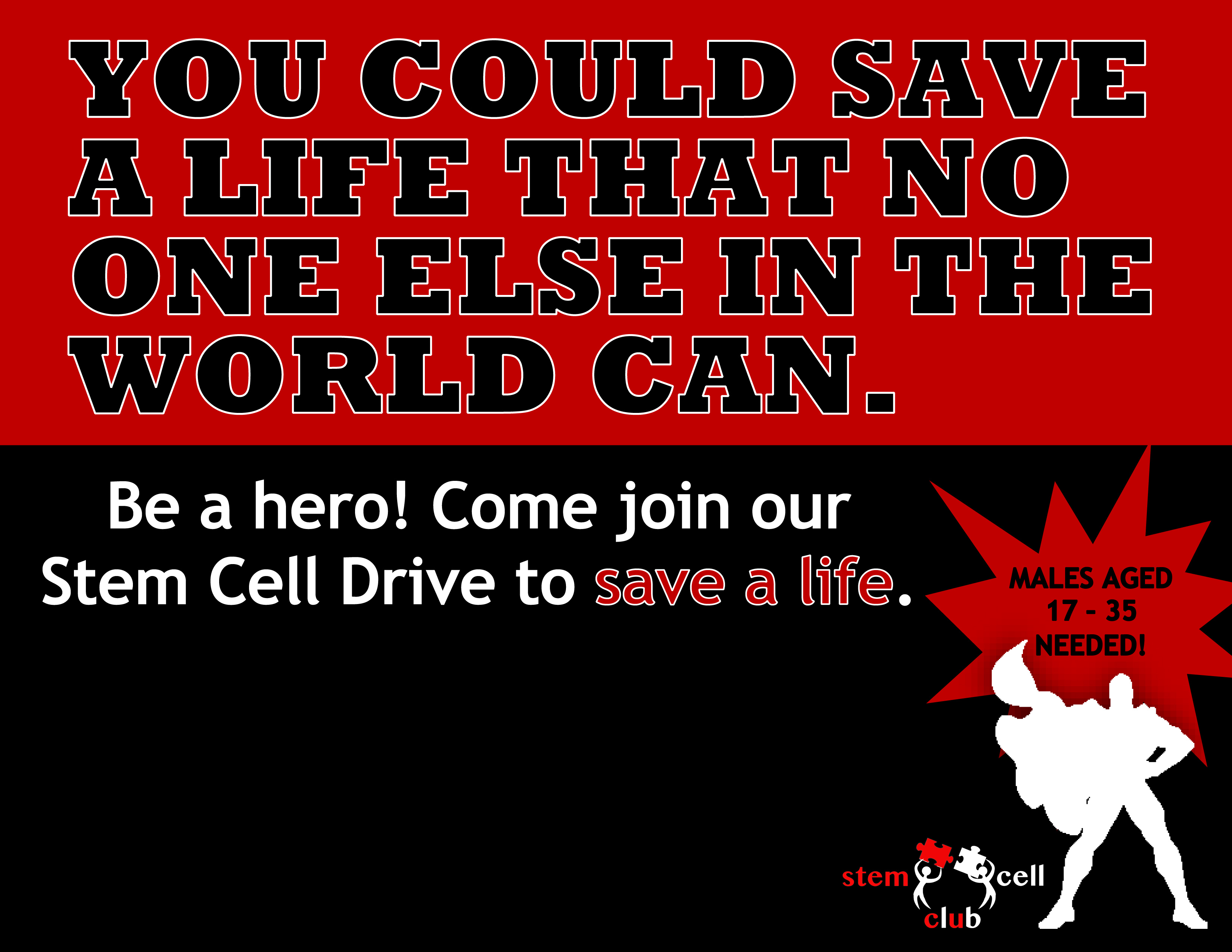 Stem Cell Club has recruited more than 20,000 prospective donors to Canadian Blood Services Stem Cell Registry through its volunteer teams at university campuses across Canada.
(Recruitment poster by Melody Salehzadeh, Stem Cell Club at the University of Toronto)
What are stem cells?
Stem cells, specifically blood stem cells, are immature cells that can develop into any cell present in the bloodstream. Stem cell transplants are used to treat more than 80 diseases and disorders, including life-threatening blood cancers. While the cells originate in the bone marrow, they are most often collected from donors through a non-surgical procedure that removes them from circulating blood.
Two types of stem cell donation (non-surgical and surgical)
The best stem cell transplant outcomes happen when a patient's human leukocyte antigen (HLA) and the HLA of a donor are a close genetic match. Patients with Indigenous, Asian, South Asian, Hispanic, Afro-Canadian, and mixed-race backgrounds find it especially challenging to find a match because currently only 32 per cent of prospective donors in Canadian Blood Services Stem Cell Registry are from these diverse groups. Volunteers with Stem Cell Club have developed a series of whiteboard videos to explain these concepts and others.
Armed with this knowledge, Stem Cell Club volunteers strive not only to recruit new people to the registry, but to increase the diversity of prospective donors. By the club's count, more than 55 per cent of the 20,000 donors they've recruited are non-Caucasian. More than half are also males, who tend to offer better outcomes for patients when called to donate.
The pandemic has put a stop to the campus events the group normally relies on to recruit donors, so they've redoubled their efforts in the digital realm. They continue to grow a powerful library of stories called Why We Swab on Facebook, Twitter and Instagram.
The library features stories about donors, recipients, and patients searching for a match, and even the story of one of Stem Cell Club's own volunteers. Ali Rizvi joined the chapter at Western University as a first-year student in fall 2015. His aim was to do something nice that would "maybe look good on the resume as a first-year student," he says.
By the following spring, however, the club's mission had become personal. Rizvi discovered a bump on his neck. His lower back hurt and he was having a bit of trouble breathing.
"I thought that was because I was out of shape. You know, freshman 15," says Rizvi.
But when he sought medical attention at the suggestion of a family friend, Rizvi was shocked to learn he had acute lymphoblastic leukemia ― a blood cancer he'd learned about through his work with Stem Cell Club.
"I knew there was something wrong with the stem cells, the 'factories' that we talk about. We call them the little factories, because they make the different blood cells," says Rizvi, who found himself using that knowledge to explain the diagnosis to his parents.
Rizvi also knew that beating the illness might require a stem cell transplant. That worried him, as he knew a match for a patient of his mixed Pakistani and Iranian background could be difficult or impossible to find on the registry. While his three siblings were tested for compatibility as potential donors, Rizvi waited anxiously.
"I was praying, like, 'Please, one of you guys just match with me, just in case. I'm sorry for all the times I wore your shirt or took the car when you needed it!'" he jokes. "Luckily, two of them matched, but that one or two weeks of not knowing was worse than the leukemia diagnosis by itself."
Fortunately, Rizvi's cancer is now in remission following chemotherapy and he hopes a transplant will never be necessary. But his efforts to recruit new donors have taken on new meaning, knowing as he does that three-quarters of patients will not share his luck in finding a match within their own families.
Adapting to the pandemic
To meet the challenge of recruitment during the pandemic, Stem Cell Club has recently also embraced TikTok.
"It's perfect for our target audience, because we're trying to recruit people 17 to 35 years old, and more than half of TikTok users fit in this age group," says Brady Park, co-president of Stem Cell Club's chapter at Western University and the creator and star of several videos on the feed.
"With TikTok, we're also able to reach out to a wider audience all over Canada, instead of just people in our university campus. I really see it as an innovative donor recruitment resource that can be used even after the pandemic."
The club will rely heavily on social media for its upcoming February campaign to recruit Black donors during Black History Month, which is being led by the club's chapter president at the University of Regina. In so many ways, Dr. Fingrut says, now is the perfect time to call on diverse Canadians to join the stem cell registry.
"There are national discussions happening in Canada about institutional and systemic racism, and about Black Lives Matter," says Dr. Fingrut. "Conversations are also happening at the national level about racial disparities in health outcomes. And we are working to help address those disparities."
National donor recruitment campaigns by Dr. Fingrut and his volunteers have been covered by more than 20 broadcast and print media outlets including The Toronto Star and The Toronto Sun. Volunteers are also sharing their knowledge with the broader medical and research community. In December, they delivered an oral presentation at a meeting of the American Society of Hematology and they will also present at a meeting of the American Society of Transplantation and Cellular Therapy in Feb. 2021. They have published papers on their work in multiple peer-reviewed journals including Biology of Blood and Marrow Transplantation (BBMT), Transfusion, Current Oncology and Vox Sanguinis.
Through Stem Cell Club, Dr. Fingrut is working to help build a culture of donation in Canada and beyond, where eligible donors across diverse backgrounds are well-informed about stem cell donation and its importance to patients.
"And it's not going to happen unless education happens, unless stories are shared, unless resources are developed and disseminated to capture the hearts and minds of Canadians," he says, "including those from diverse backgrounds."
People between the ages of 17 and 35 can join Canadian Blood Services Stem Cell Registry by registering online to receive a swab kit in the mail. Diverse donors are needed to meet the needs of patients of all ethnic backgrounds.