Medicine made from plasma crucial for Sudbury woman fighting cancer
Terry Mills is so grateful to donors, including those in her hometown 
June 16, 2020
Advances in cancer treatment are giving patients more hope than ever, but the side effects of those lifesaving medications can take their own serious toll.
Terry Mills was diagnosed with malignant melanoma, the most serious type of skin cancer, in August 2017. Since then she has been treated with immunotherapy drugs to boost her immune system's ability to find and destroy cancer cells.
"It worked okay for a while, then I was getting all kinds of side effects — and never the same twice," said Terry.
When her epiglottis began to swell to the point she could no longer swallow, she knew it was time to go to the emergency room. After she was admitted to hospital her health care team determined the immunotherapy drugs were to blame.
"They gave me steroids to stop the immunotherapy drugs from working," Terry said. "Then they gave me immunoglobulin to boost my immune system, because the immunotherapy had wiped out my system," Terry explained. "I feel pretty darn good now."
Immunoglobulin is a drug made from a blood component called plasma. Canadian Blood Services extracts plasma from donations of whole blood when those donations are processed into components. Donors in many Canadian cities also donate plasma through a process called apheresis. During that donation process, the blood passes through a centrifuge, which separates the plasma from the other blood components. Those other components are then returned to the donor's body.
Image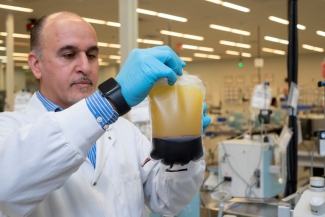 Plasma is a straw-coloured liquid component of blood. It is extracted from whole blood donations and can also be donated separately. It is used to develop lifesaving drugs for which demand is increasing in Canada. 
The need for immunoglobulin and other lifesaving plasma protein products is on the rise. To help meet that need into the future, Canadian Blood Services is opening three new plasma donor centres. The first of these will open in Terry's hometown of Sudbury, Ont. this summer with others to follow in Lethbridge, Alta. and Kelowna, B.C.
New plasma donor centres opening soon
Gerry Clyke has already signed up to donate plasma at the plasma donor centre in Sudbury when it opens.
Donating blood has been a regular part of Gerry's life for years. He has donated blood and platelets 19 times each, and anticipates donating plasma will be equally seamless.
Image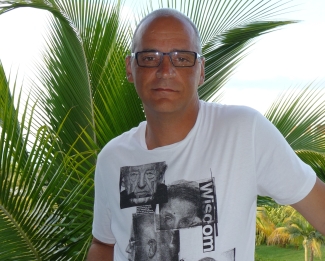 Gerry Clyke is a longtime blood and platelet donor, and expects to be one of the first plasma donors at a new plasma donor centre in Sudbury.
"I've never found it painful to actually donate blood, and it's not a long process at all," Gerry said. "It's an organized process. You do most of it online ahead of time, and then when you walk in you're basically ready to donate.
"The whole process has always been really easy and smooth going. And everyone at the donor centre in Sudbury has always been A-1 — just very nice people."
'I'm helping save lives'
Gerry values the simplicity, but the ability to help others is what really motivates him to give again and again.
"Working in the medical field, I understand that blood and blood products are a critical part of everyday medical care," explained Gerry, who is a vascular technologist. "When you stop to think that every 60 seconds in Canada someone is going to need blood, you realize how much blood is actually needed — and I'm helping save lives."
The need for blood has also hit close to home for Gerry. His mother was diagnosed with non-Hodgkin's lymphoma, a type of blood cancer.
"She's 85 years old and weak," said Gerry. "She gets transfusions regularly. To me, knowing that I'm helping my mother – and who knows how many other people – it just makes you feel good."
Helping patients across Canada and close to home
As a plasma donor at one of Canadian Blood Services' new plasma donor centres, Gerry will continue to help save lives. They could be across the country or just across town in Sudbury.
And because of donors like him, patients such as Terry can have hope throughout the twists and turns of their diagnoses and treatment. Today, Terry is doing well. She's newly retired and grateful to be able to spend time doing the things she loves, such as yoga.
"I've kind of always believed that I was going to be okay, that something would be in place when I needed it," said Terry. "And it turned out that [what I needed] was plasma.
"When I needed it, it was there, and that's because somebody donated."