Frontline nurse donates cord blood
Umbilical cord blood has stem cells that can save lives
August 17, 2020
When little Meridian Lapalme is older, her parents will have quite a tale to tell her about the world she entered.
Meridian was born July 28 at Brampton Civic Hospital in Brampton, Ont. Her mother, Kryssandra Sammut, spent her pregnancy working through the pandemic in the emergency department of that same hospital. Her father, Corey Lapalme, is an advanced care paramedic in the region.
Image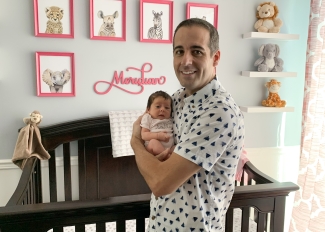 Corey Lapalme with his daughter Meridian. Meridian's mother Kryssandra registered to donate her umbilical cord blood to Canadian Blood Services' Cord Blood Bank.
So while Kryssandra describes the pregnancy as a healthy one, the pandemic certainly added a dose of worry for these parents-to-be on the frontline.
"It was definitely a little stressful at the beginning, with the unknowns," says Kryssandra.
But through it all they have continued to think about the needs of others, and not just when they're working. From early in her pregnancy, Kryssandra knew she wanted to donate her baby's cord blood to Canadian Blood Services' Cord Blood Bank. She registered online in advance.
"Donating blood products is important to me overall," says Kryssandra, who has also donated blood and platelets.
Register online to donate cord blood
Image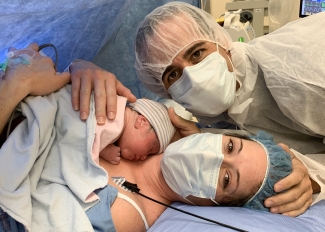 Meridian Lapalme was born July 28, 2020 to frontline nurse Kryssandra Sammut and Corey Lapalme, an advanced care paramedic. Kryssandra registered to donate Meridan's umbilical cord blood to Canadian Blood Services' Cord Blood Bank, which keeps stem cells from cord blood for use in lifesaving transplants.
What is cord blood?
After a baby is born, the blood left in the umbilical cord and placenta is rich with lifesaving blood stem cells. Like bone marrow or peripheral blood stem cell donations, donated cord blood can treat more than 80 diseases and disorders.
How umbilical cord blood saves lives: one recipient's story

Adapting traditions to save lives with cord blood
Canadian Blood Services collects and stores cord blood for future use by anyone in need of a stem cell transplant. Collection happens after the safe delivery of the baby and placenta, so it does not interfere with the process of labour or birth. But unless mothers opt to preserve cord blood for patients or for research, it is normally discarded as medical waste.
Image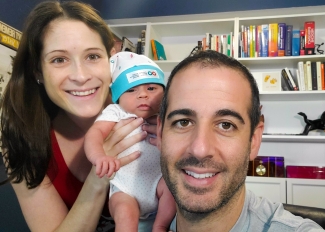 Newborn Meridian Lapalme sports a special Canadian Blood Services beanie. Her mother Kryssandra Sammut, left, registered to donate Meridian's umbilical cord blood to Canada's national public cord blood bank.
Kryssandra's strong preference was to make her baby's cord blood available to anyone in need, rather than pursue a private cord blood banking option that would keep those stem cells for her family's exclusive use.
"It was a healthy pregnancy, and we had no particular concerns or reason to think she would not be healthy when she was born," Kryssandra says. "There are people out there who could benefit from something that we have. Keeping it away from them was not something we thought was appropriate."
Kryssandra and Corey are now settling into life as new parents, though COVID-19 continues to colour their experience. They can't place Meridian in her grandparents' arms just yet. Visits happen across a yard, or through Facetime for Corey's family in Montreal.
Image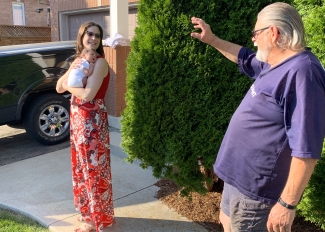 Newborn Meridian Lapalme met her grandfather Alex Goretski at a distance because of the pandemic.
"It's a little emotional when you can't share those moments you would usually share when you have a new family member," says Kryssandra, who also yearns to hold her new nephew born in late March. "Everyone wants to share in that joyous time."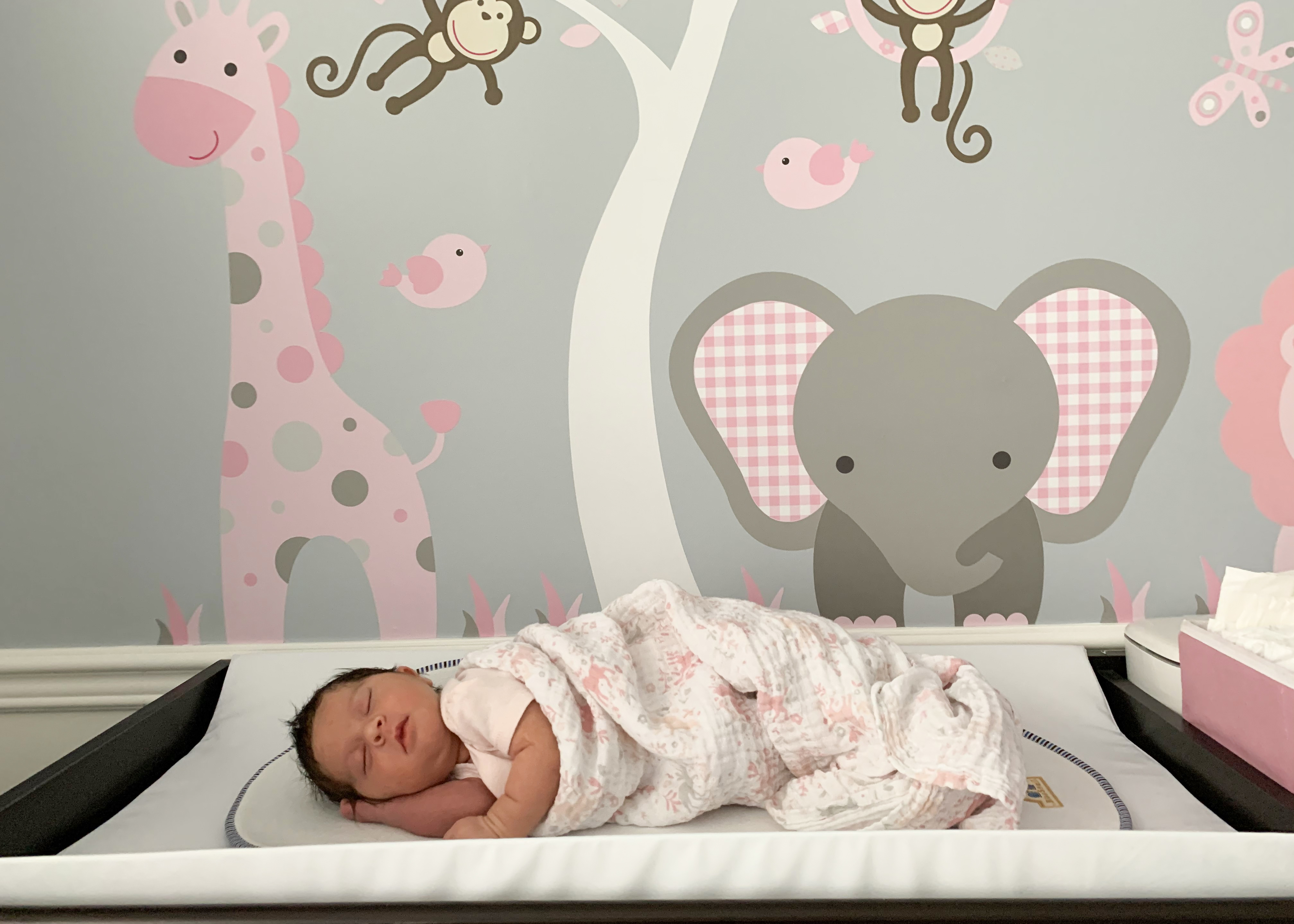 Meridian Lapalme was born July 28, 2020.
For now, the couple is taking things day by day. Parental leave is giving Kryssandra some time away from the frontline, and Corey will have an opportunity to take some as well.
"We'll both have some time off with our little one to help create a bond and grow with her," Kryssandra says.
Since the inception of Canadian Blood Services' Cord Blood Bank in 2013, we have collected more than 34,000 umbilical cord blood units from healthy volunteer mothers across the country. Collection takes place at hospitals in Ottawa, Brampton, Edmonton and Vancouver. Mothers expecting to deliver in those cities can register online to donate cord blood. Each donation can help save a life.