Blood drive celebrates recipient's first birthday, honours donors
A family from Aldergrove, B.C. is hosting blood drives in October to celebrate their daughter's first birthday following a whirlwind year marked by sudden hospital visits, treatments and surgeries.
October 23, 2020
Christie and Kyle Lewis had no warning that their daughter Madison would be born with congenital heart disease and respiratory challenges, but from her oxygen levels and impaired breathing, medical providers knew right away that something was wrong.
The morning Madison was born she was transferred from a hospital in Langley to another hospital in Surrey where for the first week of her life she was treated with antibiotics for what was thought to be pneumonia.
"On November 1 we found out she had cardiac and respiratory issues and was transferred again to BC Children's Hospital in Vancouver," says Christie.
Madison remained in the neo-natal intensive care unit for over two months. She received continuous positive airway pressure (CPAP) therapy and had surgery to help with her breathing. After recovering, she was cleared to go home in January but continued to have respiratory challenges.
In February, Madison was readmitted to BC Children's Hospital where she stayed in the cardiac intensive care unit for four weeks. With her increased respiratory needs, cardiologists determined she wasn't the best surgical candidate.
"Things were not looking so good for Madison but, with the help of the team at BC Children's Hospital, we found a second opinion for surgery at Stollery Children's Hospital in Edmonton," says Christie.
"With COVID-19 and the risk of cross-border travel being shut down, our cardiologist recommended we go immediately."
Christie and Madison flew out on March 25, but with pandemic measures in place Kyle stayed behind to care for their three-year-old son, Landon.
"COVID-19 made it so isolating, leaving me without the support I normally would have had. It was already a tough situation putting our baby girl through a risky surgery in a different province," says Christie. "We knew there was a chance I could be in Edmonton alone and lose her."
Madison had surgery the next day. Despite the challenges of her surgical case, the procedure went well. She received donor tissue to repair her pulmonary artery and several blood products that helped save her life. After recovering for 10 days in the pediatric ICU, she and Christie flew home. But Madison's health challenges didn't end there.
Image

Madison recovering from surgery to repair her pulmonary artery
"As Madison outgrows the donor artery, she will likely need further surgeries," says Christie who is relieved all the specialists they have followed up with are pleased with Madison's progress.
"She's got her challenges but she's happier now and finally at home doing normal baby things," says Christie. "She's orally feeding, growing and thriving. It's amazing to see the difference in Madison considering the first six months of her life were pretty difficult."
Image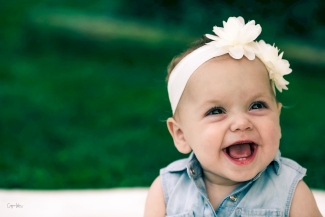 With the help of donors, Madison is doing better than ever
Christie says that she, Kyle and their extended family are forever grateful to donors.
"Money can't buy the blood that people need for surgeries, unexpected accidents and illnesses. Donations are coming from generous people who are saving lives. My husband and I have never donated blood; it was something that never crossed my mind until we were in this situation.
"We want to do our part to get the word out that blood is needed and how little babies like Madison benefit from it. We want something good to come out from all the struggles we've been through. A few of our family members said they would give blood, so we set up a blood drive.
"We know we're going to need more blood products for Madison as she goes for more surgeries. She didn't have the best odds and now Madison is just the happiest little girl."