With a family history of chronic kidney disease, Angelica Rotundo knew it was only a matter of time before she would need a kidney transplant. She was lucky to find a living donor in her husband.
It's 6 a.m., and Angelica Rotundo is at the hospital preparing for surgery. So is her husband, Nick. They're not thinking about what comes next for themselves. They're terrified for each other.
Nick hugs her, they cry, and as he's wheeled to the operating room, he tells her the same thing he told her 10 years earlier: "I'm going to be here for you regardless of what happens. Everything is going to be fine."
The last time he'd uttered those words, Angelica had just left her doctor's office with a diagnosis of chronic kidney disease. It wasn't exactly a surprise — five of her family members have had the same illness — but it was still devastating news.
"It was so scary, because when I hit that point of being 25 and diagnosed, 50 per cent of my kidney function was already gone. It was kind of like I had one kidney," Angelica says.
"Having Nick hold me and support me and tell me everything was going to be okay was so essential. We had just started dating, so I didn't expect him to really step up in that way."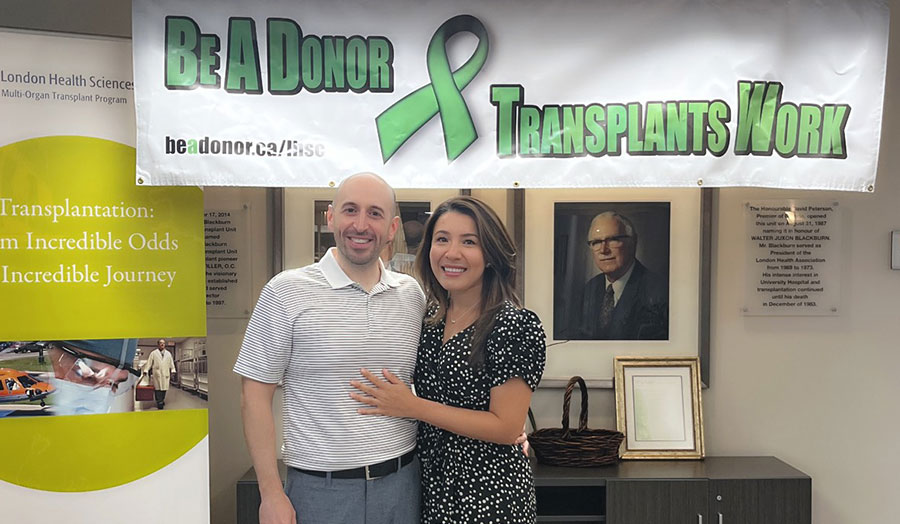 A history of chronic kidney disease
The first person to be diagnosed with the disease in Angelica's family was her grandmother. When her oldest aunt began having the same symptoms, the family realized that there was likely a genetic component. Angelica was only 10 years old when she was forced to confront the fact that she, too, might inherit this disease, and that her kidneys might fail. Angelica's mother and two other aunts also have the disease.
With chronic kidney disease, the kidneys are damaged gradually over time, becoming less and less able to filter excess fluid and waste from the blood. Without artificial filtering, known as dialysis, or a kidney transplant, the kidneys can fail completely —a fatal outcome.
"In my family, we don't get any symptoms until right before we have to go to dialysis, which was a blessing," Angelica says. "I've tried my best to just live a fulsome life and not focus on this because I didn't want it to define me. I didn't want it to be the centrepiece of my life."
Surprisingly, people with chronic kidney disease can sometimes be symptom-free until kidney damage is severe. But because Angelica knew about her family history, she knew it was important to protect her kidneys with good nutrition and exercise. She'd also been cautious about taking pain medications which can damage the kidneys with continued use.
"It was just always in the back of our minds. You're able to move on, but there's also this ticking timebomb that you don't know when is going to go off," Nick says. "She would have checkups and her kidney function kept declining. Maybe it was denial, but I always thought it would happen in her late 40s or early 50s. I could deal with that, but it happened a lot quicker for her."
Finding a living kidney donor
Angelica was somehow still feeling fine, but her kidney function had dropped precipitously, to six or seven per cent capacity. Nick knew he had to do something.
"She could have done dialysis, and that's typically what people with kidney disease go through while they're waiting on the donor list," says Nick, noting that the wait can last years or even decades, if a matching donor is ever identified at all. "I saw what her mom went through, and I couldn't see my wife doing that. It would kill me."
So, he offered to put the promise he'd made into action and become Angelica's living kidney donor.
"I thought the best-case scenario would be a paired exchange," Nick says, referring to the Kidney Paired Donation program. This program can help when a donor is not a match for their intended recipient, but is a match for someone else, and willing to donate anonymously; effectively, it enables willing donors to switch places.
"I never thought we would be a direct match. The probabilities are just so low."
Kidney transplant delivers 'a second lease on life'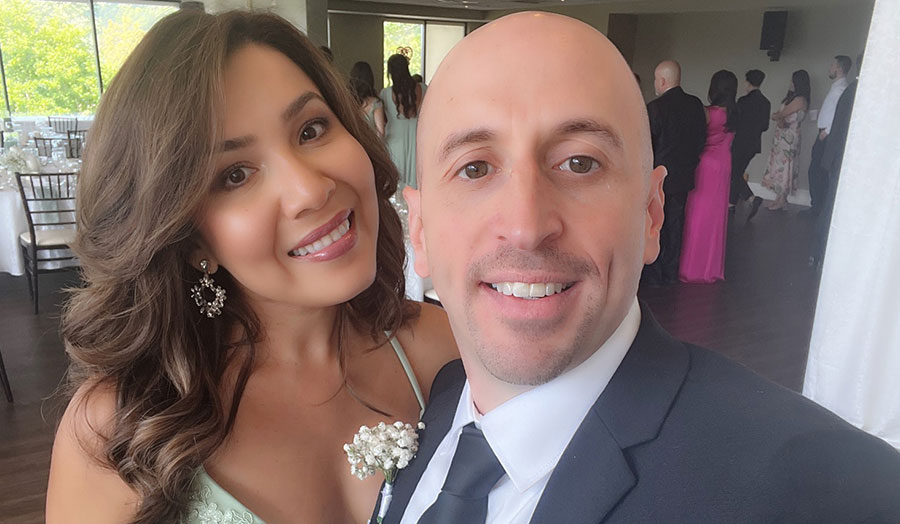 When Nick got the call saying he was actually a match for his wife, he asked them to check again. He couldn't believe how lucky they were. But new worries quickly emerged for Angelica: specifically, concern that surgery to remove his kidney could negatively affect Nick's health.
"My biggest fear was that something would happen to him. I'm already ill. I have to deal with this, but he was perfectly healthy. So, I didn't want anything to happen to him," Angelica says.
It was reassuring to both that doctors and coordinators were with them every step of the way. They explained to the couple that part of the reason Nick was a good match was that he was strong and healthy enough to manage the surgery.
They were right. It was a success.
"I feel like I've been given a second lease on life. I feel so fortunate. All I want to focus on now is raising awareness around living organ donation, because there's a lot of people waiting for organs of all sorts," Angelica says.
Nick's living donation didn't just change Angelica's life, it may also be a gift to future generations of her family. Since Angelica learned that the disease was genetic, she has been working with specialists to discover the exact cause, with the hope that future generations can avoid inheriting the disease.
But no matter the outcome, Angelica and Nick will continue to advocate for living organ donation.
"I think my message would be that it's safe, it's something to consider, it's something to explore, and it's something to get educated on," Angelica says.
You can do all of those things by visiting our living donation page. And consider registering to donate organs and tissues after death as well. Together, we are Canada's Lifeline.