Fundraiser and cancer survivor turns his passion for cycling into a lifeline for patients
While many people's most vivid childhood memories often involve birthday parties or the first day of school, Neill Spencer's clearest flashbacks are of blood donation clinics and sugary snacks.  
August 11, 2020
As a kid, Neill used to accompany his father to his regular blood donation appointments. Having learned about the journey of blood products and their lifesaving impact at a very young age, Neill always imagined that one day, when he was old enough, he would become a blood donor himself.  
Unfortunately, he never got the opportunity. 
Soon after meeting the age requirements for blood donation, Neill was diagnosed with leukemia in 2010. Instead of being able to give the gift of life, Neill now had to rely on blood products to survive.  
During his treatment, Neill required more than a dozen transfusions of blood and platelets to keep him going. When his cancer returned in 2014, he underwent a lifesaving stem cell transplant.  
Today, thankfully, Neill is healthy and cancer-free — but is still unable to donate blood products due to his past illness. Most donors who have a history of cancer are now eligible to donate blood if they have been cancer-free for five years. However, those with a history of blood cancers such as leukemia and lymphoma remain ineligible.  
Given the impact that blood products have had on his own life, Neill had long wanted to be able to give back in some way — so when he learned earlier this year that Canadian Blood Services was facing a spike in blood appointment cancellations due to the COVID-19 pandemic, he came up with a creative solution.  
In June 2020, he decided to launch a fundraising campaign in support of Canadian Blood Services, that would pair his passion for cycling with his drive to help patients in need of blood products.  
Inspired by the 40th anniversary of Terry Fox's Marathon of Hope, Neill challenged himself to bike 160km every week for 20 weeks. In turn, he has been asking his friends, family and members of his community to contribute financially to Canadian Blood Services in support of his efforts. His goal is to raise $1 for every kilometer travelled.  
By October 18th, Neill plans to have biked at least 3,200 kilometres in and around his home of Dartmouth, NS and hopes to raise at least $3,200 in support of Canadian Blood Services' national programs and initiatives. He hopes particularly that his efforts will help support donor recruitment during the ongoing COVID-19 pandemic.
Thinking about launching your own fundraising campaign?  

Through our online portal (give.blood.ca/diy), aspiring fundraisers can easily set up a dynamic personal or team page to share campaign goals with others, track fundraising progress and seamlessly thank supporters.   

The portal also provides helpful resources that make it easy for you to promote your online campaign or virtual event on social media and spread the word far and wide about how financial gifts can make a lifesaving impact for Canadian patients.  
Neill is also encouraging supporters of his campaign who are eligible to donate blood to book an appointment to complement their financial contribution.  
"My inspiration to hold this fundraiser comes from my past experiences. I like giving back to organizations that are close to my heart and the experience is even better when I can pair that with my own hobbies and interests," said Neill.  
"I love cycling, so I just figured this challenge I set out for myself was a great way for me to get something out of it personally, while also making an impact for patients." 
Averaging about 30km-60km per ride on his bike — and having already raised more than $2,000 just halfway through his challenge — Neill is well on his way to meeting his goal.  
Seeing the early success of his efforts, Neill said he is already thinking of how he can push himself further next year, in what he hopes will become an annual fundraising event. 
"I might have to scale this plan back, but I'm thinking of riding 100km a day for 100 days next year," he said.  
"I like to push myself — and I'll always be grateful to Canadian Blood Services and blood donors for saving my life and helping me to become healthy enough to do that."   
Image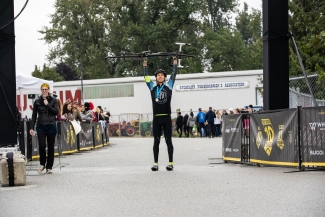 How our fundraisers make a difference 
Every day, incredible supporters like Neill choose to channel their passions and creativity into fundraising campaigns that help to make a difference for patients across the country.  
When people rally their friends, family, colleagues and community together through peer-to-peer (or do-it-yourself) fundraisers in support of Canadian Blood Services, they are helping to save lives.  
Financial donations to Canada's Lifeline strengthen our national programs and initiatives that connect patients with lifesaving products and services, where and when they need them.  
Financial contributions help us to recruit the next generation of blood donors, build a diverse stem cell registry, strengthen the organ and tissue donation transplantation system, and drive world-class research in transfusion and transplantation medicine. Importantly, financial donors enable us to adapt to the changing needs of patients and the shifting healthcare landscape.   
For those who are ineligible to donate blood products — or for those who wish to increase their impact and inspire their communities — launching your own fundraising campaign is a fun and engaging way to make a lifesaving difference.   
And while the current COVID-19 environment means that some traditional, in-person fundraising events like fun runs, birthday celebrations or golf tournaments can't take place as they normally would (for the time being), many supporters like Neill are stepping up to the challenge and are launching creative online campaigns and virtual events.