Dr. Graham Sher, CEO of Canadian Blood Services, named to Order of Canada
Prestigious honour conferred by the Governor General recognizes extraordinary contributions to the nation
December 29, 2021
Dr. Graham Sher, CEO of Canadian Blood Services since 2001 and an executive from its founding in 1998, has been appointed an Officer of the Order of Canada.
One of Canada's highest civilian honours, the Order has the motto DESIDERANTES MELORIEM PATRIAM ("They desire a better country"). Being invited to join it has been a deeply emotional experience as well as a surprise for Dr. Sher. When the call came from the Chancellery of Honours within the Office of the Governor General, he assumed it was about one of the references he'd provided for other nominees over the years.

"I was totally speechless," he recalls.
The tears came later, when he surprised his wife, Erica, by showing her an email he had received that day confirming the appointment.
"I've been in Canada for 31 years, but I am an immigrant," he says. "That Canada would seek to honour me with one of its highest orders, for those who have made it a better country, is very moving."
Dr. Sher completed his medical and doctoral degrees at the University of the Witwatersrand in Johannesburg, South Africa, becoming the first person in his extended family to obtain a university degree of any kind. In the late 1980s, as his studies were nearing completion, he faced some difficult choices: whether to remain in South Africa for compulsory military service and where to launch his academic medical career.
"This was still the height of the apartheid era in South Africa, and I had strong reservations about participating in the military for a government whom I really believed was on the wrong side of humanity and the wrong side of history," he says. "I was also really drawn to exploring career options abroad."
Initially he undertook a post-doctoral research program at the University of Toronto. While there, he got accepted to pursue specialty training in hematology — the study of blood and blood disorders — also at the University of Toronto. At the time he was attracted by the promise of a rewarding academic medical career in Canada's public health system — combining clinical medicine, research and teaching at a large academic medical centre.
"I was a big proponent then, and have become even more so over the decades, of the value of a publicly funded and administered health care system such as the one we have in Canada," he says.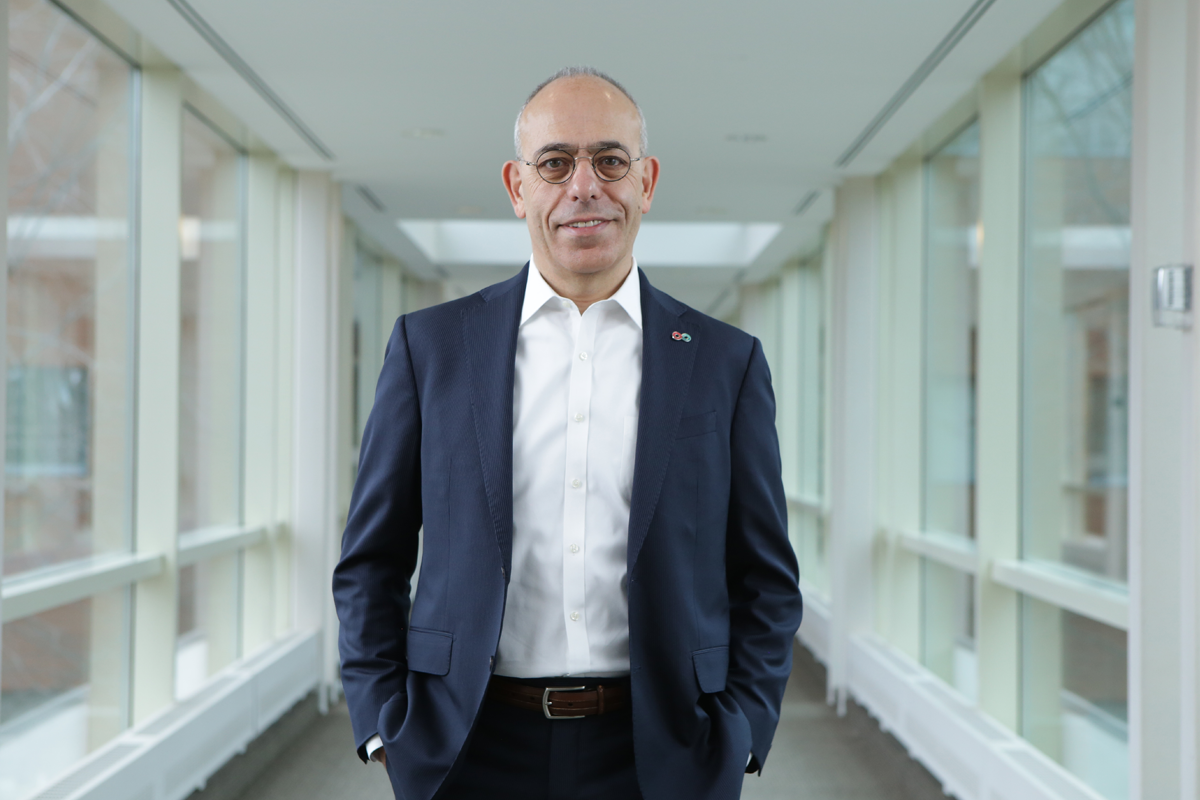 Dr. Graham Sher, Canadian Blood Services' CEO since 2001, has been appointed Officer of the Order of Canada.
A mission to restore confidence in Canada's blood system
By 1998, Dr. Sher was comfortably settled in Toronto with a burgeoning academic medical career at the University of Toronto and what was then The Toronto Hospital. He and Erica were also expecting their third child when he came to another fork in the road.
At that time, the blood system in Canada was in a state of crisis. Thousands of Canadians had been exposed to HIV and hepatitis C through contaminated blood products in the 1980s, and a commission of inquiry had spent four years investigating. Justice Horace Krever issued the final report in late 1997. Now it was time for bold action.
"In the spring of 1998, the phone rings and it's a headhunter," remembers Dr. Sher. "And he says, 'The governments are creating this new agency to replace the Canadian Red Cross Society, and we're calling to solicit your interest to be the vice-president of medical affairs of this new organization,' which didn't even have a name at the time.
"And I laughed and said 'well, I can tell you a few names of people in the country who could do that, but I'm not really interested because I'm a clinician. I don't have an administrative background.'"
Despite those early misgivings, Dr. Sher was more than a little intrigued by the opportunity to help make a difference at a national system level, not only at the individual patient level. So he called the headhunter back and went for the interview. Soon he had his first executive position with the organization that became Canadian Blood Services. And less than three years later, after our first CEO resigned, he applied for the top job.
By then, "I knew in my soul what the future of the blood system in Canada needed to look like," he says. "I had a vision. I had a passion. I had a driving force to build on the early successes we had achieved and to create a world-class national blood service for Canada."
He was also just 38 years old. Looking back, he's "very, very grateful" for the opportunity he was given to lead at such a young age.
"One of the things I've tried to pay back in my career is to place my trust and confidence in young and aspiring talent, believing that they can rise to the occasion if you give them support. That's what the board of directors did for me in 2001."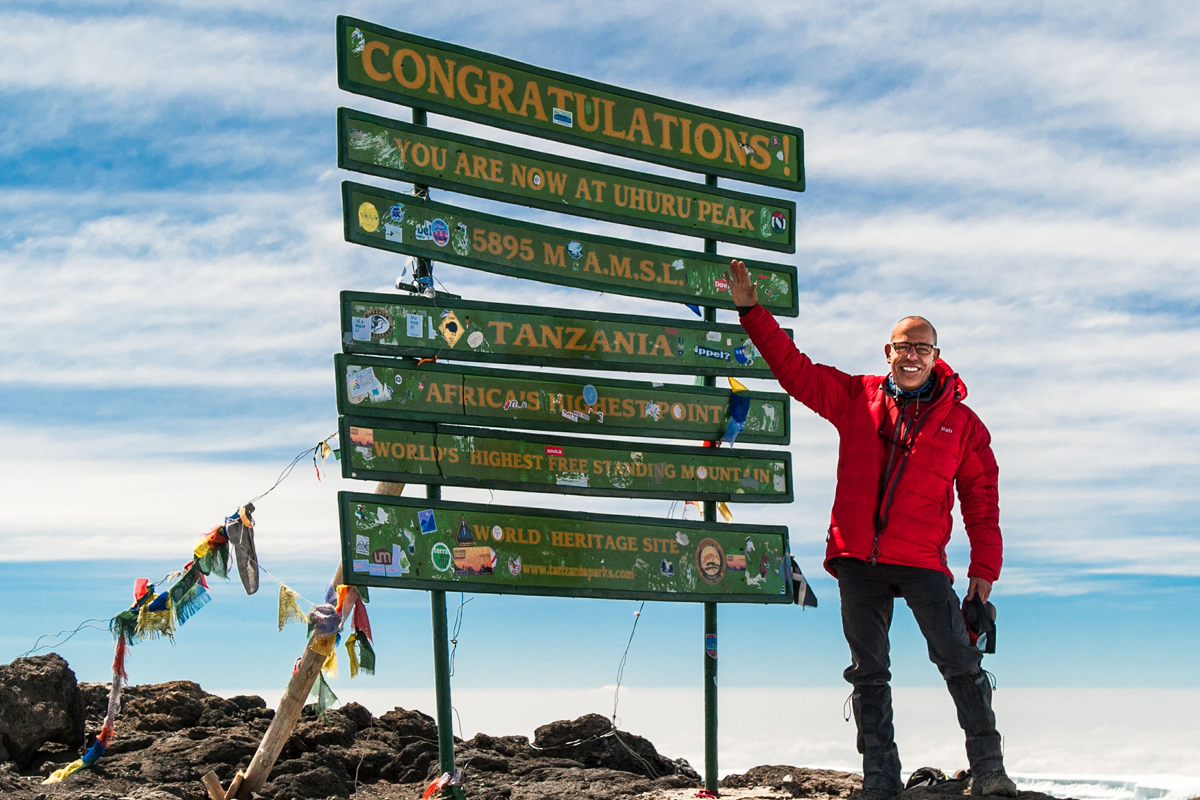 Canadian Blood Services' CEO Dr. Graham Sher was part of a team that climbed Mt. Kilimanjaro in 2013 to help raise funds for the organization's national public cord blood bank.
A long-term vision for Canada's Lifeline
Pauline Port, our chief financial officer and vice-president of corporate affairs, describes Dr. Sher as not just highly intelligent, but an exceptionally hard worker with a great sense of humour. He's drawn on these qualities and more to navigate challenges from the arrival of West Nile Virus in North America to the disruptions of the COVID-19 pandemic, all while keeping an eye on big goals such as increasing plasma sufficiency in Canada.
"There are all these bumps in the road, but he has a long-term vision," she says. "He's managing through that vision. He has the ability to drive consensus with his team in the organization and with outside stakeholders as well."
Ms. Port joined our organization as an employee in the finance department in 1999. She remembers one of her early meetings with Dr. Sher, when he was still VP of medical affairs. "He was advocating for the importance of increasing the budget for research and development and I was trying to manage costs!" she says.
She recalls that wrangle ended in "a draw," but innovation at Canadian Blood Services has certainly flourished under Dr. Sher in the years since. It has helped drive our journey to build a more inclusive blood system, and even contributed to the fight against COVID-19. It has helped us develop new products and services and ensure patient safety is at the forefront of every decision we make. There's a broad focus on ensuring excellence in both transfusion and transplantation science and medicine.
The many research areas reflect some of the ways the organization's responsibilities have grown with Dr. Sher at the helm. In 2013 we opened a national public cord blood bank to collect and provide lifesaving cord blood stem cells for transplant. Dr. Sher was part of the team of 25 people who climbed Mt. Kilimanjaro, Africa's highest peak, to help raise funds for it. And it was also under his leadership that we began working with the organ and tissue donation and transplantation community to improve national system performance. That includes the creation of the Canadian Transplant Registry, a platform to facilitate interprovincial organ sharing.
'The trusted custodian of the entire blood system'
"Graham carries out the role of CEO of Canadian Blood Services in an outstanding fashion. He is truly a Canadian leader in the health-care space," says Mel Cappe, who served as chair of the board of Canadian Blood Services from Jan. 2018 to Dec. 2021.
Successfully leading an organization regulated by the federal government, funded by the provinces and territories, with an independent board made up of directors appointed by all 12 provincial and territorial ministers of health, is an incredible achievement, he says.
"The complex governance structure would challenge the most seasoned executive, but Dr. Sher is the trusted custodian of the entire blood system."
Mr. Cappe, who is also an Officer of the Order of Canada, notes Dr. Sher's contributions also reach beyond Canadian Blood Services to organizations such as the Canadian Partnership Against Cancer, where he's served as chair of the board since 2016. And they extend beyond Canada as well. Dr. Sher is a founding member of the Alliance of Blood Operators (ABO) and was the first person from outside the United States to serve as president of the AABB (now the Association for the Advancement of Blood and Biotherapies).
Honour reflects both personal, organizational commitment
In being appointed to the Order of Canada, Dr. Sher joins not only Mr. Cappe, but also several current and former board members. They include former board chair, Leah Hollins; the current chair, Dr. Brian Postl; the current board vice-chair, Glenda Yeates; and current director, Victor Young.
Dr. Sher is grateful to them and to all the "fantastic people" with whom he has worked over the years, who have helped him make the contributions for which he is now being honoured.
"We came from a legacy of trouble and crisis and catastrophe, and we've spent 23 years trying to build a better, stronger, more meaningful institution that serves all Canadians," he says. "This wasn't work I did on my own. In many ways, the award reflects the organization's commitment to make this country a better place, and I think collectively we have done just that."