Donated plasma saves Ottawa man's life
Mike Jones recovered from a rare immune disorder
September 22, 2020
Life changed in a flash for Mike Jones, a truck driver and self-described outdoors guy who loves to hunt and fish. When he woke up one morning in 2019, Mike could no longer feel his hands or legs. 
"I went from working, walking and laughing to waking up on a Saturday morning unable to get out of bed," he says.    
An ambulance rushed Mike to hospital, where his condition grew steadily worse: he lost the ability to swallow and to breathe without assistance. Doctors diagnosed him with a severe case of Guillain-Barré Syndrome (GBS), a rare autoimmune disease that causes the immune system to attack nerve cells. GBS affects about one in 100,000 people and Mike had experienced a particularly severe attack.
Image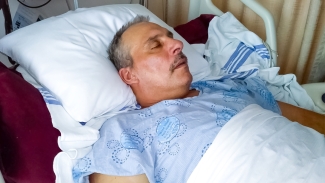 One of the only effective treatments for GBS is immune globulin. Made from donated plasma, it contains active elements of the immune systems of up to a thousand donors. Mike's condition began to improve after a second dose of immune globulin. 
New plasma centres will help meet growing patient need 
Mike is just one of many patients across Canada who rely on donated plasma. Demand for plasma and medications made from it is rapidly increasing, as they are used to effectively treat a growing number of immune deficiencies, bleeding disorders, cancers, and kidney and liver diseases.  
To meet rising demand, Canadian Blood Services opened a new plasma centre in Sudbury, Ont. in Aug. 2020; others are set to open in Lethbridge and Kelowna next year. Thanks to the generosity of donors, the centres can help transform the lives of many more patients like Mike. 
A thousand plasma donations and counting
It took many weeks before Mike's symptoms eased enough for him to begin daily physiotherapy and occupational therapy in hospital. He had to re-learn how to walk and to perform the countless activities of daily living. More than four months after the initial attack, he finally was able to walk out of hospital. Two years later, he continues to work on his recovery at home.    
Plasma to save a toddler's life 
Have you recovered from COVID-19? Consider donating plasma for clinical trials
"The doctors say that Mike will continue to recover and that it's just a matter of time," says Angie Neumann, Mike's wife. "I want to thank plasma donors for saving my husband's life. If immune globulin hadn't been available when Mike needed it, I know that I'd be a widow."    
Mike Jones takes encouragement from each small sign of progress in his recovery. "If I could meet some people who donated plasma," Mike says, "I'd like to shake their hands, thank them, and ask them to ask more people to donate."   
Becoming a plasma donor can make a lifesaving difference to patients across Canada with Guillain-Barré Syndrome and many other conditions. To book an appointment, visit blood.ca/donate, download the GiveBlood app or call 1 888 2 DONATE.