Canadian Blood Services named a top health charity of the year
Canadian Blood Services is proud to be named by the Financial Post as one of the most accountable, transparent charities in the country.
August 30, 2018
 In their annual charities report card, the Financial Post chose Canadian Blood Services as a top national health-focused charity of the year, awarding the organization with an A grade for excellence in transparency and efficiency.
Analysts scoured the annual reports and financial statements of national Canadian charities in five categories: health, education, conservation, international and other. To be considered, charities had to be national in scope, appeal to Canadians across the country from diverse backgrounds, and have reported $1 million in tax-receipted donations and fundraising revenue in 2015.
With over $2 million in payments of pledges coming into our programs through the Campaign For All Canadians, in 2015-2016 Canadian Blood Services was able to build an inventory of the highest quality, ethnically diverse cord blood units to match Canada's uniquely diverse population. 
Image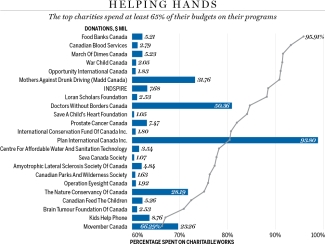 The list of top charities all spent less than 35 cents of each dollar raised on fundraising costs, with at least 65% of total annual budgets funding charitable programs and gifts. (Image credit: Financial Post)
All the charities highlighted alongside Canadian Blood Services have an added cause for celebration this year. The donor accountability metric designed by Charity Intelligence—a watchdog organization who assists in the grading process—shows an overall increased 15 per cent over the last five years.

As a publicly funded organization, Canadian Blood Services has a responsibility to ensure we are getting the best value for the funds we spend and that we disclose information about the way we manage funds and administer resources. To meet this responsibility and demonstrate accountability, Canadian Blood Services is committed to our established governance structures, the publication of the Annual Report and the Annual Report to Financial Donors, and inviting stakeholders and members of the public to participate in our bi-annual open board meetings, among other transparency initiatives.
Read the Financial Post article for the complete list of charities of the year in all categories and read our latest Annual Report and Annual Report to Financial Donors to see how Canadian Blood Services continues to promote transparency and efficiency across the organization.