Image
Sanjay Prajapati donated stem cells as a partial match, as an agonizing search for more suitable donors came up empty
A years-long journey with his children's rare illness has turned Sanjay Prajapati into both an accidental activist and a stem cell donor, with an outcome that is still uncertain.
Sanjay's identical twin three-year-old daughters, Zoey and Misha, were diagnosed at the age of seven months with chronic granulomatous disease (CGD). This rare, life-threatening, inherited condition puts them at risk of severe infections from common bacteria and fungi.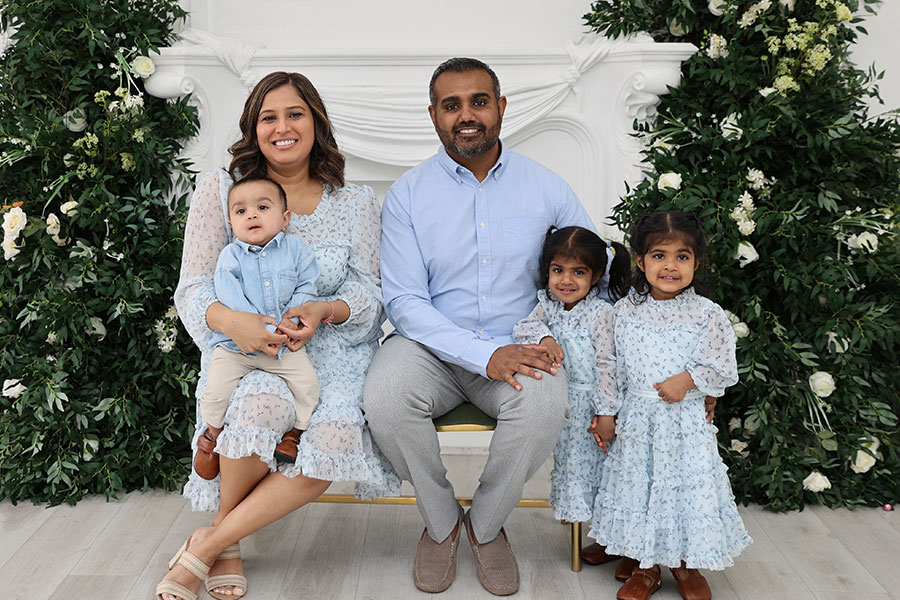 The only cure is a stem cell transplant. However, an ideally matched donor has not appeared in Canadian Blood Services' Stem Cell Registry. A search of similar registries around the world has also come up empty.
While waiting, the family has had to be hyper-vigilant about protecting Misha and Zoey from infection. That means lots of careful cleaning, screening of visitors and restricting the girls' activities. That's along with all the other demands of parenting the twins and their younger brother, Arjun.
"Waiting for a match, our family's been in a holding pattern," says Sanjay. "The twins are at a point where they should be in daycare, making friends, experiencing the outdoors. We cannot do any of that. Essentially, we've lived in a bubble since the time of their diagnosis."
Why we need a more diverse stem cell registry
Yet during that difficult wait, the Prajapatis have become tireless advocates for the stem cell registry. They've shared their story online and with journalists, and even hosted recruitment drives. (Resources are available for families and friends of patients who wish to host their own stem cell registry recruitment events).
A patient is more likely to find a match in a donor of similar ethnic background. For that reason, the Prajapatis have been especially passionate about recruiting those who share their own South Asian heritage. We are so grateful for their efforts to help us build the diverse donor base that is essential to serving patients. Currently, most prospective stem cell donors in Canada — and worldwide — are of European descent.
Before his daughters were diagnosed, Sanjay wasn't aware of the need for a diverse stem cell registry. Now, he thinks often about the many people who could join, but haven't, and what that means for families including his own.
"A person I just passed walking down the street, or who was just shopping in the same plaza as I was, could be a potential donor," he says.
Donating stem cells as a partial match
The longer the wait for a stem cell donor, the greater the risk of a life-threatening infection and comorbidities for the Prajapati twins. So this past summer, the family faced a difficult decision.
Sometimes, when no ideal stem cell match is available — either within the patient's family or through the stem cell registry — doctors may recommend a type of partial match called a "haploidentical" match. Sanjay was given the option to donate as a haploidentical match for Misha.
Knowing the odds of transplant success were lower with a partial match made Sanjay uneasy. So did the increased risk of a frightening complication called graft-versus-host disease. Because his twins' condition is so rare, the family had already lived through so much uncertainty. A transplant with a partial match would add more of it.
But all Sanjay's fears were for his daughter as a recipient, not for himself as a donor. In fact, he was determined to use his experience to educate and reassure others, by allowing himself to be filmed during the donation process.
Like most stem cell donors, Sanjay donated through a non-surgical process. It starts with the donor receiving medication to stimulate the production of stem cells. This medication has been administered to stem cell donors for more than 20 years with no known long-term side effects. It is delivered by injections over a period of four to five days.
Some donors choose to have a health-care professional give the injections, but Sanjay opted to do it himself.
"It's just a quick poke," he says. He injected himself in the thigh once a day.
Stem cell donation day
Then, on the day of the donation, Sanjay went to a hospital in Toronto, not far from his family's home in Brampton, Ont. He was seated in a comfortable chair and connected to a special machine for a process called "apheresis."
A needle was placed in each of Sanjay's arms. His blood flowed through a tube from one arm into the machine, which collected the stem cells and returned the rest of the blood to his body via his other arm.
Apheresis is a common procedure that is also used for donating platelets and plasma, though donating stem cells takes longer — typically a few hours. The medical team did a great job explaining the process and what to expect, and the needles weren't a big deal, Sanjay reports.
"It was very similar to being poked by a needle for a blood draw," Sanjay says.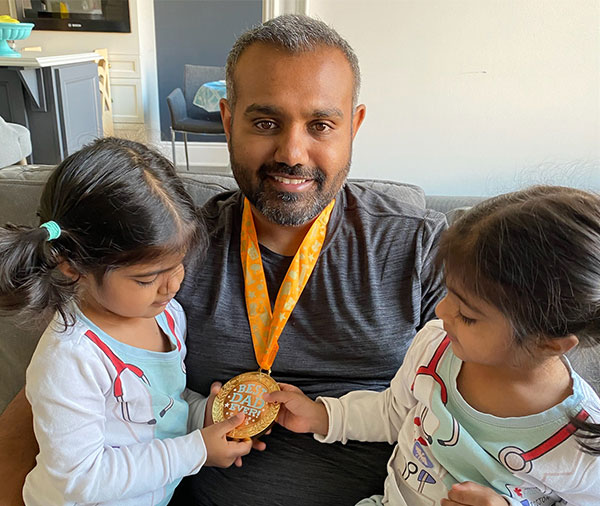 He encourages everyone to learn more about how stem cell donation works, including the modest time commitment required. He estimates that between the medical check up to clear him to donate, the injections, and the donation itself, it only took about two days in total.
An uncertain future
Misha was able to receive her dad's stem cells the same day he donated in June. Fortunately, she is doing well, and if that continues, Sanjay may also be able to donate for Zoey. But the future remains uncertain. It's entirely possible that the family will need to look to the stem cell registry again, for a better-matched donor for one or both girls.
If you're between the ages of 17 and 35, consider joining the stem cell registry. You can bring hope to this family and so many others. Together, we are Canada's Lifeline.