Five reasons to #BeAHero and join the stem cell registry
Monique Sosa, a digital marketer with Canadian Blood Services, on why she hopes you'll join her to help diverse patients  
March 22, 2021
Monique is supporting Canadian Blood Services' annual #BeAHero initiative to recruit potential stem cell donors to the Canadian Blood Services Stem Cell Registry. We asked her to explain what the campaign means to her, and why she's hoping you'll join her on the registry.
I joined the stem cell registry a couple of years ago. This means I'm now part of a global network of potential stem cell donors who are willing to donate to any patient in need. You could be a hero, too!
Here are five reasons to join me on the registry.
1. Diversity matters.
If a patient needs a stem cell transplant, their best hope for a matching donor is a sibling. But three-quarters of patients won't find a match within their family. They'll need a volunteer donor ― a hero ― from outside their family. And people who share their ancestral background are their best hope of a match.
The thing is, Canadian Blood Services Stem Cell Registry is not very diverse. About two-thirds of registrants are Caucasian. And that really hit home for me. I was born and raised in Belize, in Central America, and I'm of mixed Hispanic and Mestizo (person of European and Indigenous ancestry) background. If I or someone in my family needed a stem cell transplant, I know it's very likely we would struggle to find a match. It felt great to do my part to make the pool of potential donors more diverse for patients.
Of the hundreds of patients each year who need a lifesaving stem cell transplant, patients with Indigenous, Asian, South Asian, Hispanic, Afro-Canadian and mixed-race backgrounds struggle most to find a match.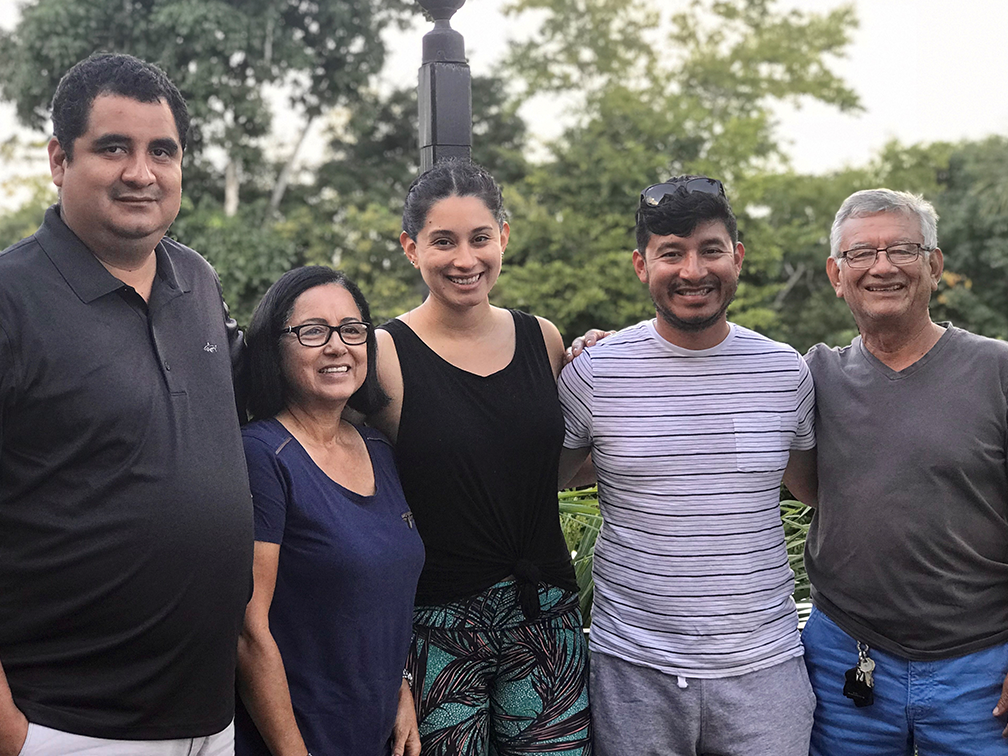 Monique Sosa, centre, with family members in her home country of Belize. Monique now lives in Canada, where she works for Canadian Blood Services and has also registered to donate stem cells.
2. Patients in Canada need you more than ever.
Before the pandemic, most of the people who joined the registry did so at in-person recruitment events. Most of these events occurred because a patient needed a stem cell donor and the community wanted to do something to help. But because of COVID-19, Canadian Blood Services has suspended all in-person swabbing events indefinitely.
At the same time, people haven't stopped getting diagnosed with illnesses that require treatment from a stem cell transplant. We need more people to register online and get the word out.
3. It truly is easy!
Joining the registry from home might feel a little different from doing it at an event, but it's still really easy and free.
Confirm your eligibility and start your registration online. You need to be between the ages of 17 and 35, in good overall health, and willing to donate to any patient in need.
In about five to ten business days, you will receive a package in the mail with a registration acknowledgement letter and a cheek swab sample kit, along with instructions on how to complete and return your DNA sample to Canadian Blood Services.
Once you've completed your swab samples, return them as soon as possible using the envelope provided in your kit. Postage is pre-paid if you are mailing the package from within Canada.
That's it! Once you've officially joined the registry, it's very important to keep your contact information with Canadian Blood Services up to date. You can do this anytime by logging into your donor account or calling 1 888 2 DONATE (1.888.236.6283).
4. Now is the perfect time to join.
This year, #BeAHero is sponsored by Canada Life, a dedicated national partner and supporter of Canadian Blood Services for more than 50 years, and widely promoted by Hockey Gives Blood, one of Canadian Blood Services' fastest-growing and influential national partners.
Right now, new registrants can make an even greater impact. For every new registrant who completes and returns their swab samples before March 31, 2021, Canada Life will donate $10 to Canadian Blood Services to help more patients find their lifesaving match.
5. It feels good to help others.
Simply put, I'm doing what I can to help make a difference. I know that stem cell transplants are used to treat life-threatening illnesses including leukemia and other blood cancers. I lost a close friend to leukemia when I was a teenager. Seeing what he went through, and how quickly it took his life, made me realize that we cannot take our good health for granted. What happened to him could happen to any of us. And one person swabbing a cheek and joining the stem cell registry really could be the difference between life and death.
Looking back, I wish I'd joined the registry sooner! We need to get the word out that people can join as young as age 17, and be available to help patients for many years.
Not everyone who registers will actually be called to donate stem cells, but every new registrant brings hope to patients awaiting their lifesaving match. You could be their hero.
Canadian Blood Services needs stem cell donors of all ancestral backgrounds to meet the needs of patients. If you are between the ages of 17 and 35, you can #BeAHero and join the stem cell registry. If you return your self-swabbing kit by March 31, 2020, Canada Life will also donate $10 to support recruitment of other lifesaving matches for patients.