Blood donations are essential in her fight against a mystery illness
As doctors seek the cause of her severe anemia, Wai Yin Mok relies on blood transfusions. She's had more than 150.
December 22, 2021
Wai Yin Mok dedicated a large part of her fascinating career to science. But these days, the retired Toronto school vice-principal is feeling rather under the microscope herself, as doctors struggle to diagnose a condition that has caused her to need blood transfusions every two to three weeks.
At each appointment, Wai Yin receives three units of red blood cells. They address her critically low levels of hemoglobin — the iron-containing molecule that transports oxygen throughout the body. That donated blood is essential to her survival and quality of life.
"After getting the transfusions I feel revived," says Wai Yin, 71. "Even the nurses will comment, 'I can see colour in your face.' The effect is immediate."
The amazing journey of donated blood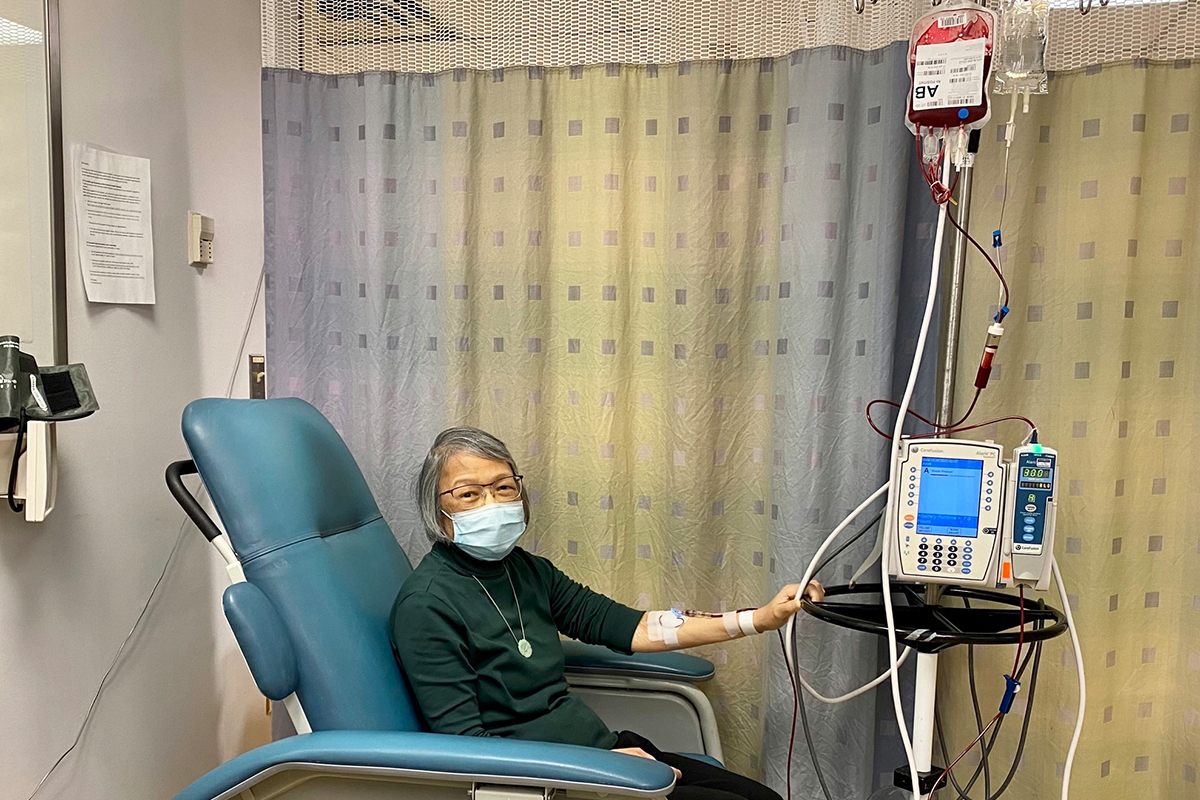 Wai Yin Mok has had more than 150 blood transfusions as doctors try to find the cause of her severe anemia.
Low hemoglobin a persistent and puzzling symptom
Wai Yin's first troubling symptoms appeared in 2017, a year and a half after she retired from a kindergarten-to-grade-eight school in Etobicoke, Ont. She found she was tiring easily, and recalls getting winded on a climb up the stairs to the second floor of a bookstore. Then one day, in the middle of a fitness class for people with osteoporosis, she blacked out and collapsed. She was taken to hospital by ambulance.
"At the hospital, my hemoglobin was so low — almost half of what normal people would have — that they had to give me three units of blood," Wai Yin remembers.
At the time, she had recently returned from travel in Africa, and she wondered if she might have acquired a hookworm infection. But that test came back negative. And a few weeks later, her hemoglobin had dropped so drastically again that doctors concluded she must have hemolytic anemia — a disorder where the red blood cells are destroyed faster than they can be made.
Hemolytic anemia has a number of potential causes. Sometimes, a person's own immune system can begin attacking the red blood cells. But that did not appear to be the case for Wai Yin. To confuse matters, she has also developed other symptoms which may or may not be related to her unidentified disorder: blood clots in her lungs and in one of her legs, and inflammation of the stomach lining.
Later, Wai Yin's doctors turned to molecular tests in their search for answers. A biopsy in 2019 revealed microorganism-like structures inside some of her blood cells.
"It was so unusual that the hematologist actually called me at home and sent me the slide, and we talked on the phone and looked at it together," she says.
Fortunately, Wai Yin's extensive science background puts her in a better position than most to follow the investigation of her case. She's a Harvard-educated expert in medical mycology, the study of disease-causing fungi. Before immigrating to Canada with her family in 1990 — and studying to become a teacher — she did research for a doctorate in Colombia and spent more than ten years as a scientist in the Amazon in Brazil.
In fact, because Wai Yin has travelled so extensively since leaving her birthplace of Hong Kong as a teenager, doctors looked to determine if the odd structures in her cells could be related to a parasite, fungus, bacteria or virus that she might have encountered along the way. But so far they remain a mystery.
Blood disorder may have a genetic basis
Doctors are also looking for answers in Wai Yin's genes. An analysis of her bone marrow has turned up two genetic mutations, one of which is linked to a rare hereditary type of hemolytic anemia, with only 60 cases reported worldwide.
"About 50 of them were related to a large extended Swedish family, and the remaining 10 or so are in Caucasian North Americans in the United States," explains Wai Yin. "The doctors said, 'You may be the first Asian case that we're aware of.'"
Now the investigation continues to try to determine if Wai Yin was born with these genetic mutations or if she somehow acquired them later in life. If it turns out she was born with them, that will raise other questions about why she enjoyed excellent health until age 66. And if they were acquired, the questions will be about how, when and where. She doesn't expect the findings will change the way her condition is managed, with red blood cells and iron infusions. But she does hope to help advance the science for the benefit of future patients — and to satisfy some of her own curiosity.
"For someone with a science background, this is all very exciting!" she says with a laugh. "Now I know what the purpose of my retirement is. I'd better keep myself healthy so that I can live long enough for them to do their research. Because I do want to know the result before I die."
'After receiving a blood transfusion, I'm a new person'
Before becoming ill in her 60s, Wai Yin hadn't given much thought to blood donation. But today, she feels the impact every time she visits the transfusion unit of the Red Blood Cell Clinic at Toronto General Hospital. By the day of her appointment she is so weak and lethargic she needs to take para-transit to get there. But afterward, for the next week or ten days at least, she can enjoy active hobbies like gardening and hiking. Before the pandemic she was even able to travel internationally on her own.
"After receiving a blood transfusion, I'm a new person," she says.
Her appointments have also opened a window on the experience of others. Many of the patients around her at the clinic have lifelong conditions such as sickle cell disease or thalassemia. They've gotten to know each other over years of receiving their own lifesaving gifts of blood. As Wai Yin listens to them chatting with each other, talking about work and family and planning trips, she marvels at both their resilience and the impact of blood donors.
"I see the young people able to fulfill their dreams and live their lives to the fullest, but they depend on others," Wai Yin says.
Living with sickle cell disease and educating others
'Superpower' boost from donors helps brothers thrive with illness
'Blood donors are part of myself'
Now that she fully understands the importance of blood donation, Wai Yin celebrates the donors in her own circle. They include people like Alan and Alec Roy, a father and son Wai Yin met during her career as an educator, and who were recently recognized at the national Honouring Canada's Lifeline celebration. She also continues to make monthly financial gifts to Canadian Blood Services. It's a way to help strengthen national programs for blood, stem cells, and organs and tissues, as well as to fuel important research. Her latest goal is to try to successfully recruit blood donors.
She also thinks often of the blood donors who have helped her personally.
"The blood donors are part of myself at this stage in my life," she says. "When I'm out hiking, enjoying the air, the water, the forest, I like to think that I am sharing the joy and serenity with the blood donors."
"I am not by myself. I carry another person's life element with me."