Years of research lead to promising stem cell trial at The Ottawa Hospital
---
Wednesday, April 06, 2016
Veronica Magee
Our friends at The Ottawa Hospital are conducting a world-first clinical stem cell trial to treat patients with septic shock. A hospital press release issued on March 31, 2016, stated that a 73-year-old man from Eastern Ontario, Charles Berniqué, survived a deadly infection after participating in the groundbreaking trial, called Cellular Immunotherapy for Septic Shock (CISS).
Septic shock is a condition that occurs when an uncontrolled infection results in hyper-activation of the immune system. Each year, more than 100,000 Canadians suffer from septic shock; however, between 20 and 40 per cent of these people do not survive because the condition can cause the cardiovascular system and other organs to fail. 
CISS is testing the idea that certain stem cells may also be able to help control the body's immune system to reduce injury and promote healing, while improving its ability to fight infection.   
Berniqué developed an infection in June 2015. During his prolonged stay in intensive care, he was placed into a coma where he received medications, mechanical ventilation and dialysis to support his heart, lungs and kidneys. Within 24 hours of his wife, Maureen, consenting to his participation in the trial, Berniqué received an intravenous infusion of 30 million mesenchymal stem cells, grown in a special facility at The Ottawa Hospital, and extracted from the bone marrow of an Ottawa volunteer donor. Now, after nearly three months at The Ottawa Hospital, Berniqué is back home spending time with his family and working part-time.
Mesenchymal stem cells have been studied extensively in human clinical trials for other conditions; however, CISS is the first trial in the world to evaluate the cells specifically for the treatment of septic shock.
Image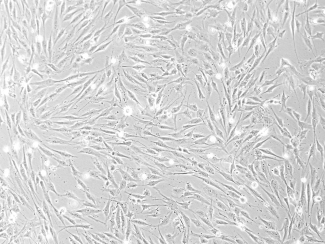 CISS is the result of many years of research led by Drs. Duncan Stewart and Lauralyn McIntyre. Dr. McIntyre was a recipient of a New Investigator Award from a Canadian Blood Services/Canadian Institute for Health Research partnership for 2008–2013. Today, Dr. McIntyre is also an adjunct scientist with Canadian Blood Services' Centre for Innovation. 
Image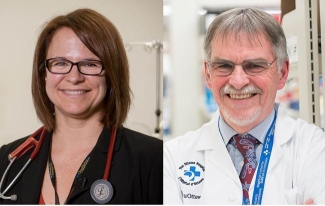 "Dr. McIntyre and her research team have the potential to deliver exciting new cellular therapy with this project," said Dr. Dana Devine, chief medical and scientific officer at Canadian Blood Services. "We hope our expertise in the preservation of cells and tissues at sub-zero temperatures and our experience in biologics manufacturing and distribution can ultimately help speed up the use of this technology."
The full CISS trial will include nine patients treated with increasing doses of mesenchymal stem cells. Another 21 patients previously participated as part of the control arm of the trial. Canadian Blood Services' senior development scientist, Dr. Jason Acker, will be providing additional expertise during this time.
Further reading
Man survives severe infection after participating in world-first stem cell trial at The Ottawa Hospital,The Ottawa Hospital newsroom
Treating septic shock: Where stem cells meet critical care medicine, OIRM
---
About the author
Veronica Magee is an External Communications Specialist with Canadian Blood Services based in Toronto, Ontario. 
Canadian Blood Services – Driving world-class innovation
Through discovery, development and applied research, Canadian Blood Services drives world-class innovation in blood transfusion, cellular therapy and transplantation—bringing clarity and insight to an increasingly complex healthcare future. Our dedicated research team and extended network of partners engage in exploratory and applied research to create new knowledge, inform and enhance best practices, contribute to the development of new services and technologies, and build capacity through training and collaboration.
The opinions reflected in this post are those of the author and do not necessarily reflect the opinions of Canadian Blood Services.
Related blog posts
---
Tuesday, June 21, 2016
Veronica Magee
On June 9, The Ottawa Hospital announced an exciting breakthrough treatment for some MS patients. The clinical trial, supported by our autologous stem cell program, was just published in The Lancet and has received world-wide media attention.