Stem cell and chemo combination therapy yields MS breakthrough at The Ottawa Hospital
---
Tuesday, June 21, 2016
Veronica Magee
On June 9, The Ottawa Hospital announced an exciting breakthrough in treatment for some MS patients. The clinical trial, supported by our autologous stem cell program, was just published in The Lancet and has received world-wide media attention. 
By Veronica Magee
Our clinical partners at The Ottawa Hospital and the University of Ottawa recently announced a breakthrough in the treatment of patients with early, aggressive multiple sclerosis (MS). The treatment is a stem cell and chemo combination therapy. Canadian Blood Services participated in the collection, processing, testing and preservation of the stem cells used in this clinical trial.
The clinical trial shows that an intensive procedure that completely wipes out the immune system and then regenerates a new one using blood stem cells can eliminate all signs of damaging brain inflammation in people with early, aggressive MS, and enable lasting recovery.
Trial participant Jennifer Molson was diagnosed with MS in 1996, when she was just 21. She received her transplant in 2002. Before her transplant she was unable to walk, she now has her life back. 
The trial, led by Dr. Harold Atkins and Dr. Mark S. Freedman of The Ottawa Hospital and the University of Ottawa, included 24 participants with aggressive, relapsing MS. They were followed for anywhere between four and 13 years after treatment—the longest prospective follow-up of any such treatment group to date.
Image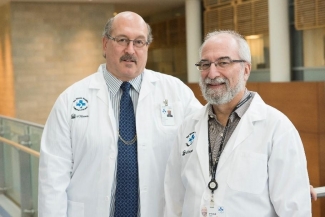 They found that 70 per cent of participants experienced a complete stop in disease progression, whereas 40 per cent of participants experienced some lasting reversal of symptoms, such as vision loss, muscle weakness and balance problems.
MS affects approximately 2.3 million people around the world, including an estimated 100,000 Canadians. The disease causes symptoms such as vision problems, extreme fatigue, weakness, tingling, impaired sensation, weakness and lack of coordination. It is thought to be an autoimmune disease of the central nervous system (brain and spinal cord). 
Blood stem cells are cells in our bodies that can mature into cells that serve a specific function. They also can produce exact copies of themselves.
Stem cell manufacturing 
Canadian Blood Services' stem cell manufacturing program supported this clinical trial. The blood stem cells used in the clinical trial were autologous, meaning they were collected from the participants themselves. Canadian Blood Services staff on site at the Ottawa Hospital collected the stem cells (mobilized from the bone marrow into the blood and collected by an apheresis procedure), and then shipped them to Canadian Blood Services' stem cell manufacturing facility for processing.
Image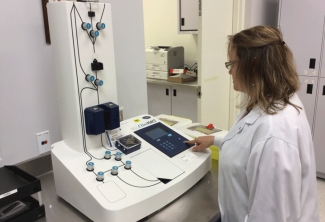 A specialized procedure for isolating stem cells from the rest of the product was performed. At this stage, it is important to isolate the stem cells and eliminate other blood cell populations (T and B cells) in order to prevent relapse or progression of the disease. Preparation of the stem cell product is a critical aspect of the clinical trial in order to achieve the optimal cell population for treatment.
Image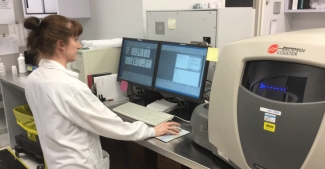 Once processing was complete, the stem cells were tested to ensure that the product met specific quality criteria to be eligible for transplant into a patient. The product was then cryopreserved and stored in a liquid nitrogen freezer until requested for transplant.
Image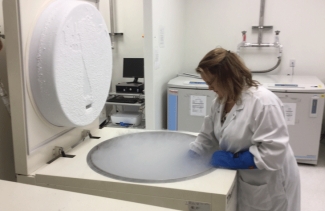 "Canadian Blood Services' stem cell manufacturing program continues to value the trusted relationship with our Ottawa Hospital partners," said Dr. Heidi Elmoazzen, director, cord blood bank and stem cell manufacturing. "Our experience as a biologics manufacturer allows us to significantly contribute to the important work from Dr. Atkins and Dr. Freedman.  We hope to expand on our existing relationship and continue to build a strong partnership for future initiatives to help more patients in need."
Researchers caution that this therapy is appropriate for only a small proportion of MS patients. Furthermore, stem cells and chemo must be used in combination for the therapy to work.
The trial was funded by the MS Society of Canada and its affiliated Multiple Sclerosis Scientific Research Foundation. The research was also supported by The Ottawa Hospital Foundation, The Ottawa Hospital Department of Medicine and Canadian Blood Services.
Further reading:
Press release: The Ottawa Hospital 
The Lancet: Immunoablation and autologous haemopoietic stem-cell transplantation for aggressive multiple sclerosis: a multicentre single-group phase 2 trial.
Vox: This isn't hype: Canadian doctors just reversed severe MS using stem cells
---
Canadian Blood Services – Driving world-class innovation
Through discovery, development and applied research, Canadian Blood Services drives world-class innovation in blood transfusion, cellular therapy and transplantation—bringing clarity and insight to an increasingly complex healthcare future. Our dedicated research teams and extended network of partners engage in exploratory and applied research to create new knowledge, inform and enhance best practices, contribute to the development of new services and technologies, and build capacity through training and collaboration.
About the author
Veronica Magee is an External Communications Specialist with Canadian Blood Services, based in Toronto, Ontario. 
The opinions reflected in this post are those of the author and do not necessarily reflect the opinions of Canadian Blood Services.
Related blog posts
---
Wednesday, April 06, 2016
Veronica Magee
Led by The Ottawa Hospital, a groundbreaking trial called Cellular Immunotherapy for Septic Shock is testing the idea that mesenchymal stem cells may be able to help control the body's immune system to reduce injury and promote healing, while improving its ability to fight infection.
---
Wednesday, May 18, 2016
Lisa Willemse
On that front, Canada is doing a very good job. Dr. David Allan, medical director for Canadian Blood Services' Cord Blood Bank and OneMatch Stem Cell and Marrow Network, reports that more than 1,000 units of cord blood are now available in the public Cord Blood Bank.