'Vital Bonds' follows real-life stories of organ donation in Canada
---
Tuesday, November 15, 2016
Marco Ouji
Vital Bonds premiered on CBC's The Nature of Things with David Suzuki on Thursday, November 17. This moving documentary gives viewers unprecedented access to the real-life stories of organ donation in Canada.
On November 14, the documentary Vital Bonds was screened at the Royal Ontario Museum in Toronto. The screening was attended by a large crowd, comprising medical professionals, donors, recipients, and students.
Image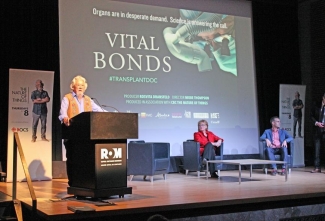 Following the film, David Suzuki lead the audience through a Q&A with the film's director and producer.  
With unique and unprecedented access to one of the busiest transplant hospitals in Canada, the new documentary let viewers witness first-hand the moving real-life stories of Canadian organ donors and recipients over a five-month period.
The storytelling included several powerful fly-on-the-wall sequences. One sequence tells the story of the family of 28-year-old Matthew who let filmmakers follow them on their journey from learning of their son's traumatic brain injury to making the decision to donate to the heartbreaking moment of saying their final goodbyes. Another story includes a devoted grandfather waiting in the ICU for a new heart that's big enough for his body.
Interwoven with several emotional narratives, viewers also witnessed surgeons and scientists pushing medical boundaries of what's possible.
Dr. Sam Shemie, medical advisor to Canadian Blood Services, was interviewed in the film and provided insight into the world of organ and tissue donation and transplantation.
"Vital Bonds is ultimately a story about humans caught up in the transplant world against their will -- and of the doctors who help them," says Niobe Thompson writer and director, ID Productions. "We believe the audience will be deeply moved by what they see. And ultimately, the generosity to donate organs is a power that comes out of empathy. We hope this documentary creates empathy."
Image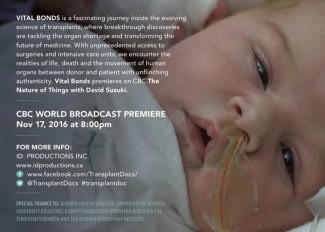 ---
Canadian Blood Services – Driving world-class innovation
Through discovery, development and applied research, Canadian Blood Services drives world-class innovation in blood transfusion, cellular therapy and transplantation—bringing clarity and insight to an increasingly complex healthcare future. Our dedicated research team and extended network of partners engage in exploratory and applied research to create new knowledge, inform and enhance best practices, contribute to the development of new services and technologies, and build capacity through training and collaboration.
The opinions reflected in this post are those of the author and do not necessarily reflect the opinions of Canadian Blood Services nor do they reflect the views of Health Canada or any other funding agency.
Related blog posts
---
Friday, September 09, 2016
Jenny Ryan
When tragedy strikes, expert guidance helps doctors, patients and families take action
---
Monday, August 29, 2016
Jenny Ryan
Two hundred and fifty donations facilitated through the Highly Sensitized Patient program We are pleased to share the news of an exciting milestone for the Highly Sensitized Patient program. As of Monday, Aug. 22, 2016, there have been 250 transplants since going live in October 2013! The Highly...